Hi everybody! I have an approximately one year old female veiled named Trini. She has no egg laying behavior yet and in general it seems she is doing great. She is friendly and will walk out on my hand and interact with others without signs of fear.
I started her in a Zoo Med 12X12X18 glass enclosure with vents and the mesh top. My decision for the glass is because I live in the super dry Chihuahuan desert so humidity an issue. Trini is small (I think?) for her age over one year, we estimate she was born in May 2011.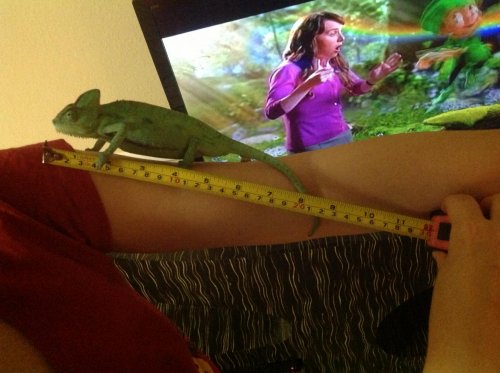 I would l like to get some advice on what cage I should proceed with for her next abode! I am looking at Hagen Exo Terra High Glass Terrarium Size: Small Tall (24" H x 18" W x 18" D). Ideally I'd a tall glass cage (with ventilation for course) but not wide since my apartment space is limited.
Money is not a gigantic constraint. If anyone has any recommendations, I would appreciate it most sincerely.
Btw, does she look small or normal to you at more than a year?
much thanks!
Kristin