Hydration & Drinking
Most chameleon species are from tropical or subtropical forests that are relatively high in humidity and experience frequent rainfall. Chameleons have adapted to these environments by developing particular drinking habits. In nature chameleons often drink the drops of rain and dew that accumulate onto the vegetation around them. Rain itself can also stimulate them to drink. This behavior presents a challenge for people trying to properly care for chameleons in captivity; unlike most animals, chameleons usually won't recognize standing water as a drinking source. Listed below are a few common methods used to hydrate chameleons in captivity. Note that many experienced keepers use a combination of these watering techniques.
Dripper - Water drippers are available at pet stores and can also be created at home by simply poking a few very small hole(s) in the bottom of a cup. The dripper should be placed on top of the cage allowing water drops to fall down onto the leaves and branches of your plants. It should provide a steady slow drip of water for at least one hour a day and preferably longer. Many chameleons will readily drink from this water but others may take time to adjust. Make sure to properly deal with all the excess water so it doesn't puddle at the bottom of the cage or drip out onto surrounding furnishings.
Spray Bottle - Misting your chameleon and its enclosure with a spray bottle is another method of hydrating your chameleon. The goal here is to simulate what their natural environment might look like during or immediately after a rain. Some chameleons can take a few minutes to become stimulated to drink and because of that this method will create a lot of excess water. Keep in mind that most chameleons don't like being sprayed directly and will hide.
Automated Misting - The automated systems use an electric pump and timer to automatically mist your enclosure at specific times of the day. The misting heads can be strategically placed and the duration of each misting session can be programmed.
Shower - Another method of providing water, especially to dehydrated chameleons, is by using a shower. Place a large plant in the tub, aim the shower head against the wall, and run the water so that only a fine mist reaches the chameleon. The water should be room temperature (not hot!). They may drink for up to 30 minutes. Make sure to supervise your chameleon at all times while using this method.
Watering Tips
Spend the extra few dollars on a nice pressurized spray bottle. They are definitely recommended over the more common spray bottles (see images below).
Tap water is usually safe to use for chameleons as long as it's safe for you to drink as well. Some water sources are heavily chlorinated or have high sodium levels, etc. A city water report will give you an indication of your tap water quality. Alternatively distilled or reverse osmosis (RO) water can also be used.
Waterfalls and water bowls are not recommended. Chameleons usually don't recognize standing water as a drinking source and water bowls can become unsanitary. Waterfalls look great but they're also unsanitary and promote bacterial growth.
Signs of a well hydrated chameleon include white urates as part of the feces and well rounded eye turrets. If the eyes appear sunken, or the urates appear yellow or orange, your chameleon is most likely not getting enough water.
Humidity & Misting
Maintaining appropriate humidity is very important to chameleon health. Adequate humidity supports skin, eye, respiratory and immune health and encourages good hydration. Almost all species of chameleons (even veileds) are from tropical or subtropical forests that are relatively high in humidity year round. Lack of proper humidity can cause problems shedding, a number of health problems and chronic dehydration. Care should be taken to provide and measure appropriate humidity levels depending on your species of chameleon.
The most common method of maintaining humidity is through misting sessions several times a day. The cage should be misted at least twice a day, drying out completely between misting sessions. This raises relative humidity as well as stimulates your chameleon to want to drink. A hand mister in the form of a spray bottle or garden mister is inexpensive and effective. There are commercial misting systems available that can be set up on an automatic timer for regular misting sessions throughout the day to increase humidity and allow drinking. These systems are often sought for multiple cage setups, but for busy chameleon owners may be a great addition to even a single cage.
Sometimes maintaining humidity is a challenge, especially while trying to balance the need for good ventilation. Air conditioning and heating may decrease the relative humidity of the room considerably. If you're unable to keep humidity within the adequate range with regular mistings alone here are some suggestions to increase humidity levels:
1. Add live plants to the cage and/or around the room.
2. Wrap 2-3 sides of the cage with a shower curtain liner or other appropriate material.
3. Use a clean cool mist humidifier at regular intervals.
4. Automated misting systems like MistKing.
Related Images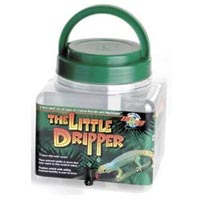 Water Dripper
Spray Bottle
Pressurized Spray Bottle
Humidity Gauge (digital)
Automated Misting Head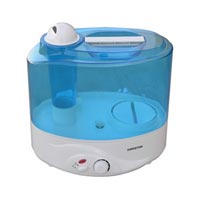 Cool Mist Humidifier