Established Member
Site Sponsor
Tons of UVB options for every keeper!
The 2 in one UVB and heat bulb - the ZooMed Powersun! In both
100
and
160 wattage
sizes, for
$47.99 each
and
$49.99 each
, respectively.
There's other brands too, both the
ExoTerra Solar Glo
and the
Fluker's Sun Spot bulbs
!
We also carry compact fluorescents, perfect for vivarium style setups!
ZooMed 10.0, in both
13
and
26 watt
sizes.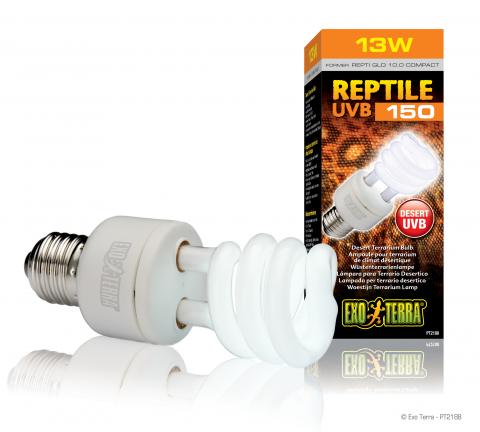 There's also the ExoTerra compact lights, in different UVB intensities to suit any need!
13 watt UVB 100
- mimics the UVB output of deep shade in jungles or forests
$11.99 each
13 watt UVB 150
- mimics UVB intensity of direct sunlight
$12.99 each
13 watt UVB 200
- intense UVB output, designed for reptiles with high UVB needs such as desert species.
$16.99 each
Don't need UVB? Try a light designed to mimic the color range of natural sunlight, including UVA and color ranges that reptiles see best at!
13 watt Natural Light
- high light output and high color rendering index. Great for displaying your reptiles!
$8.99 each
13 watt Vision bulb
- designed specifically to emit light in wavelengths best suited to reptile vision
$13.99 each
15 watt Ion bulb
- high light output, great for illuminating dim cages
$9.99 each
And of course, the tried and true standby - tube fluorescents!
All sizes of
ZooMed 5.0 bulbs
$19.99 each
There's also the
ZooMed 10.0 bulbs
, all sizes
$24.99 each
We also carry the High Output UVB bulbs, in both 5.0 and 10.0 intensities. All sizes of
5.0 bulbs
are
$19.99 each
, and
10.0 bulbs
are all
$22.99 each
.

Visit our website to see ALL the sizes and brands of UVB bulbs we carry! We guarantee bulbs to arrive in one piece and to work perfectly for 10 days after arrival!
Visit
LLLReptile.com
to check out ALL of our available animals, feeders, and supplies!
-Jen