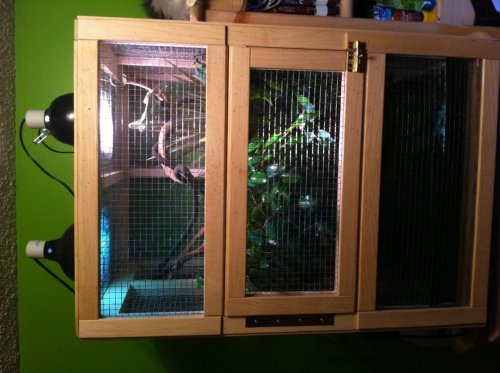 Finally got my new enclosure made for my little guy! So glad to have him out of his little cramped terrarium. Got my dad to build me one with his carpentry skills
Sorry for the sideways picture haha, but it's about 3 1/2-4 ft tall and about 2 ft wide, all mesh sidings with reptile bedding on the bottom. Took a lot of scrambling to assemble everything, especially the plants. Had to order them in from BC (I live in Alberta). As of now I have a ficus and a dracaena, plus a fake vine on the side. I bought two bird branches and wrapped fake vines around them which extend down into both plants.
I plan on getting a longer UVB lamp, but think the duo heat will be okay.
Was looking into misters, but not sure if totally worth it. Opinions??
Thanks!