Hello everyone, I'm looking for help with my Panther Chameleon. Please know that though I am VERY new to this, I have worked a very long time to keep this guy very safe and well kept! He has a dripper and he's constantly hydrated. He also has a UVB light.
Recently, I voiced some of my concerns to a local pet store, they suggested that maybe he needs an increased heat lamp because Rango was just laying at the bottom of his terrarium. As I was talking to the staff, she asked me if his crickets and worms were supplemented with calcium and d3, I stated that "petco told me that they sprinkle all of the crickets before they're sold" She seemed concerned and felt that that wasn't true. In fact, they told me not to supplement at all when I suggested that I would purchase the d3/calcium because he "would get too much".
The last few days, as I'm watching him, Im noticing a SIGNIFICANT change in his behavior! He has trouble moving, falls off of branches, Etc. he's not eating much but he's still drinking from the water bottle. Please, please do not leave anything discouraging- I have tried and tried but I will tell you that petCO told me that I DID NOT NEED ADDITIONAL SUPPLIMENTS and reassured me that he would get sick if I sprinkled the crickets after I purchased them.
In conclusion, after I reseached these concerns I found that he has MBD. Personally, I never provided supplements based on what I was told. I'm devastated. He has a vet appointment on Monday, I bought Flukers with D3 today, also considering changing his cage? Right now, he's sitting at the bottom and I doubt he can benefit from the heat or UVB lights. Please any additional tips or help would be so appreciated. He is approx. 6 months old.
Rango now
The day we bought him Nov. 9th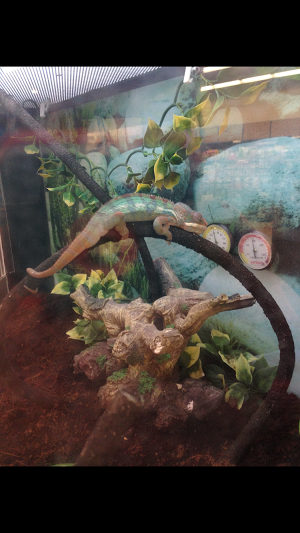 At the store before purchase.