So in January my Nosey be female laid 31 eggs a couple went bad from the start but the rest all looked great, I keep them at temps 70-75 cooler at night and warmer in the day, humidity is perfect not to much not to less. at the 9 month mark I started noticing some changes, one egg at a time would start to sweat. Of course I was thrilled but after 3-4 days of sweating in just little spots I didn't see any progress no windows no shrinking but what I did notice is the egg started to mold after wiping off the mold I was able to stop it but then the egg started to turn yellow and had some very dark yellow spots on it then it shriveled up when I cut it open there was nothing recognizable inside, I figure after 9 months I should be able to tell what it was. Since this is my first clutch I don't have much experience with incubation process other then what I've read online and in books and heard from other breeders so I figured it was just one bad egg, but slowly all my eggs are starting to do it. I have lost 4 eggs and two are sweating right now and I'm worried they will turn out the same. Has this happened to anyone else? I would love all the advice I can get I don't want to loose this clutch I have thought of the possibility of my Nosey be female not having enough calcium at the time she laid and it could have caused issues but i would have assumed they wouldn't have stayed so good for so long.
Any advice or answers would be greatly appreciated. Thank you
Here are some pictures the one at the end is what it looks like when it starts sweating these are two different eggs the one just sweating is a pic i took today and the other pics was from my last egg a week ago.
Top of the egg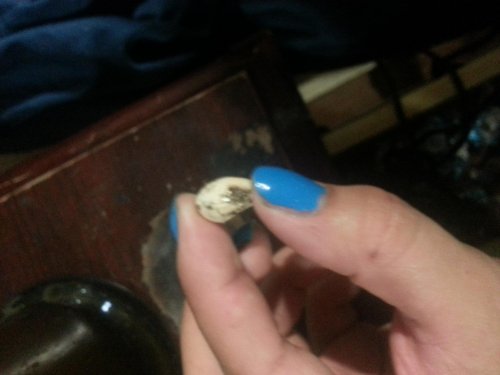 Side
The bottom had shriveled up
When I cut it open