Chameleon Info:
Your Chameleon - male panther, 11 months old/born 3rd week in January, have had since November 27th/about a week and a half.
Handling - About once a day for less than a minute or when moving him from high risk areas like ceiling of cage to avoid burns.
Feeding - Mainly crickets, some superworms. Have tried hornworms, waxworms and mealworms but hornworn was too big and others didn't move after refrigeration. I put 5 crickets and a superworm in a cup every day after 1st misting. Crickets escape and he eats off cage walls and will eat worms from cup. All gutloaded with Bio Dude bug grub. I have found a few dead crickets in cage over the week.
Supplements -All dusted with Repti Calcium w/o d3 daily, Rept-cal calcium w d3 twice a month. Don't have a multivitamin but would like suggestions.
Watering - Mistking with single nozzle. Set for 4 times a day. 1st 700a for 3 min, 2nd 1030a for 4 min, 3rd 300p for 3 min 30 sec, 4th 600p 3 min 30 sec. He hunkers down for the first min then very slowly makes his way over to the dripping leaves and starts to drink. By then the mistking stops so I take a hand mister and continue spraying near his mouth/leaf until he stops drinking. He drinks for at least 2 to 3 minutes so he should be VERY well hydrated.
Fecal Description - brownish green with mucosal outer covering that can extend up a small portion of the urates with brownish dots. Urates white with yellow tinge. Some cricket legs seen and very small piece of superworm exoskeleton seen in last bowel movement. I've only had a week so he hasn't been to vet for me and not sure if breeder tested for parasites.
History - Shy and very chill, has never been aggressive but maybe a little evasive.
Cage Info:
Cage Type - Reptibreeze xl 2x2x4 all screen.
Lighting - Arcadia T5 22" 6% UVB d3 forest tube in fixture with small reflectors on each side, placed at very front of cage rested on screen. 12" hood lamp with 75 watt zoomed basking bulb w uva placed back right of cage but moved to center back to increase distance to over 6" from basking area, also rested on screen. Lights on at 7a off at 7p.
Temperature - Currently 85 to 92 8" directly under basking bulb. Bottom of cage low 70s, middle of cage high 70s. I have 2 thermometer/hygrometers. One with dual probe in basking area and other has separate probes with temp mid cage and hygrometer probe mid cage in plant. Ambient room temp is 72 to 74 day and probably mid 60s to low 70s at night.
Humidity - My house is nosebleed dry so I have a humidifier outside of cage a few feet away pointed to bottom of cage. Low to mid cage humidity usually around 55 to 60% and after misting can go up to 90% but for only a few minutes before dropping again. Upper basking area usually between 20 to 30% but after misting goes up to 60% for a few minutes. Also have evergreen reptile fogger attached to upper left side of cage that I use for an hour after lights out. Measured with Bio Dude temp/hygro at basking spot and zoomed temp/hygro mid cage. Have trash bags bottom 1/3 of cage on back and right side covering screen from outside to help humidity and keep walls/power outlets dry.
Plants - 1 large Dracaena Song of Jamaica 2x2x3 center cage and 1 small of same plant front right. Was divided after repotting with organic soil and compost Covered with river rock. Several jungle vines and 1 6' fake vine with leaves from hobby lobby.
Placement - Cage at back of living room 2 feet from doorway to kitchen. Do walk past often to get to kitchen. Air vent is about 6 feet away on different wall. Cage is placed on coffee table so at top is probably 6 foot from floor.
Location - Blue Springs, Missouri. So weather fluctuates drastically day to day.
Current Problem
- When I 1st got him he was shy so it took a few days for him to start wandering around and eating. His uvb bulb came 2 days after I got him so I put that in and I thought temp was maybe too low so I changed from 75 watt incandescent to a 100 watt zoomed basking bulb all at the same time. He was very active after that but it did take a few hours for him to get up and going, like he wanted to sleep in a bit more. He began eating and pooping up a storm. I had noticed him closing one or both eyes randomly throughout the day. He does rub his eyes on surroundings after getting misted but only to get water off. It has progressed over the last few days to him closing both eyes more often but he does open them when approached or if cage is touched. He still eats, drinks and poops and looks healthy. He also still has the kung fu grip so he's not weak. Yesterday I changed the bulb back to the incandescent after seeing him get closer to the top where temps got up to 115 at the screen. That lasted only an hour when I saw him attached to the screentop directly under his bulb. I figured he was cold so I changed back to the 100 watt but he continued to get to the highest point possible and got really dark and would flatten out and switch sunning both sides of his body. I had my husband who is a plumber and has some really expensive and precise temperature devices measure the temp where he was and it was 110! I ran out and got a 75 watt basking bulb and that dropped it to 90 6" from the top but he continues trying to fry himself and stays really dark until I come over then he gets bright because he's upset at my presence. I also moved the lamp to the center of the cage where there is a greater distance from basking area to the top so he can't fry himself. He would sleep on and off throughout this whole fiasco. I called my breeder and we went over everything but couldn't figure it out so she suggested I try here. I also found out that his whole life he has been waking up at 1030a and bedtime at 10 or 11 at night. I had him on a 7a to 7p schedule. Could this cause his sleeping during the day and trying to pyro himself problems? Today I woke him at 10 and he woke right up and drank, I changed misting schedule to reflect new times. But now he's back in his basking spot all dark with one eye closed looking not so happy about not being able to fry himself. Any ideas on why this is happening? It's plenty hot in there.
p.s. I'm a nurse so I may over document and freak out. But he was really dark and looked like he was dying!
Pics-
1-normal colors a few days ago
2-cage
3-right now dark and eyes closed
4-today 1st waking up drinking
5-yesterday dark eyes closed trying to get to light
6-poop
7-yesterday trying to fry himself and mad at me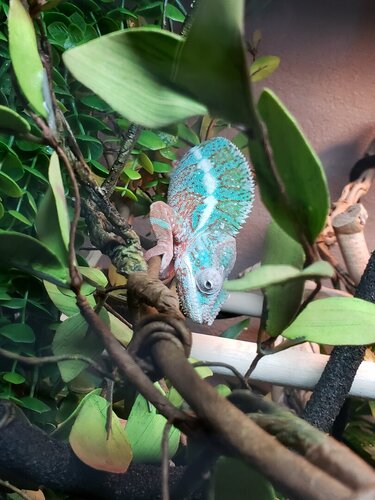 --------------