Chameleon Info:
Your Chameleon - The species, sex, and age of your chameleon. How long has it been in your care?


-veiled, male, 3-4 years, I got him when we was a small lad

Handling - How often do you handle your chameleon
-max once a week, not very often
Feeding - What are you feeding your cham? What amount? What is the schedule? How are you gut-loading your feeders?
-variety of bugs including banded crickets, hornworms (treat), silkworms, discoid roaches, BSFL, waxworms (treat), mealworms (treat); I feed 4-5 feeders Monday, Wednesday, and Friday; I gut load with yams and bug burger
Supplements - What brand and type of calcium and vitamin products are you dusting your feeders with and what is the schedule?
-rep-cal calcium without D3 every feeding and then reptivite with D3 on the 1st and 15th of every month
Watering - What kind of watering technique do you use? How often and how long to you mist? Do you see your chameleon drinking?
-I use a pressure mister to hand mist for 2 minutes 30 minutes before and after lights turn on/off, and then I have a reptifogger that goes on after I mist after the lights go off, and I have seen him drinking
Fecal Description - Briefly note colors and consistency from recent droppings. Has this chameleon ever been tested for parasites?
-Brown and keeps its shape with off-white/yellow urates, never has been tested for parasites
History - Any previous information about your cham that might be useful to others when trying to help you.
-none
Cage Info:
Cage Type - Describe your cage (Glass, Screen, Combo?) What are the dimensions?
-D.I.Y screen cage, 2' x 2' x 4'
Lighting - What brand, model, and types of lighting are you using? What is your daily lighting schedule?
uvb: reptisun 5.0 long T5HO
basking: repti basking spot lamp 75w
-turns on at 8 am and goes till 9 pm
Temperature - What temp range have you created (cage floor to basking spot)? Lowest overnight temp? How do you measure these temps?
-basking to cage floor: my therm measure broke so I have been putting my hand under to make sure it's not too hot but I would guess 85-70f ranges
-lowest temp: 60f
-therm currently broken, any affordable recommendations are appreciated
Humidity - What are your humidity levels? How are you creating and maintaining these levels? What do you use to measure humidity?
-daytime: 20-40%
-nighttime 30-50%
-probe hydrometer
Plants - Are you using live plants? If so, what kind?
-all live plants, I'm using pothos/philodendrons and a mass cane! also there is a polka dot plant on the bottom.
-not exactly live plants but i want to note im using oak branches!
Placement - Where is your cage located? Is it near any fans, air vents, or high traffic areas? At what height is the top of the cage relative to your room floor?
-up against a wall and on a little platform making it about 20'' off the ground
Location - Where are you geographically located?
-western US
Current Problem
- The current problem you are concerned about.
-not too many concerns I just want to know if there are any other parts of my care that needs to be addressed, I'm a little concerned that he likes to hang out on the bottom for a while? He will go to bask for a while and then go to the bottom and scratch at the door? I sort of want to know why he's doing that.
(also dont know why its sideway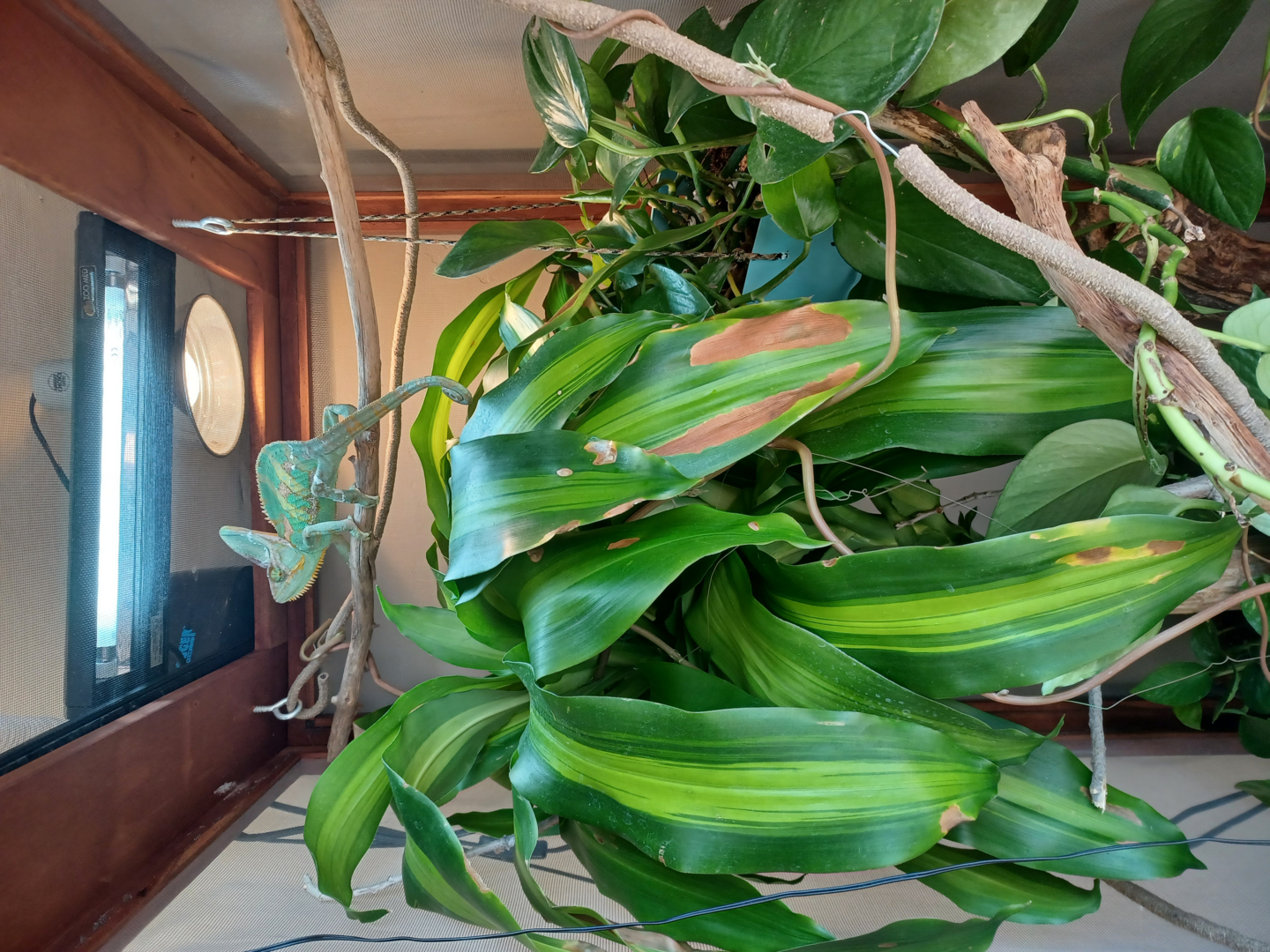 View attachment 309900