Our waiting has been rewarded with the delivery of the much anticipated newest Dragon Strand Medium Tall Clear Side Atrium! I believe the actual release of info for this new model will be in March. So dimensions are 30 inches wide, 24 deep, and 48 tall! Beman is a very very happy boy zooming around everywhere!
A HUGE thank you to everyone that has answered questions and assisted in helping me learn. My little impulse buy had a very fast learning curve! Was very stressful on both of us trying to go backwards to get the enclosure on point for him.
This was my vision for his cage. Would love feedback as well! If you see something wrong please let me know.
In case anyone is curious as to what I used I am including the info in this thread as well.
LIGHTING: 30 inch T5 quad lighting system from Light Your Reptiles. 1 plant pro bulb, 1 12% arcadia UVB bulb, and 2 6500 daylight bulbs. Using a fukers adjustable dome with 60 watt bulb on an exo terra lamp holder to get it a bit above the screen and angled toward basking under uvb.
Basking level is about 6-7 inches down from the lights. I am achieving between a 3-4 UVI level from the UVB lighting at basking. Diffused going down. Basking spot is right about 84-86 degrees.
1 wired thermometer at basking site, 2 thermometer/hydrometers... 1 located upper right and the other located bottom left.
I am now finally able to keep his enclosure at a steady 50% humidity level with the Clear side. After misting it shoots up to about 75% but then drops back down to 65%.
Mist king system with 2 single heads. One in the front middle and one in the right back corner. I had a duel head for one but it was overkill having all 3.
I am using a fogger at night modeled after one of the chameleon Breeder podcasts on naturalistic hydration.
I am still using a little dripper because Beman has always preferred to zap the tip of the hose when the water drips out.
I used 9 exo terra bendable vines, 3 large jungle trees, 3 small jungle trees, and 3 wacky wood pieces. Pic below of items and tags for reference.
Plants are... 1 large pothos, 1 tiny N Joy pothos, and one dracaena
ALSO I FORGOT TO ADD IN... The blue background is wrapping paper I bought and wrapped the cardboard pieces that came with the cage packaging. They come with pieces that are the exact size of the panels. Then I took Velcro circles and put them in each corner and in the middle to hook them to the cage. Easily removable this way and I can change the paper if I get tired of it.
Please note: do not use the ledges as I have with hanging pots on them directly... Follow as Bill directs on the Dragon ledge info page with using the sticks attached to the ledges and attaching pots to the sticks. Not doing this creates a bit of torque to the ledge and clear side material. I got too creative for my own good so I will be correcting a few things with my initial design.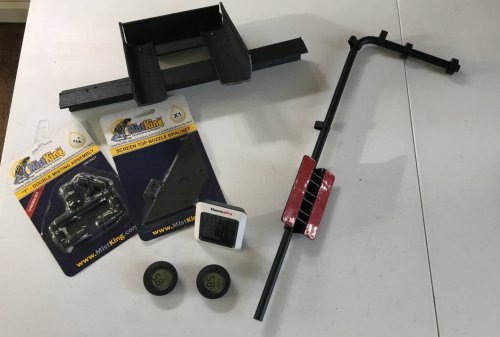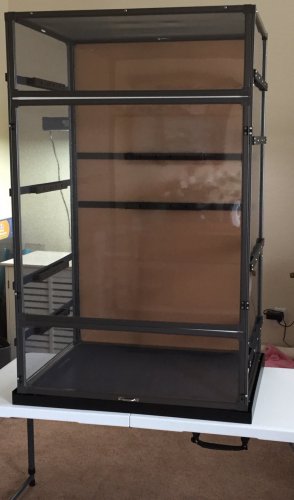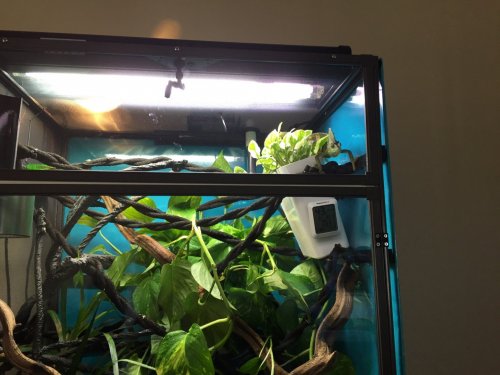 Last edited: