18x36x17 40 gallon setup. Just got it finished up today. False bottom, 3 gallon fish tank filter built into background to make a very small river down a siliconed log. It's on right side. Nowhere deep enough to cause issues and will help with humidity. Background is spray foam sealed with silicon and spaghnum stuck on. Adding a springtail and small isopod culture tomorrow!
So I planted the tank as heavily as I could. There are 2 other carpeting plants out of view, basically going to fill in the bottom with dense growth to compliment the sticks and wood. Have to bromeliads rooted to bark to attach to the right and left side of the background.
I set this vivarium/terrarium up the best I know how, I currently have a full spectrum led grow light over it like a pothead would use in their closet lol. Luckily the organic plants store carried it. Hoping it will jump start the plants and get them rocking and rolling, trimmed back all excess leaves or any dead material to focus on growth. Substrate is eco earth, sand, jungle mix, cypress much, and spaghnum moss mixed together... just what I had around.
After I finally found brookesia in stock thanks to the great people on this forum! I took a close look at the setup and decided it's dense enough to house 5 therezieni. 2 males, 3 females. I'll keep an eye on the males and if any issues arise I guess someone on here can get a good deal on a male
questions below pics———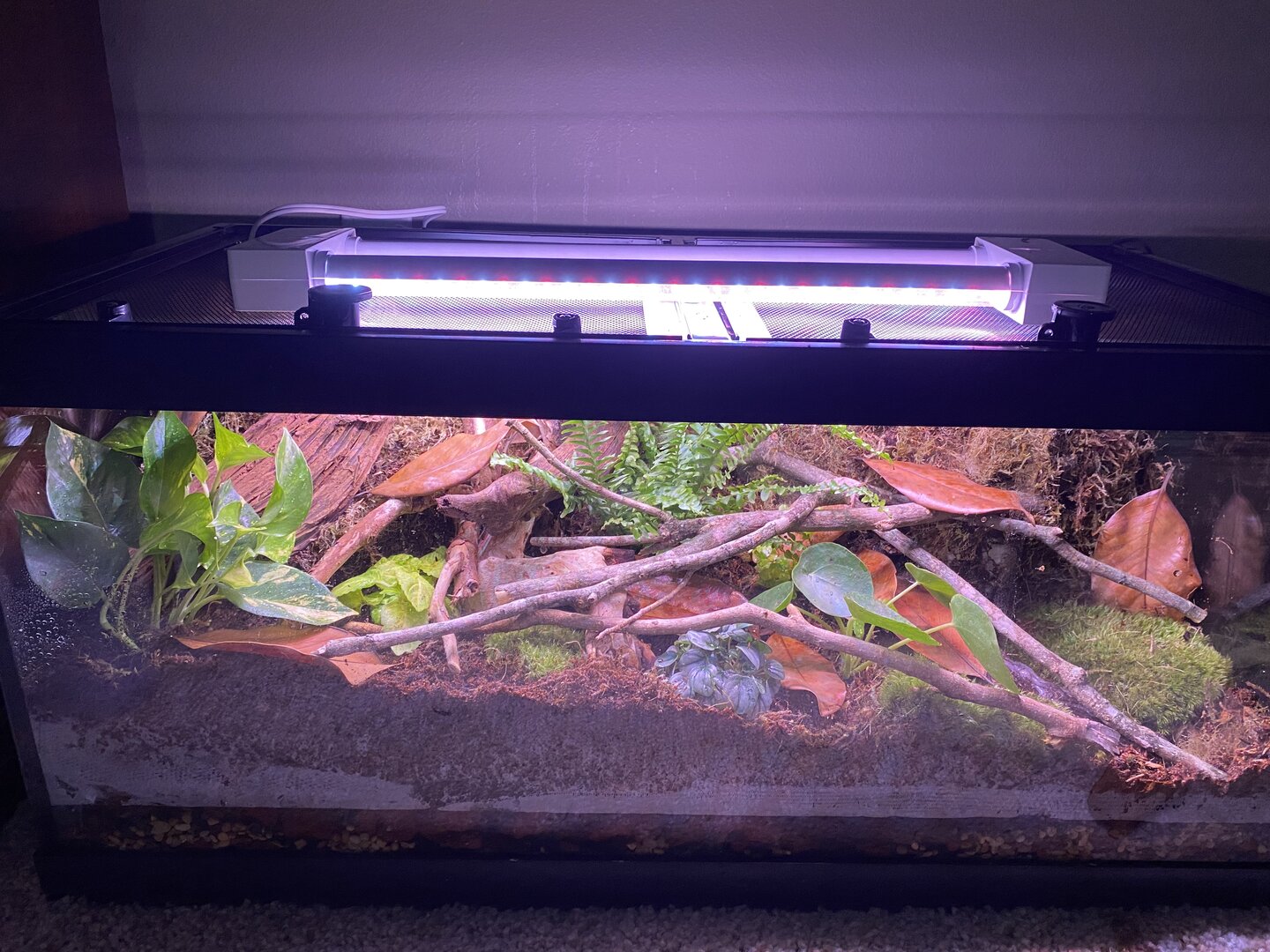 I'm running the full spectrum lighting for the plants sake. I'd like to run it for a while but I'm not sure when they chams will ship.
As far as this goes will it cause any harm to the chams.
What uvb will I need to switch to after the plants flourish?
My room is kept at 69-72°F, anything I need to do in addition to this? Current full spectrum lighting does not affect this temp.
I have not checked the humidity yet but being that I bucket soaked the soils and moss I'm sure it's up there.
Desired humidity?
Feeding schedule similar to beardeds?
Sorry if these are dumb but have never had the pleasure of keeping a Brookesia!
I'm sure breeding will occur if the animals feel safe. I never kept my beardeds in a planted setup nor did I ever keep opposite sexes (to avoid breeding) I wasn't setup to deal with it. With this setup I'm scared I'll never find any eggs... can they hatch undisturbed?
Thanks!