Hello.
I recently purchased a baby veiled chameleon. I have never owned a reptile before. I have some concerns. I will try to provide as much detail as possible.
Reptile:
Veiled Chameleon
Age:
Not exactly known, but believed to be about a month and half, maybe two months
Sex:
I was told he was a male when I purchased him. At the time, I did not research how to tell the sex of chameleons, but I think it may be female
Enclosure:
Open air aluminum screen 24 x 24 x 40 inches
Dracaena live plants inside enclosure. Different sizes and species. Vertical wood branches, and a horizontal one for basking and cricket cup feeding
Lighting:
24 watt Reptisun 5.0 T5 H.O fluorescent lamp strip
100 Watt Reptile Basking Lamp
Both lights are placed directly on top of the cage over the screen. Approximately 14 inches away from the chameleon
Humidity:
Hand misting 4 to 5 times a day for about 5 minutes each time. Hot water is put in the spray bottle so it comes out warm. Water temperature is always tested before spraying. Humidity levels: 30% when dry. 50-60% around the plants after misting. 40% around basking area after misting.
Temperature:
76.5 open area. 70.0 around the plants. 83.8 and 86.5 basking area
Feeding:
Crickets, pinhead sized and a bit larger. Fed 3 times daily, about every 3 hours. Not fed later than 3:00 p.m. Eats 10 crickets per feeding. At time 5 crickets in between, but does not eat more than 40 a day. Crickets are kept in a 20 gallon glass tank with a screen cover. I have placed egg cartons inside, and they are currently being gutloaded with kale, carrots, oranges, strawberries, sweet potato, butternut squash, and apples.
Supplementation:
Repti Calcium with vitamin D3
Repti Calcium without vitamin D3
Weight:
~ 12 grams. Weighed on February 5, 2019
Shedding:
Last shed on January 29, 2019
Pet visit:
February 5, 2019
Questions and concerns:
Is my chameleon a female?
When I purchased my chameleon, I was told it was a male. I did not check it was indeed a male, and at the time I had not researched how to differentiate between male and female veiled chameleons.
I am concerned about my chameleon having a bloated stomach (more details below), and as I was researching what the bloatedness could be, I came across female veiled chameleons being egg bound. I started to look more closely, and I think my chameleon may be a female. I do not think it has any tarsal spurs. I thought I could see what could be its hemipenis? But now I am really not sure if it is male or female.
I took him to the vet for a physical last Tuesday February 5, 2019. I specified he was a male. I was not told he was otherwise. To be honest, I do not think the vet checked. I did not have doubts at the time, so I did not ask about it.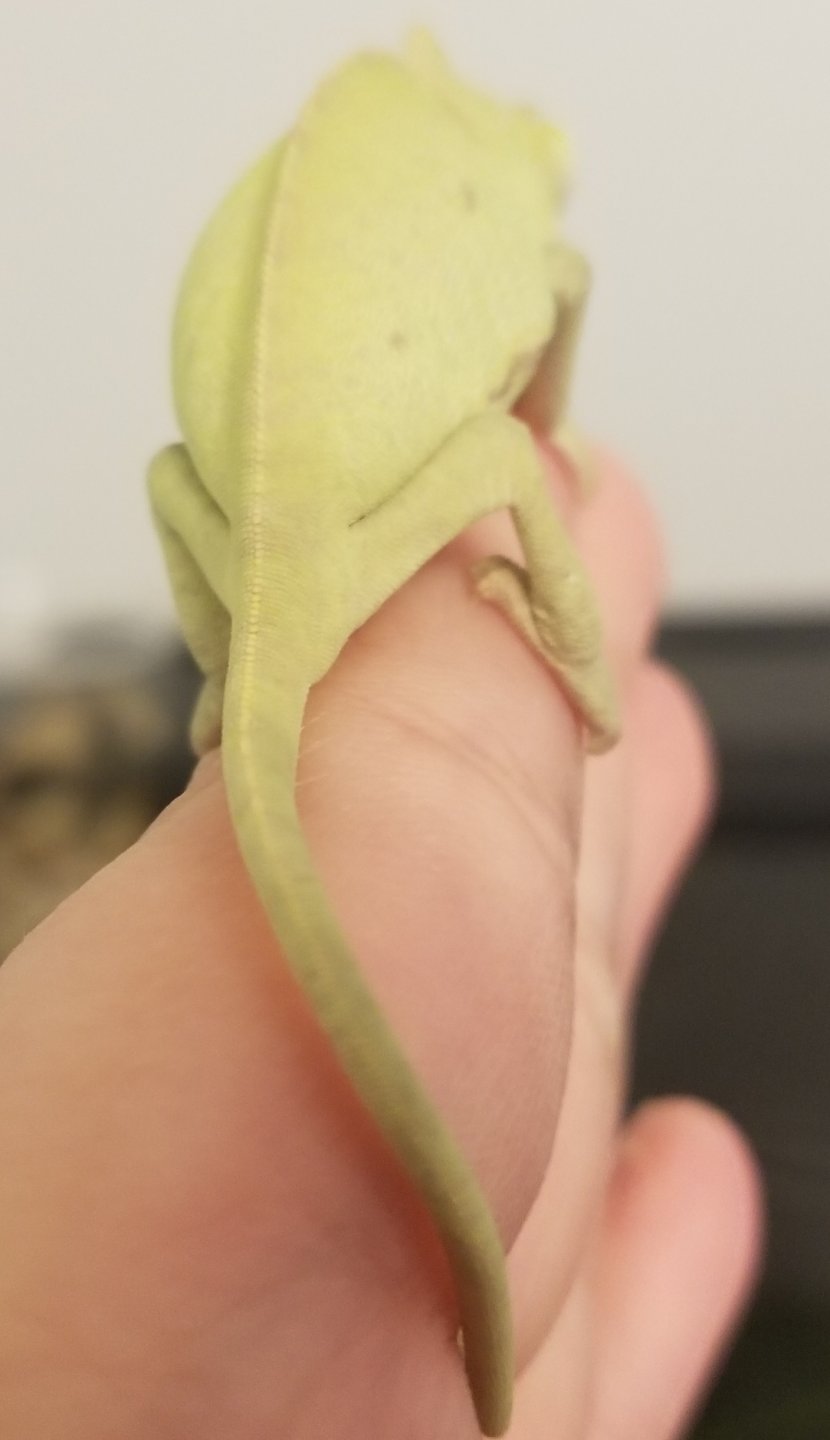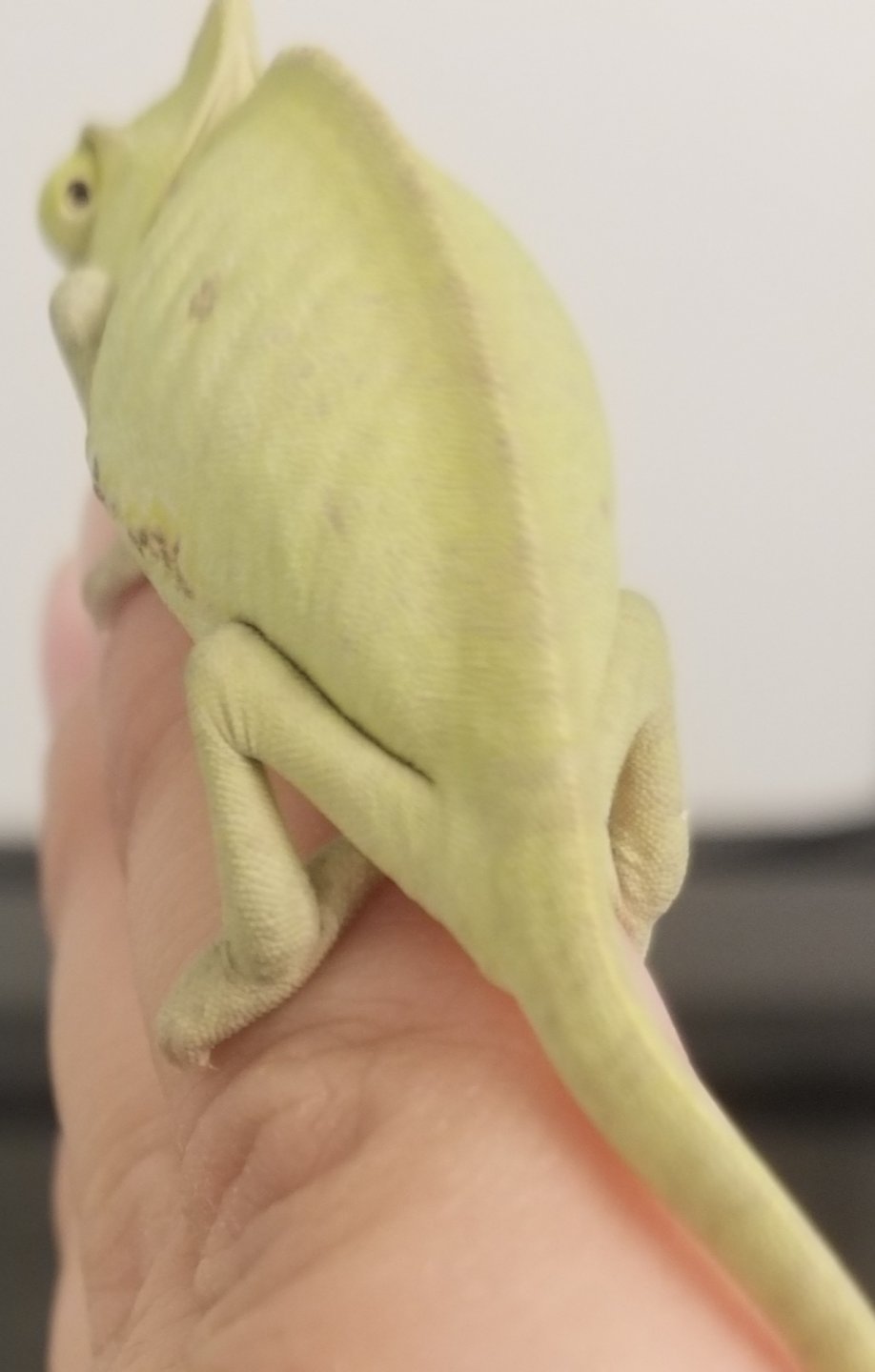 Overfeeding? Bloated stomach.
Even if my chameleon is a female, I read that they can start producing eggs as early as 4 months old. If this is true, and if it is a female, I believe the bloatedness is not that she is egg bound.
If it is a male, I am not sure what the bloatedness is due to. I have tried researching into the different causes, but I cannot seem to come across anything useful.
Is it possible that he is just eating too much, and he is getting chubby? And is this okay? His bowel movements are normal, he goes once a day, and so far has gone twice a day once. He had a fecal exam done this past thursday, and the results came back normal. I believe he is well hydrated. It is rare to see him drink water, but his urate seems normal, his eyes I believe are also normal, so I do not think there are any signs of dehydration. In terms of his feeding, I was told that he could eat about 15 to 20 crickets a day, however, when he gets hungry he is always roaming around the bucket where I place the crickets inside the enclosure. Right now, as I stated above, I feed them around 30 to 40 crickets a day; though I am sure he could eat more if given more. I was told by the seller, the vet, and also I have read, that it is okay to feed baby chameleons as much as they can eat, and was told it was good he was eating that much.
I started noticing the bloatedness two days ago.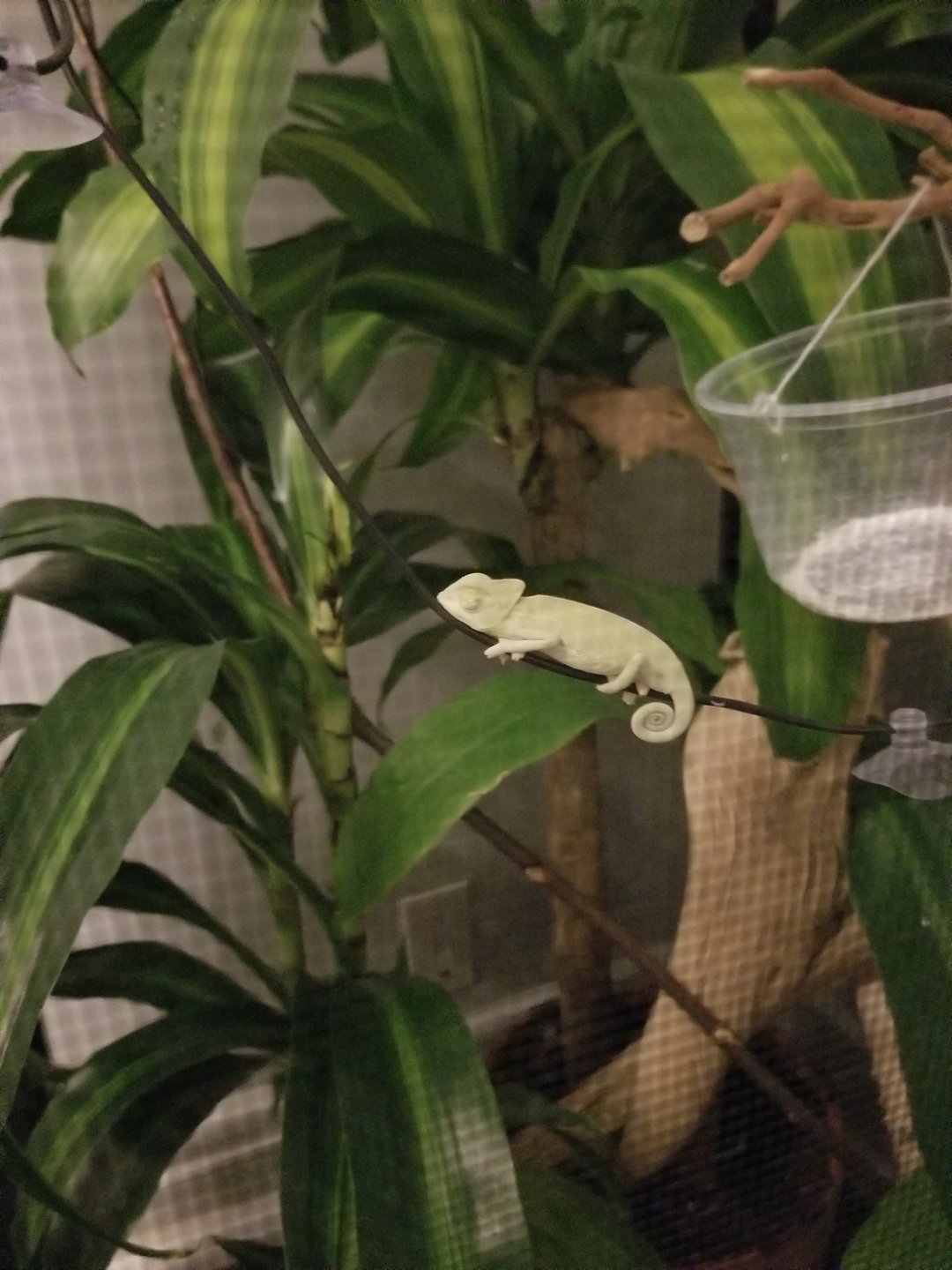 Calcium overdose? Vitamin D3 overdose?
When I purchased my veiled chameleon I was told by the seller to dust with calcium containing vitamin D3 for every feeding until he was about a year old, then from then on to dust with calcium without vitamin D3. Seeing that my chameleon ate double of what I was told he could eat, I asked if I should still dust with D3 every meal, and I was told it was okay to do so.
I mentioned my concerns to the vet about D3 overdose, and I was told that if he is in the open area a lot, that he should be getting enough UVB and did not need to supplement every feeding with D3. I was advised to supplement with vitamin D3 twice a week, and to still dust every feeding, no matter how many crickets per meal, with calcium without D3.
I was also told that the gutload diet I currently provide my crickets with is good, and that no multivitamin would be needed.
So for about a week now, I have been dusting about 30 to 40 crickets a day with calcium without D3. I have also been careful about not overdusting.
However, for about two days now, I noticed that my chameleon is getting white powder coming out of his nostrils at least once a day. How can I fix this? I have not supplemented his food for two days, just given him the crickets without calcium until i can figure out how not to overdose him. Should I only dust half the crickets he eats in one day?
(sorry did not take pictures of the white nostrils)
Color change?
I also noticed that when I first purchased him he was a much deeper, though still bright, green. As the days past, he started getting much lighter. I asked the vet, and I was only told it was normal. I did some research and read that it could be the temperatures too high causing him to turn lighter to absorb less heat. My basking temperature at the time was 88. I rearranged the enclosure, and now his basking temperatures are around 83, 86. He is still very light green. I just hope that he is healthy.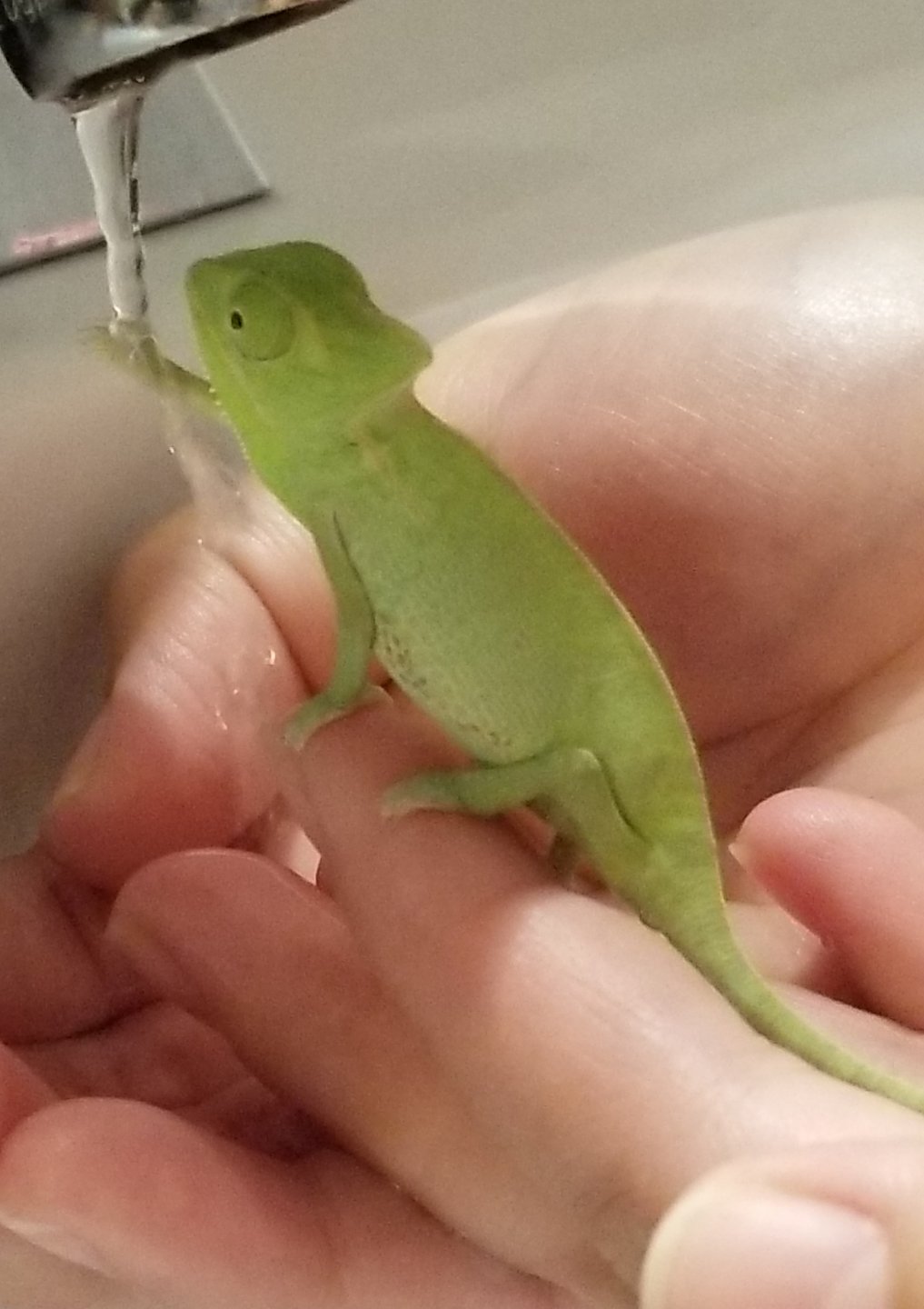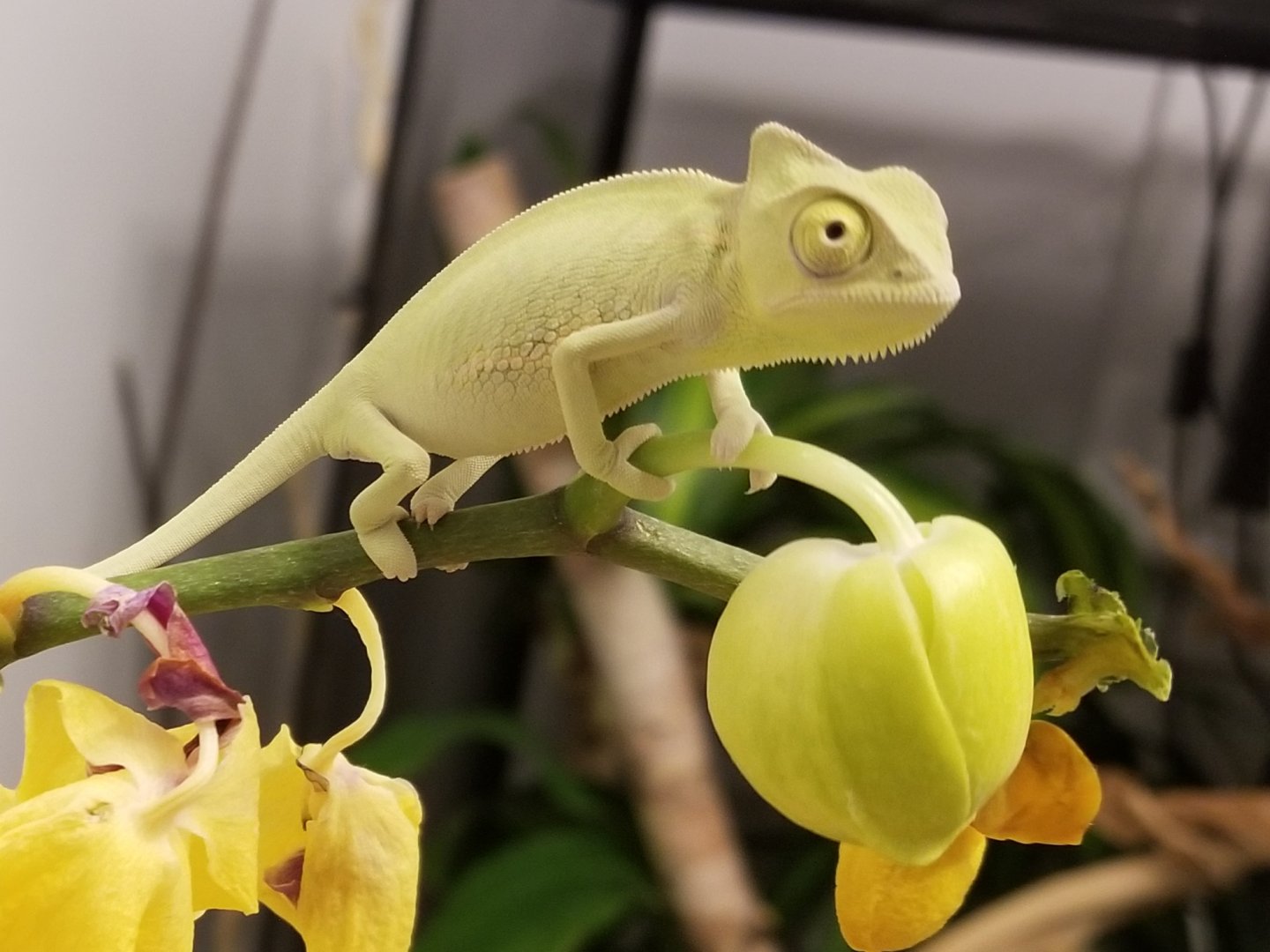 I think I have provided as much detail as possible. Please let me know if I should provide you with any other information, or more pictures Thank you in advance for all your comments and suggestions. Also, some feedback as to if I am doing something right or wrong will be greatly appreciated