This week I review one of my all time favorite chameleons - the Yellow-Crested Jackson's Chameleon! My first chameleon over 40 years ago was a Jackson's Chameleon and I have rarely been without one since.
I have updated and significantly expanded the Care Guide I use on the Chameleon Academy outreach. I felt the need to put more information into my care guide and this is the result. As proud as I am with the care guide there are still things we do not know and are in the process of refining so I will see you in a year or two for another update! But, for now, we can work with what we have!
Here is a tour around the care guide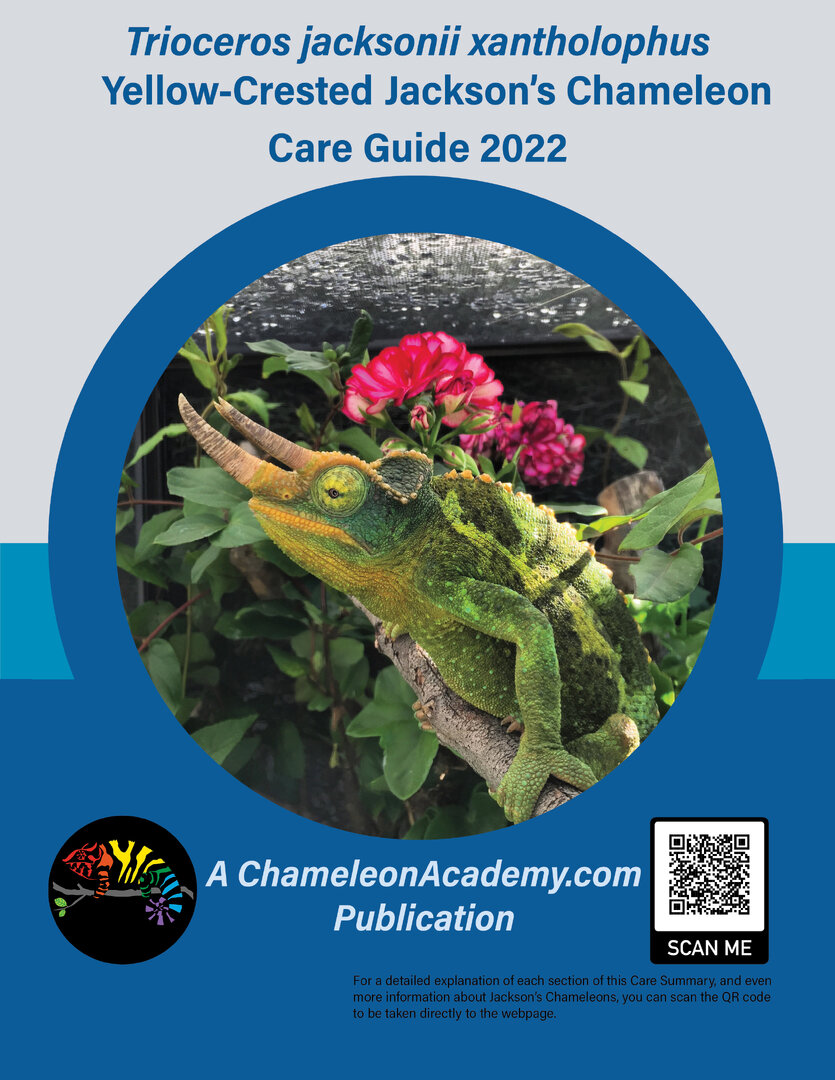 This care guide is specifically for the Yellow-Crested Jackson's Chameleon (
Trioceros jacksonii xantholophus
). I elected to separate out the subspecies because there may be some subtle differences.
This care guide was designed to function as both a digital file and a printed booklet. The QR code leads the viewer to the webpage where they can download a copy of this care guide for themselves. They will also find the detailed discussion for understanding that goes beyond infographics.
You will find that I am doing more and more with making the dry season mainstream. Although we do not want to include hardship into our husbandry, a rest period allows rest instead of keeping them at full speed throughout the year.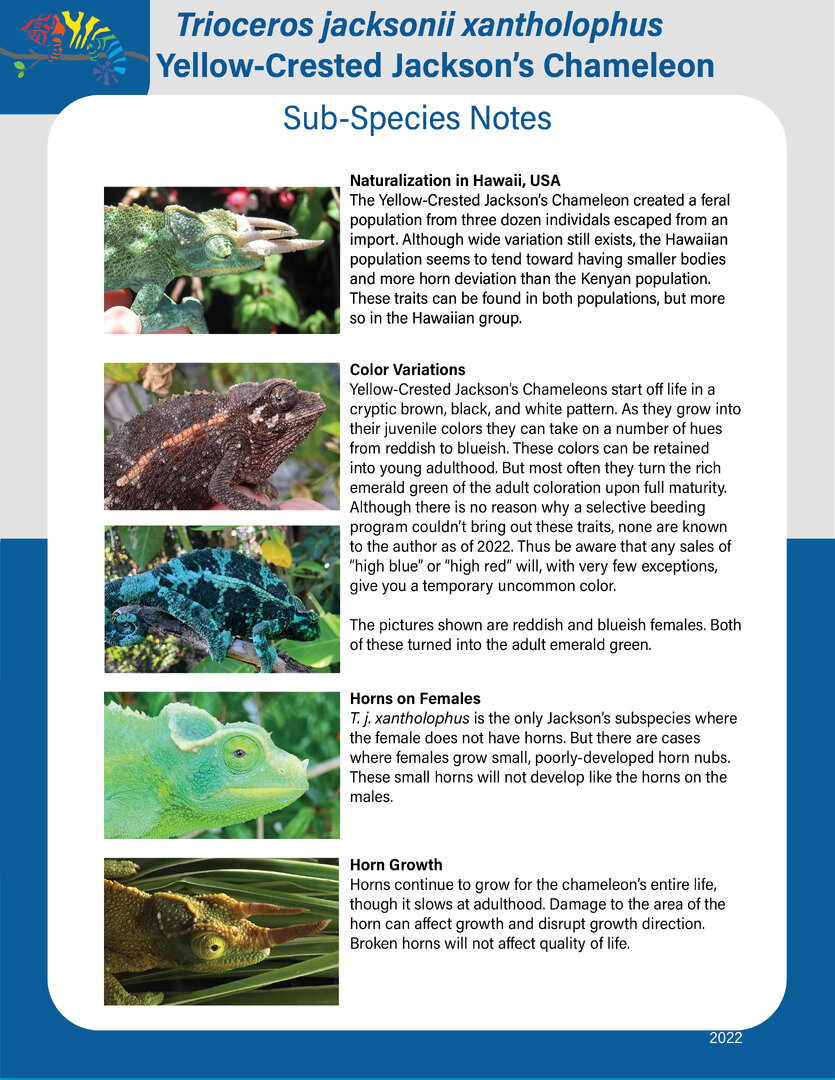 It is worth addressing various characteristics of the species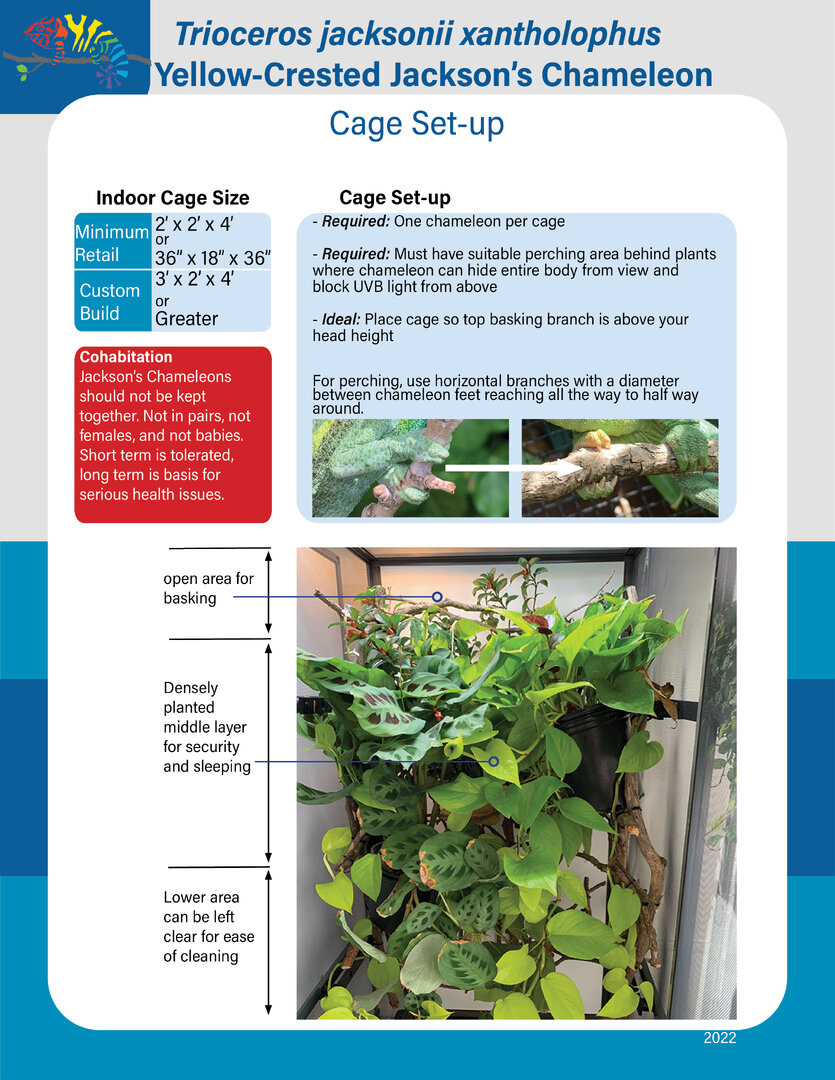 The change on this page is the language that acknowledges that the 2x2x4 cage size is the standard and has been proven effective, but if you have the chance to build your own or go bigger to take advantage of that opportunity!
UVB is an interesting thing with this subspecies. UVI 3 has been shown to be effective in personal observation and conversations with other breeders. But there is also the behavior that the Jackson's Chameleon seems to want more. So I do advise starting with UVI 3 at the basking, but to allow exposure to UVI 6.
The biggest change here is the introduction of seasons with a simple extra hydration cycle and, if possible, another light to provide "cloud cover" light.
I m not satisfied with the measuring of appropriate feeder size by the distance between the eyes. I am considering other methods, but need to do much testing before switching. Perhaps by next revision I will feel comfortable pushing one of the other ideas into the wild.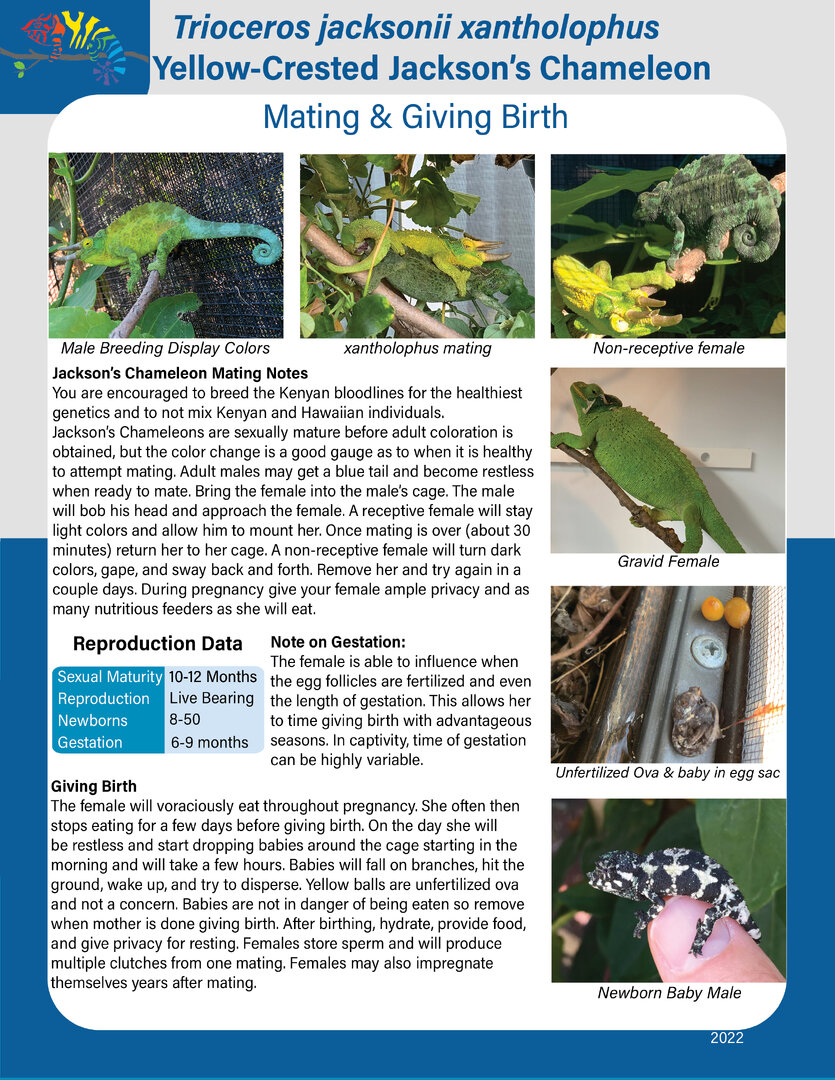 I felt that including information of the mating behavior and gestation was important, not so much so people will breed, but so they understood the dynamics that could lead to them getting surprised by babies!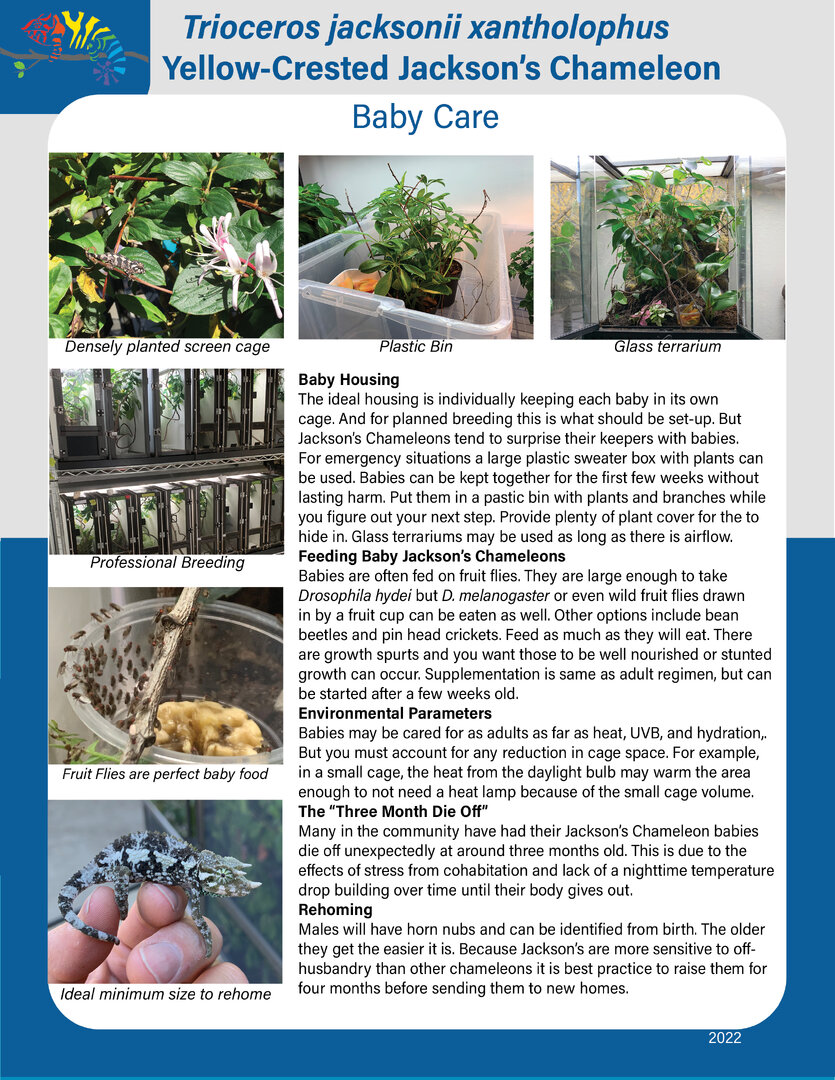 An introduction to baby care is for our lucky community members that find unexpected babies.
I felt it important to make a page specifically calling out the practices that will produce sickness
And a high level introduction to the common ailments of the Jackson's Chameleon can't hurt!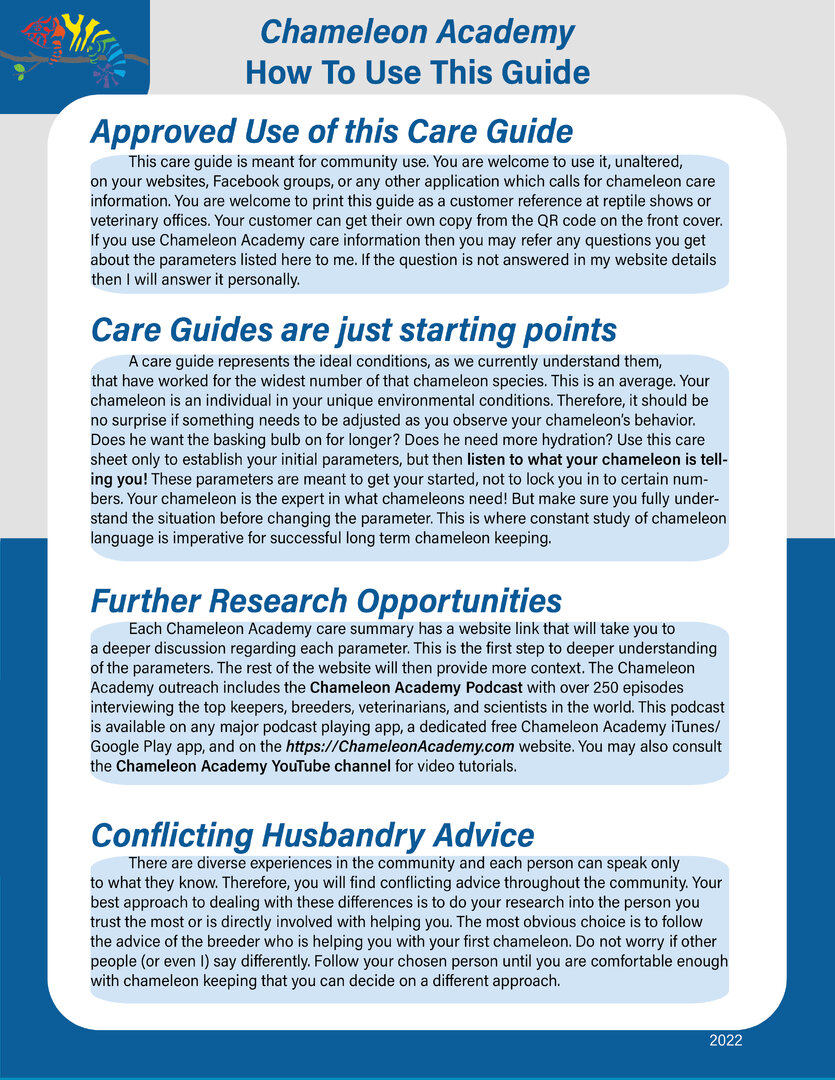 And, finally I talk about how to use this care guide.
I did produce a Chameleon Hour episode going over a great deal of this care guide. You can catch the guide here. Though, be warned, I took the Chameleon Hour seriously and I spoke over an hour on this favorite chameleon species of mine! Here is the embedded episode. But get yourself a good tall cup of coffee!
I hope this care summary will make the latest in our husbandry understanding available to the general community. And, to be clear, although this represents my deep experience in keeping this species for decades with multi-generational breeding, this care guide must also credit those that I consulted. Regardless of how long I have been doing this, I can only see from my one perspective. And so I value the input from other strong community members. This care guide was reviewed by Dr. Chris Anderson, Jurgen Van Overbeke, Sean McNeeley, and I had multiple days of in depth conversation with Petr Necas on every crevice on this care guide. Although Petr and I do not present the same execution of all the care parameters, I do not consider my job done until I am able to defend each and every number to where he (and these other individuals) can agree with the logic. Producing this guide with that kind of peer review is exhausting and exhilarating. The result that comes from all this discussion and defense is knowing this is the best we know at this point in time, but with a humble realization of how much more we need to figure out!
Please use this information for your personal education and enrichment. Please share any thoughts and comments below and we can enjoy talking about this amazing species and subspecies of chameleon!
If you would like to download a printable version you can find the download here
https://chameleonacademy.com/the-jacksons-chameleon-trioceros-jacksonii/