Hello all! This is my very first post within this community. I've been stalking for a while now but I am finally ready to introduce myself and my very first chameleon, Camilla (original, I know). I am a HUGE reptile enthusiast and have kept several different species of herps over the past 10 years but this is my first cham and I'm having a blast so far. While my collection has been reduced for personal reasons, I do still currently also have a juvenile beardie named Gobi. He's only 6 months old but he is a monster and growing like a weed. I never seem to be able to feed him enough crickets...but more on him later!
Back to Camilla...I decided I was ready for a cham for several reasons, the main of which I think they are just about the coolest things in the animal kingdom! I have been researching for months and was almost sure I wanted a panther, obviously because of their beauty but their price was definitely disconcerting, even though I was looking at very reputable breeders in the Kammers and Screameleons. However, I also stalked Facebook and one day came across a girl who was getting rid of her juvenile veiled chameleon. I decided that I would go ahead with this purchase since I have heard that they tend to be more on the easy-going, friendly side and this was still my first chameleon. When I went to pick her up (after spending countless hours researching what all I needed and how to care for veileds), I was pretty shocked at what I saw. She was in a tiny, all-glass terrarium with only one vine, a water dish, eco-earth substrate on the bottom, a shot glass full of mealworms, a CFL compact hood with no bulb (because it had burned out the previous week)...(I can already hear the gasps!). Needles to say, I was pretty mortified. I kept myself pretty quiet the entire time even though I wanted to scream at this girl...especially when she tried to tell me that veileds were from South America.
(Yeah, I know, I know.) Anywho, I got Camilla (I named her that because the poor thing didn't even have a name) out of there as fast as I could, raced home and hit the Internet to buy all of the necessary supplies, the first of which was a screen cage. I actually didn't sleep the night before it was delivered because I was so anxious to get her into her new home and out of that death trap (dramatic, yes, but I'm a pretty high-string individual!). Below is a picture of the house or horrors...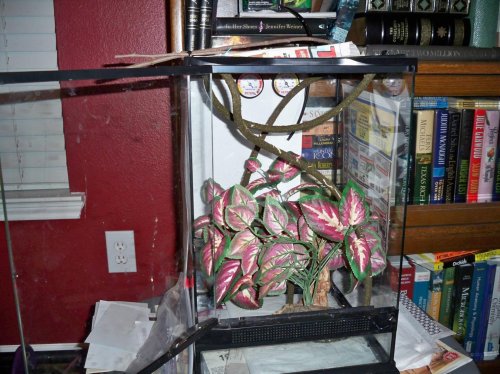 Calm down, nobody jump please! I am proud to present Camilla's new and greatly improved cage...
Ta da!!! And here she is happy as a clam, sitting in her basking spot...eyeing me and most likely saying "Do not look at me and please shut the cage door, it's drafty!"
She is so much fun to just sit and watch, of course...she probably does the same thing and wonders why that stupid human has nothing better to do than stare at her! She went from only eating awful mealworms to feasting on fat, gut-loaded crickets...plus, the other day I gave her a housefly and I've never seen her so excited! As I left her this morning, she was happily stalking several crickets in her cage after having her morning drink. Another cool thing about her...I have noticed that some people have trouble getting their veileds to eat salads, but on several occassions, I have caught her dangling over her salad dish...now I have yet to actually see her eat them but she must be interested and it does sometimes look like she's eaten a few of the greens out of the bowl.
I have watched her drink on many occasions so I know that she is staying well hydrated. I have also had my first trial and error in that I ordered a Habba Mister (yes, I read all of the bad reviews but I still wanted to see if I could have a better experience with it). Well, I set it up and let it run during the day on the 3 hr, 30 sec cycle...the stupid thing leaked from the reservoir onto my hardwood floors and the nozzle leaked like a sieve and flooded her cage! So that is totally gone and I am currently using the Little Dripper (which is a joke) while I order the Mist King System. BTW, any tips, advice or tricks of the trade are greatly appreciated and deeply needed before I order. Thanks in advance!!!
As far as Camilla and I, we are getting along fabulously and she seems to be middle of the road when it comes to her personality. Most of the time, she wants nothing to do with me and walks away when I go into her cage to clean it out or whatever...but she will eat from my hand which is so cool! And then other times, I am fussing with a branch and she steps out onto my hand and walks straight up to my head and looks at me cautiously...I am fascinated with her! Well, that is my INCREDIBLY LONG introduction! Thanks for reading and sticking with me while I ramble...I tend to do that a lot. I have already enjoyed so many of your posts and I look forward to many more!
Jax