So I'm trying my hand at raising silkworms. Figured I'd share my experience and photos along the way...
I ordered 250 eggs from
@Spyro88
as well as 20 or so live silkies. The live silkies came with plenty of food to last a week, however, once the worms grew a bit I decided to break them into groups/new containers. I'm glad I did, as the food showed signs of mold developing after a week from shipdate. I figured splitting them into two containers would cut down on the risk of me killing them all!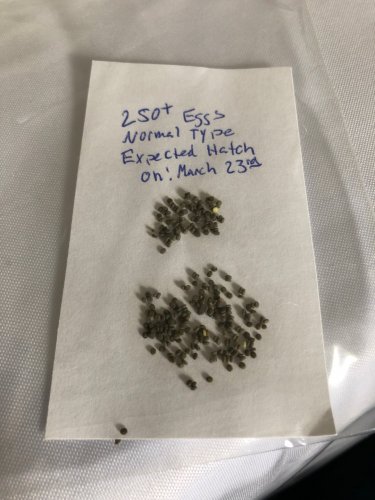 The eggs were glued to a small card and looked like small, matte grey pebbles. It sure doesn't look like 250 until you start counting (I quit at 25)!! The anticipated hatch date was 3/23, however, the eggs didn't hatch until 3/27 (with much anticipation). I believe this was due in part to a delivery delay thanks to USPS, coupled with cooler ambient room temps.
Around the 23rd I decided that my house was probably a bit too cool (around 70-75 degrees). So i took a small keeper bin and slapped an extra small heat pad I had to it, and placed the eggs inside within another vented container. The thermastat usually shows between 77-80. Tonight, I finally had caterpillars!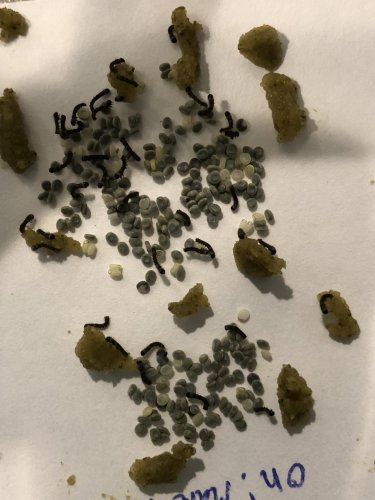 In the picture you can see the empty eggs, which are white, and the eggs about to hatch are a blueish grey.
These guys hatched sometime during the 12 hrs I was at work. I am not sure how people "grate" their chow, as mine is soft, not hard. So I santized two clean knives with alcohol, dried them, and then used them to chop very small chunks of chow. Even then, I was worried about dropping the chunks and crushing the cats. I very carefully placed the chow around my babies and within a minute they started to swarm the chow.
(I make sure that I sanitize anything that touches the container or food, including my hands, tongs, knives, etc. Nothing goes near the container without being sterilized.)
My live silkworms grew quite a bit over the week! I placed the two groups into cheap leftover containers that I washed and wiped out with alcohol (and thoroughly dried). I santized scissors and poked holes in the top. Then I took gutter guard and cut a piece to fit, dropped it into some boiling water to santize before placing in the container. Then I placed a few small chunks of food around the container, making sure the cats weren't crowding around one. Every night I spend about 5 minutes santizing my hands and utensils, then lift the gutter guard to shake out the poop, and replace the food. I'd rather do this nightly then to add too much food that spoils or gets poopy. They create a LOT of poop per day! Especially when they get bigger!
Since I only had 10 or less worms per group, I didn't need a big container, however, I will definitely need to size up for the next batch!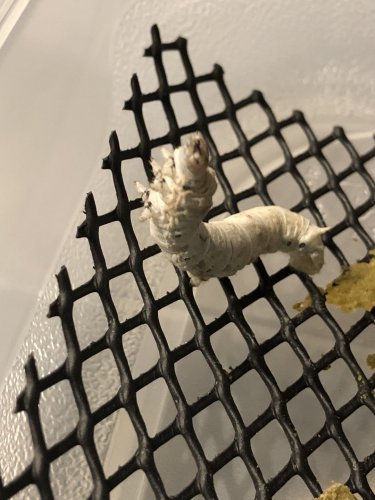 Once I started to notice the pulsating vein down the cats backs, and they grew to around 2-3", I moved them to the "spin bin." Its hard to judge when they're large enough... they grow so much! I moved some skinny 2.5" cats over, but they've continued to grow and fatten up over the last few days! They are easily the width of my pinky, and slightly longer.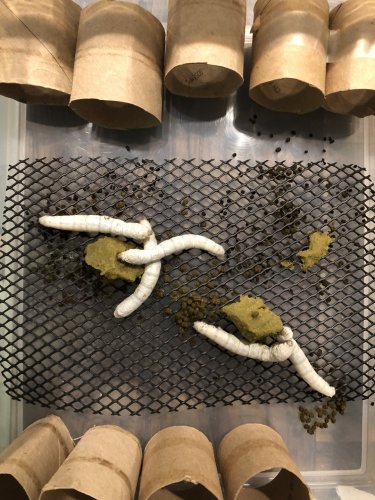 I panicked and fed off a few small caterpillars that I thought might be weak or ill... in hindisght I suspect they were just molting and shedding their skin. I didn't want to take a chance, with the silkworm paranoia of waking up to a dead colony! Maybe next time I'll move them to a different bin for observation.
I will circle back with the babies growth and when my cats start to spin. So far this has been much easier than I expected. I just make sure they are kept at room temp (slightly warmer for the eggs), and spend 5 mins a day giving fresh food and emptying poop. Again, I've made sure that I keep a paper towel with rubbing alcohol nearby to wipe down anything that comes into contact with the caterpillars, their food, or the inside of their enclosure.