Chameleon Enthusiast
Site Sponsor
Any Jackson's Chameleon keepers have a Chameleon Kit cage laying around? Well, I do and decided to put it to good use! It became a very nice outdoor cage for a newborn Machakos Hills Jackson's Chameleon!
Step 1: Admire this cage!
This is the 16" x 16" x 30" screen cage that comes with the Chameleon Kit. Isn't it just dripping with potential?!? What to do with it? It is just waiting for an opportunity to do great things!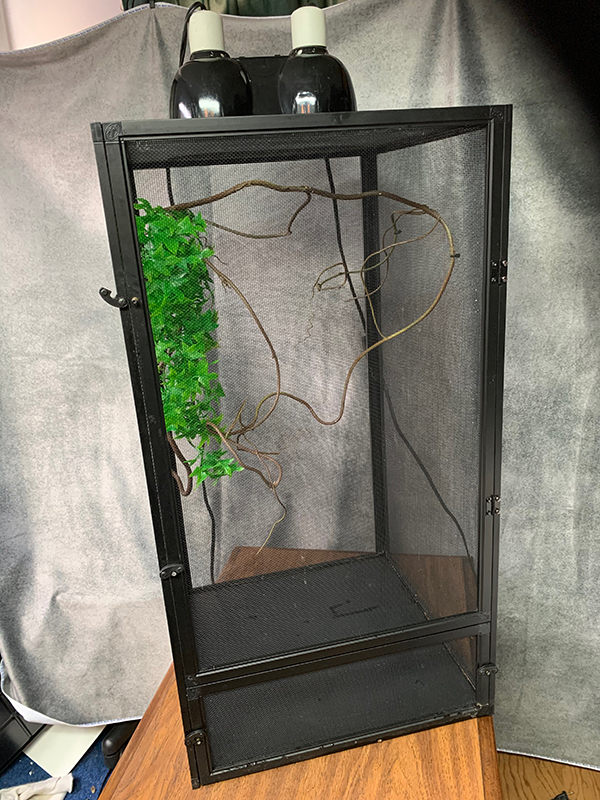 Step 2: Opportunity calls!
As us Jackson's Chameleon keepers expect the unexpected, I was well prepared to be surprised by some babies from one of my Machakos Hills Jackson's Chameleon females! Perfection in miniature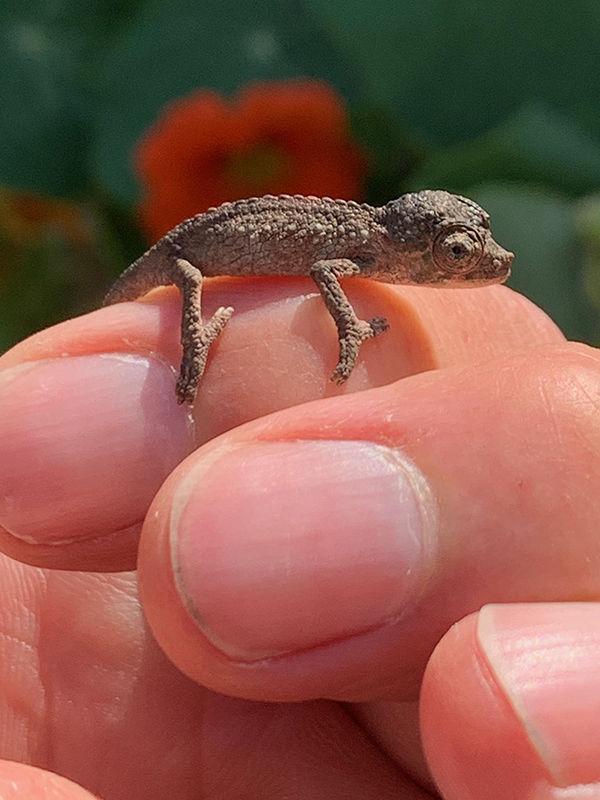 Step 3: Congratulate the lucky parents!
Okay, not so much. They don't care. You can congratulate me, though, as I am excited! But, let's go ahead and take a gander at his lineage. I am excited to see what this little one will grow up to be as he/she is the product of some very nicely colored parents. The father is from Kenya while the mother was born here in California.
Step 4: Put in Main Plants.
This is going to be an outdoor cage so I was free to use small Jasmine vines and a bower vine. I just placed them on the bottom of the cage in their pots.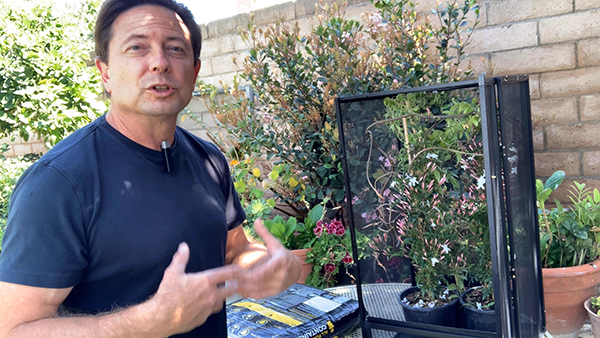 Step 5: Fill in bottom with soil.
Yep, just dump it all in and fill it up to the level above the pots. A soil floor is important to balance out the cage as far as heat. We don't want the sun bouncing off the floor and the chameleons not being able to go low to get out of the heat like his instincts tell him to.
Step 6: Ground Cover!
Hey, this is a high class establishment!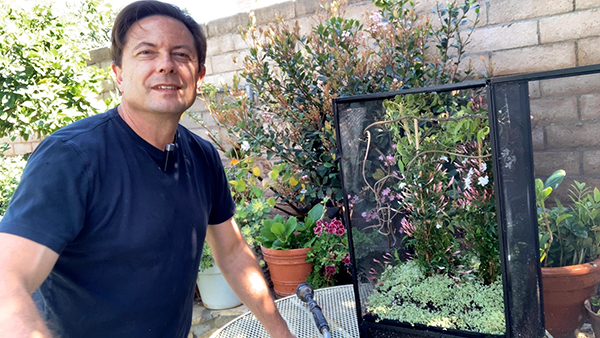 Step 7: Admire Finished cage!



Step 8: Admire this incredible Cephalotus Australian Pitcher Plant
No, this carnivorous plant is not used in this cage build. But, my goodness, just look at this beautiful pitcher! I love carnivorous plants and the Cephalotus is one of my favorites. But, I digress..You are probably asking about those bananas. I'll answer that question, but just take a look at this beauty on your way to step 9!
Step 9: Feed the Baby!
My favorite way to feed baby chameleons is to put out fruit and create a swarm of wild fruit flies in the baby cage. This is as simple as opening up a banana, mashing it just a little, and putting it out where it can waife. This works wonderfully. The little baby will just hang out over the banana and eat to his heart's content. And, yes, a cloud of fruit flies will come and sometimes I have to clear it out because it gets too much. But too much food is the best problem to have with baby chameleons.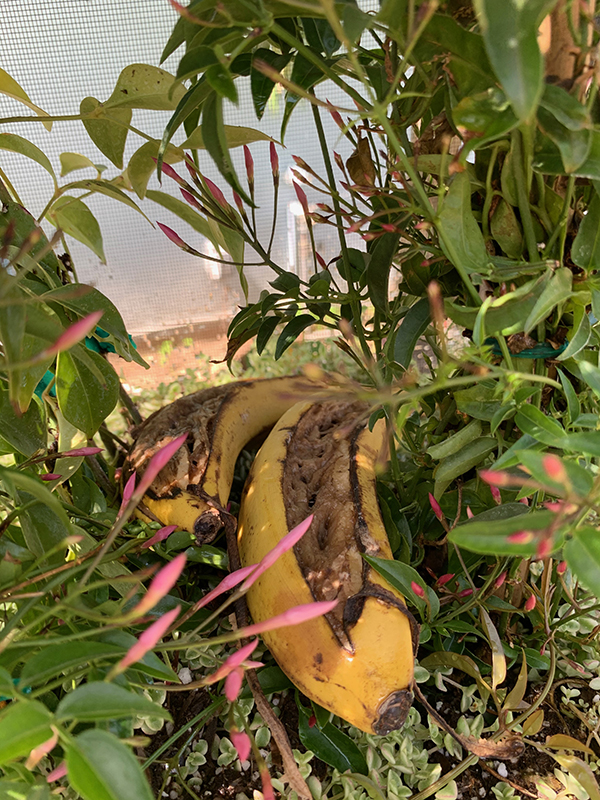 Step 10: Add Baby Chameleon!
And now it is time for the new resident to move in.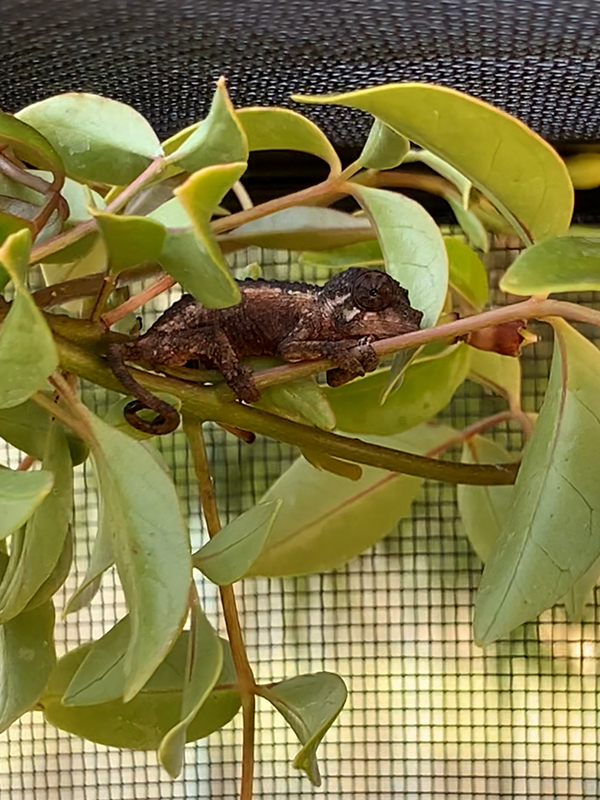 Even though this is a spacious cage for one little Jackson's Chameleon, this is still a small cage for outdoors use. So it will be well supervised. I will have it on a table that is under a tree so it gets the morning sun, but protected from the afternoon sun. The cage is an inexpensive Reptibreeze and not designed for outdoor use or to hold soil so I won't get long term use out of this. But I will definitely get the four months of use I need before this little one grows out of the cage. So this is a fun project with a cage laying around. I did this a couple weeks ago and it has been working wonderfully. Fruit flies are clouding and the baby is growing!
I did a video of this if you would like to hear the narration of these steps.