Veterinarian
Staff member
My sweet Oscar is 5 years old and suffering from gout. When he was younger he went through a long period (over a year) of not wanting to drink by any conventional methods. For a while he would only drink in the shower, then only outside from the sprinkler, then only if water dripped on one leaf in particular, then squirt bottle, etc. I had to keep switching it up to keep him hydrated and even resorted to injectable fluids at times until he finally decided that drinking from a syringe was acceptable.
Earlier this year I started noticing that he was letting his front legs dangle off his branches more than usual, so I did bloodwork and X-rays. His bloodwork was all normal but there were some areas of mineralization around his elbows. Gout causes uric acid crystals to build up either in the tissues or the joints. Oscar's elbows do not extend fully straight anymore because of it. As you can see both front and back left leg are just hanging over a branch and he's leaning on that vine to try to take weight off his legs.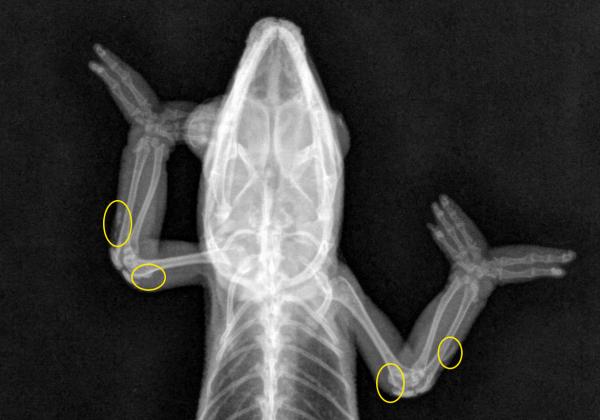 The main reason I'm posting this is to help others recognize signs of pain in chameleons. Unlike in mammals, symptoms of pain in reptiles can be very subtle. Oscar otherwise was eating great, crawling around, getting excited to see Loretta, and looked normal. All he was doing was dangling his legs when he was resting instead of gripping with them. A chameleon will do that from time to time normally, but this was more often than not by far. Swelling of joints is classic for gout, but not always present.
I started him on pain medications and you can tell it makes him feel better because he stopped dangling his front legs. Unfortunately you can't fix gout, but you can delay it with extra hydration to help the kidneys out.
Last edited by a moderator: