Hi all!
I am new to this forum but not necessarily new to chams. I've had a few chameleons in the past (veiled and panther) but have not had the pleasure of keeping a cham for the past 10 yrs or so. I've always been fascinated with them as long as I can remember and am finally in a position to keep again. I've recently acquired my new little buddy, Bronson, and was looking for any critique/advice/criticism/ of my husbandry. Like I said, I am not new to keeping chams but I would love to hear some opinions on my current set up. All feed back is welcome. This is my first bio-active setup, so if there's any specific advice for bio active, I'd love to hear it.
Chameleon Info:
Your Chameleon - Bronson is a male ambilobe x nosy be panther, about 4-5 months, had him for two months now ( I know some of you may have problem with crosses, but don't worry, I will not be breeding him. He's just my little buddy)
Handling - 4-5 times per week - I know, I know, handling is frowned upon but I do not force him out of his cage. I may have been blessed with a friendly little dude who climbs onto me on his own free will (80% of time, 20% if he doesn't climb on, i don't pick him up) - usually put him on his free range house plants by the window on a sunny day - seems to love it
Feeding - He gets crickets and supers as his staples. Butterworms, horned worms, wax worms as treats. Trying to get him on some BSFL (any advice here, he has no interest). Currently breeding the wax worms for moths, but he lovvvves his little waxworms when he gets em (not too often, i know they're fatty little things). Because of his age I'm basically feeding as much as he'll eat everyday in the morning (few hours after waking). Will limit him as he gets older. He is growing like crazy! Gut-loading with a variety of greens, mango, papaya, sweet potato, broccoli, etc healthy veg and fruits 3-12hrs before feeding. He's been hand feeding from me from almost day one, but also use a feeder cup that he's not really interested in, so I basically feed the worms by hand and let him hunt the crickets.
Supplements - Dusting with zoo-med reptiCalicium w/o D3 every feeding, rep-cal Ca w/ D3 every two weeks, rep-cal herptivite multi vit. the other two weeks alternating. Any better suggestions here as far as brands?
Watering - Running an exo-terra monsoon mister (two nozzles), mists 3x/day for 1 min (morning just before lights, mid aft, 12am just before fogger kicks on). Also place a dripper on top mid aft just in case he's thirsty. Occasionally see him drink. Trying the naturalistic method of hydration as suggested in Chameleon breeder podcast (Avid fan and listener of Bill Strand!!)
Fecal Description - Poop looks healthy (brown w/ white urate). Have not tested for parasites as he was captive bred and I got him young.
Cage Info:
Cage Type - I built a custom screen cage for him. Solid back with one side covered in shower curtain to maintain humidity. Cage is approx 2.5x2.5x4.5ft. Sits on top of table so top of cage is probably around 7ft
Lighting - Running a 100W Daylight basking lamp in a dual dome w/ additional plant light, 2ft sunblaster T5, and 2ft T5HO 5.0 reptisun UVB. On a 12/12 schedule (7am on, 7pm off)
Temperature - Bottom of cage about 70-75F, basking temp is high 80s to low 90s. Recently lowered the lamp (like one inch) to increase temp slightly as he was spending a long time basking. Lowest temp at night might hit 68 in my house. Temp is measured with a probe and a temp gun to check various places. Also have a probe for ambient in the room he's in.
Humidity - Day humidity hovers around 50-70%. Night time I try and get it to high 90s. Misting and night fogging are used to achieve these levels. Also the bio active setup helps greatly with this. Two probes are used in different spots in the cage to monitor.
Plants - My bio active setup is loaded with live plants. Main large ficus tree, pothos, bromeliads, hibiscus, spider plants, dwarf umbrella, wandering jew... it think that's most of them. Starting some cham safe flowers to put in for some colour too. Too many plants? Is there such a thing?
Bioactive - springtales, 2-3 types of isopods (honestly dont remember the species), red wrigglers in a organic mix of various substrates, oak and maple leaf litter on top
Placement - Cage is in spare room (it's a room actually all for him haha), no traffic (Just my fiance and myself, have two dogs, keep them out) there is a vent in the room away from cage, and i run a little floor fan in the room for a couple hours a day for air circulation. Cage top is ~7ft from ground
Location - Where are you geographically located? SW Ontario
Here's some pics to help explain. Thank you in advance for any suggestions this amazing community may have and for reading this long post!! Will also be looking to add a jackson's to my family sometime (always loved them, never had one) down the road (6m to 1yr) if anyone knows a reputable breeder in ontario, or will ship to ontario. I know the cage isn't the prettiest, but it works pretty well I think! So happy to be keeping chams again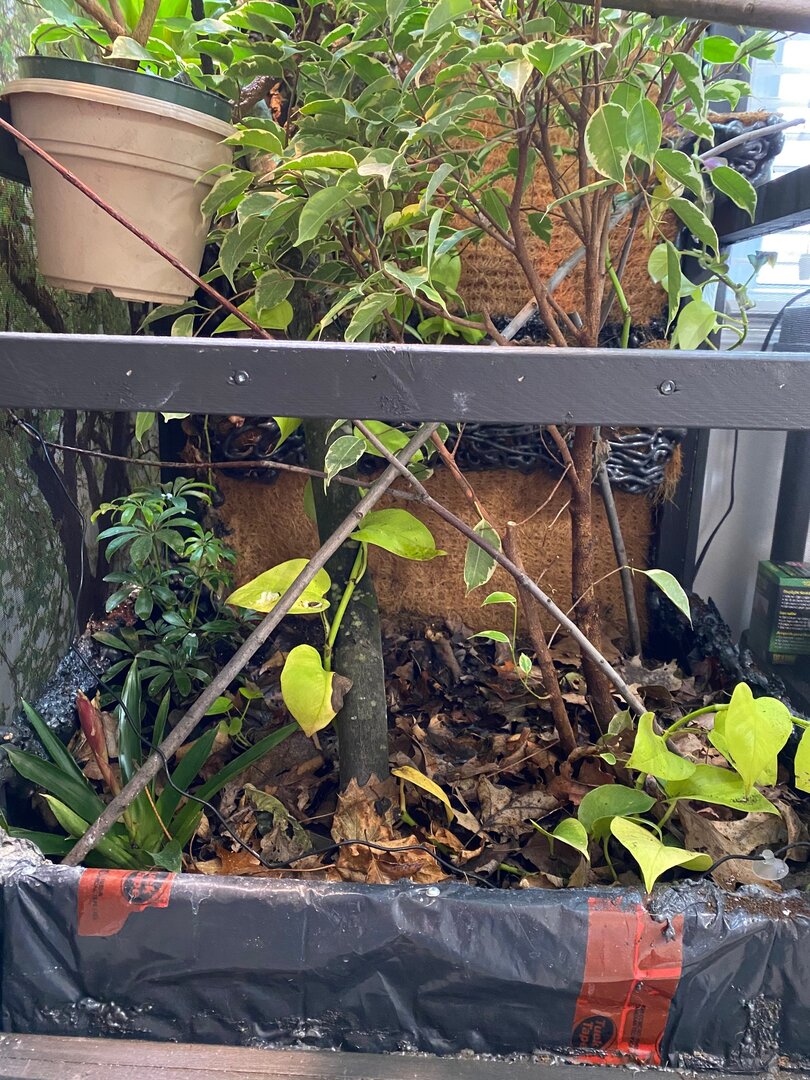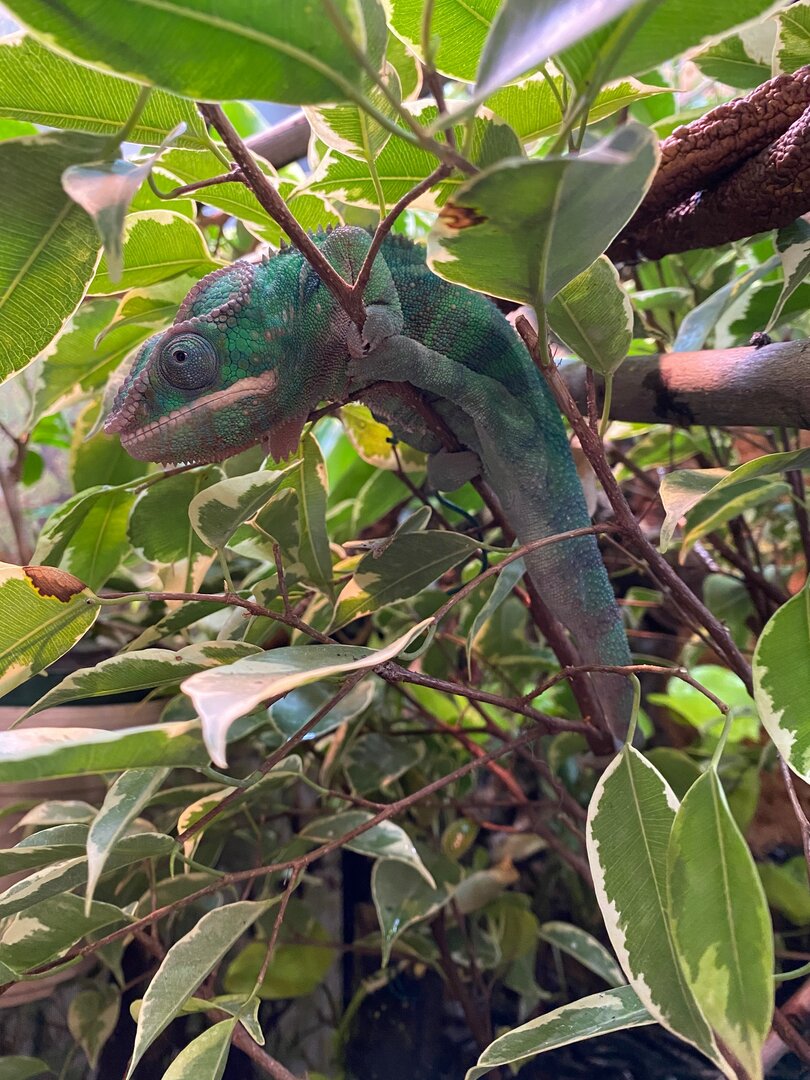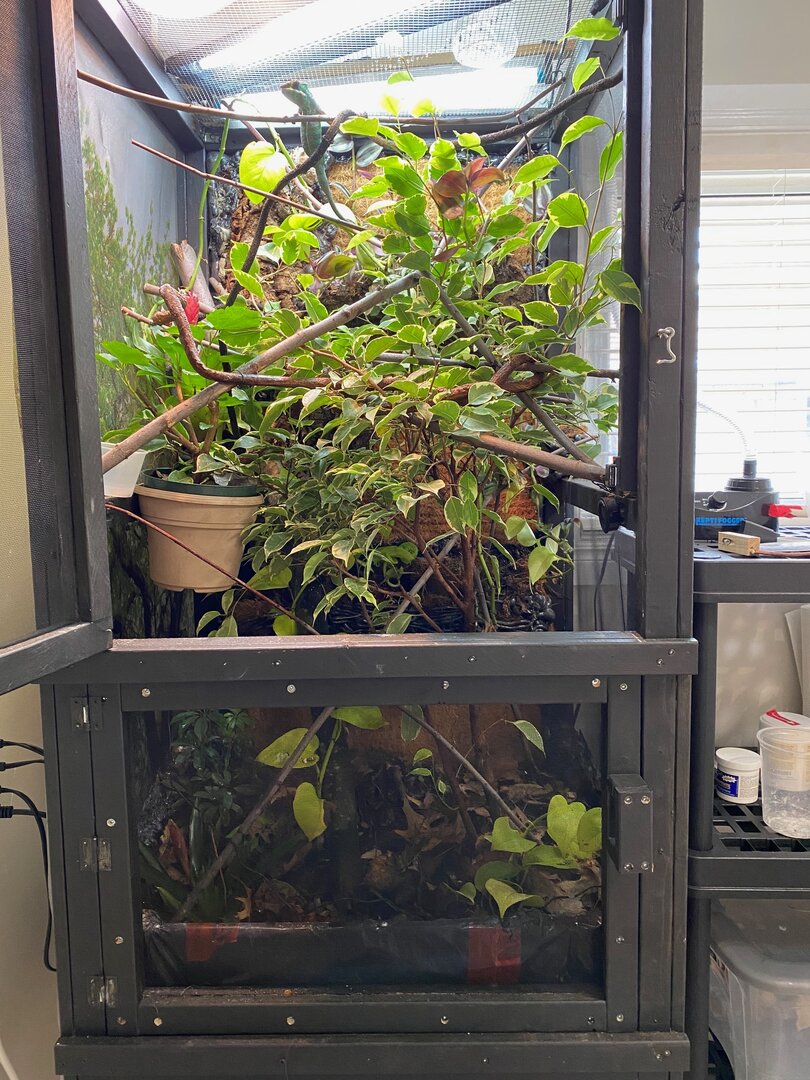 Cheers