Such a simple thing, yet it took so very long to make this room happen. Thankfully, all of my enclosures fit perfectly with no room to spare. Is that a good thing or a bad thing that I have no room for more reptiles?
It's a tiny room, so hard to get good pics, but I tried. I was going to do a video, but I sound like Darth Vader breathing in the background. So the chams can't see each other, I have a curtain blocking their views of each other in the middle of the room which is working better than I'd hoped. For additional privacy all have fake greenery hanging on the outside of their doors. The leopard gecko tanks are beneath the chams. The beardie is next to Hammlet and by the window as he enjoys looking outside. My girls are side by side in the standard 2x2x4' DIY enclosures and each of my boys are in double wide 2x4x4' ReptiBreeze enclosures. I had to get a second Mist King as I'm running too many nozzles for just the starter system. Added bonus is I don't have to run any tubing across the room. All of the lights turn the room into an oven, so I have a portable ac unit to keep ambient temps in the low to mid 70's. I had to put a deflector on the ceiling vent so it wouldn't blow on the chams. Only thing left is to get Jack a second UVB light (I keep forgetting or they're out of stock) but thankfully he basks right below his uvb.
Surprisingly, Jack has been making full use of all of his additional space and Hammlet has pretty much just been staying on one side. When they were in their 2x2x4' enclosures, it was Hammlet that was always patrolling every last inch and Jack who was happy on just a couple of branches. Go figure!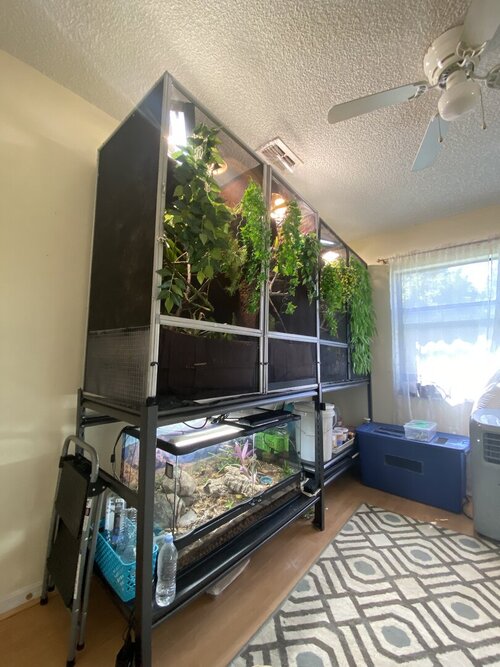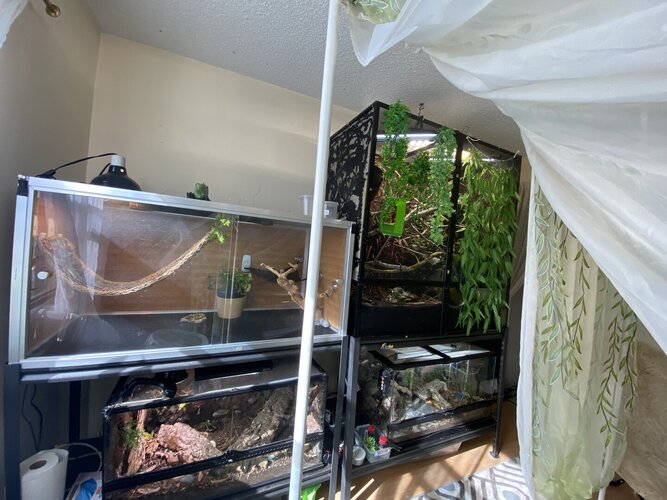 Bonus pic of Jack…seconds before he tried to attack my phone.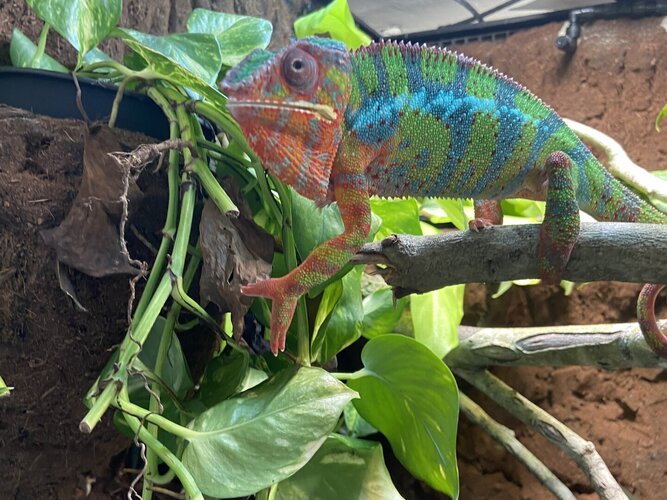 Bonus pic of Spike, just chillin' on his hammock. Most of his tank items have been removed for cleaning after his poop painting. **Yes, precautions are strictly adhered to, to prevent any cross-species contamination.