Hello Everyone,
I´m new to chameleon community and Bella is my first. I bought her 19 December ´20, at the age of 3 á 4 months (according breeder) and should be an Blue Veiled Female.
Put a lot of information from the Chameleon Academy (unfortunately too late, needed to invest double). However everything they share, seems to work perfectly.
Here some basics as introduction.
Chameleon Info:
Your Chameleon - Veiled Female around 6 months old and did her 2nd shed 2 weeks ago during my care.
Handling - As less as possible, and trying to let her take initiative, by opening her cage and lay down a branch. (not every day). I have noticed, she´s curious, so let her gain trust.
Feeding - As much variations as possible, with the basis of crickets. Feed her, Dubia's, Phoenix worms, Silk worms, Desert Locust and regular Locust, and as treat Wax worms. Gut-loading them with fresh veggie and fruit. Gave her everyday 5 till 7 feeders for the growing and now going to cut down to 5 feeders each other day (she starts to get chubby i think).
Supplements - Every feeding Repashy Calcium Plus and once a week Exo Terra Multi Vitamin.
Watering - What kind of watering technique do you use? How often and how long to you mist? Do you see your chameleon drinking? Misting and fogging due the Chameleon Academy technique, drying out during the day and misting and fogging at night. 3 mistings a night and from 2 am each hour 15 min fogging. No dripper during the day. Never seen her drink!
Fecal Description - Briefly note colors and consistency from recent droppings. Has this chameleon ever been tested for parasites? Just prefect poo, al white and slimy with consistent brown. Hydration method, as described above, works perfect.
History - Came from the wrong start. Too small cage, waterfall, fake plants etc. etc.
Cage Info:
Cage Type - Hybrid screen cage 24'x24'x48' (Zoo Med), one side and back closed with a forex plate, forest printed. Other side partly closed.
Lighting - What brand, model, and types of lighting are you using? What is your daily lighting schedule? Zoo Med T5 Reptisun UVB / LED 14", Zoo Med Terrarium Hood 24" T5 bulb, Zoo Med Deep dome fixture. 75 watt light. Led light from 06:30 am till 7:30 pm, the rest from 07:00 am till 07:00 pm.
Temperature - Humidity Control. Night temp between 14 and 18 degrees. Daytime temp 21 degrees average cage temp and 28 degrees basking temp.
Humidity - Daytime around 50%, nighttime 85-95%
Plants - Only live plants. Devil Pothos, Umbrella plant, Spider plant, Lipstick Plant and many more. Still got some fake vines, which will be exchanged briefly for, like the rest, real branches.
Placement - And the corner, lifted from the floor, next the our couch. Sleeping above my head heights.
Location - The Netherlands
Current Problem - No real problem, except she getting too thick (changed feeding) and she will start laying eggs. This weekend we´ll place the laying bin.
Her sleeping spot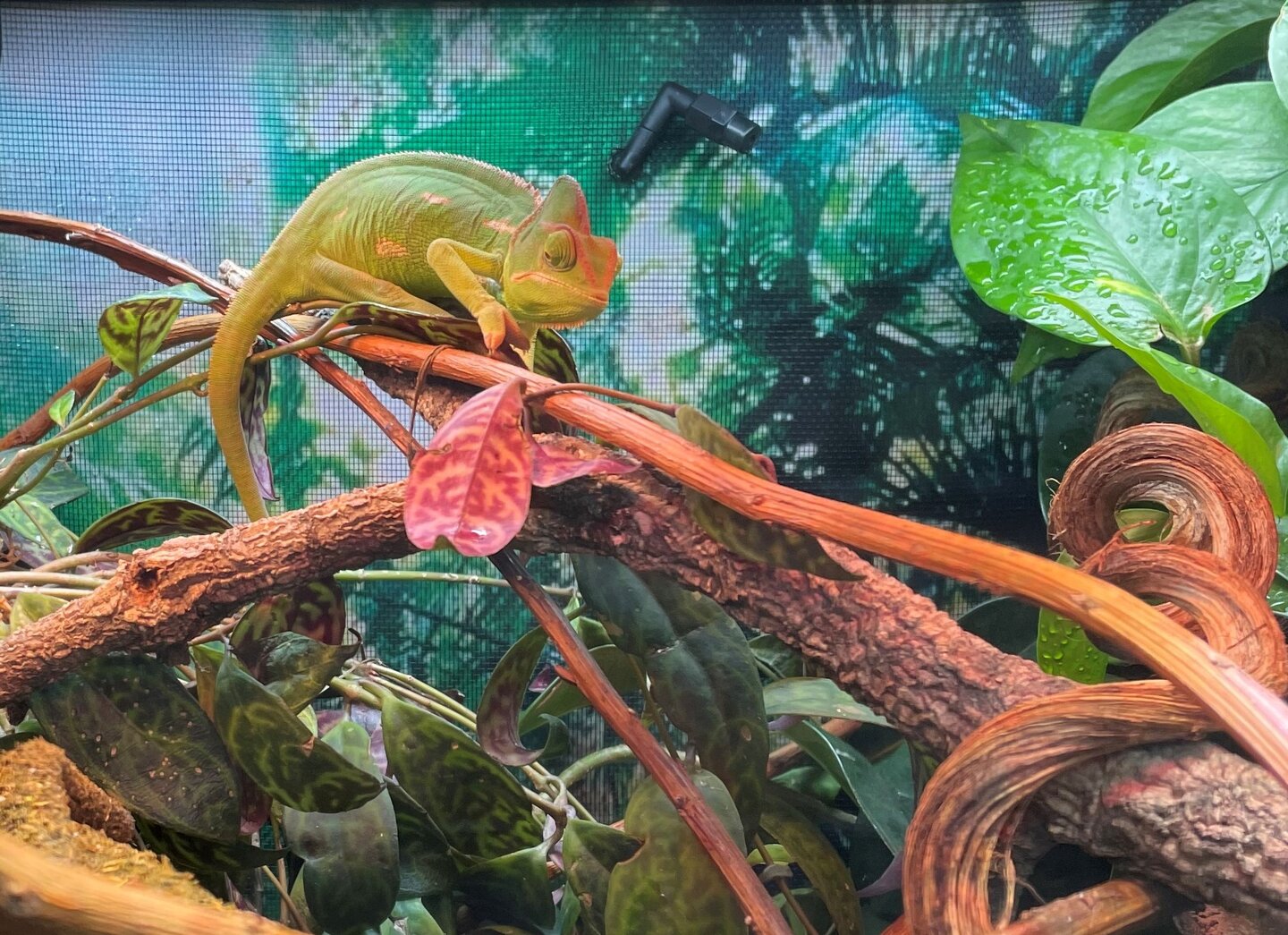 During day time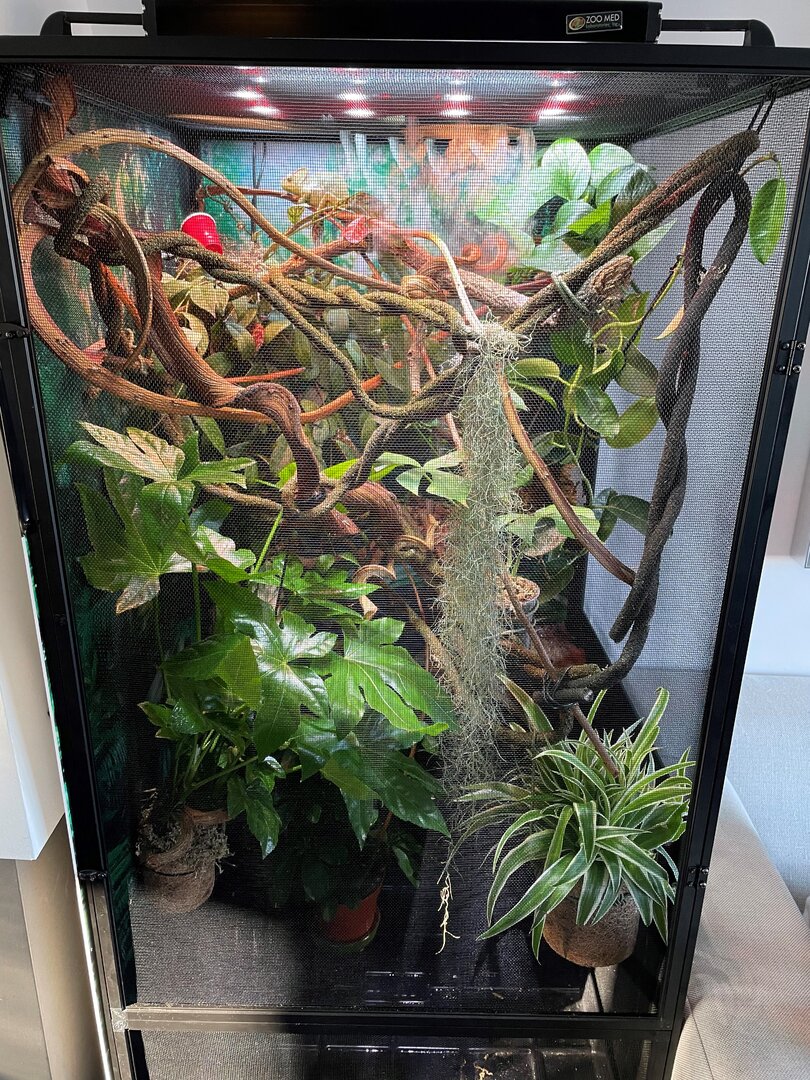 Front of the cage (and yessss the fake vines will be replaced
), also just testing the modified fogging tube, made it circular.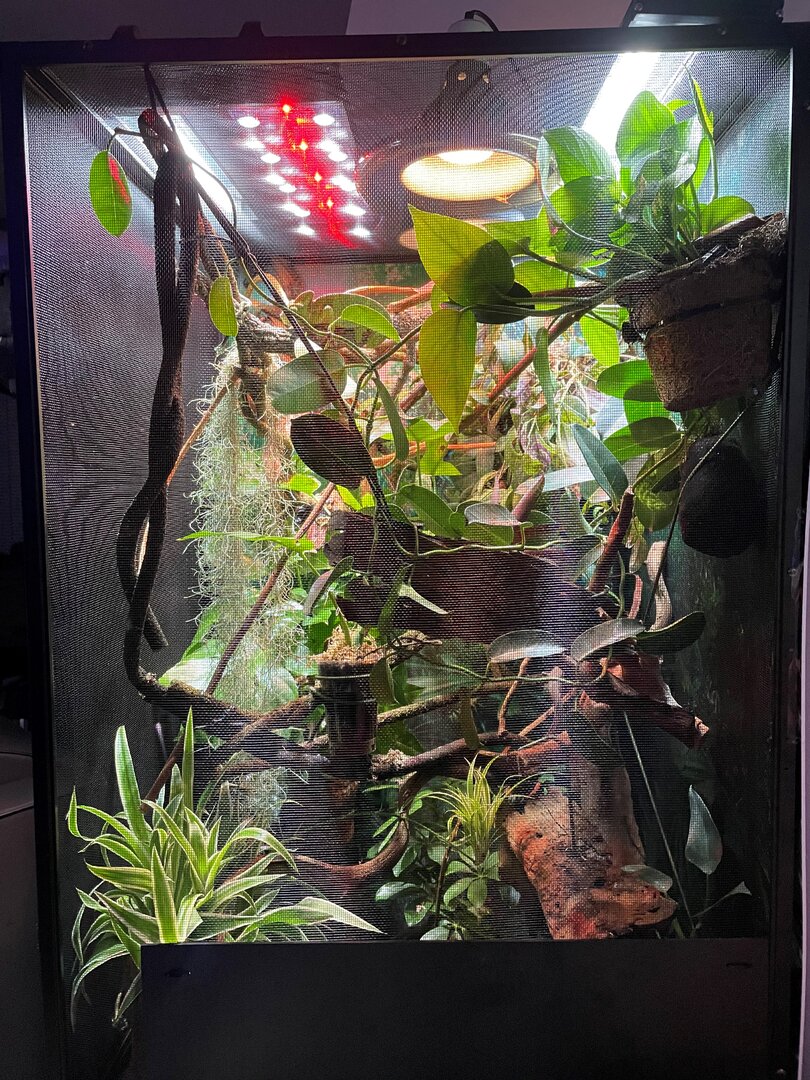 Side view from couch
Bella after 2 weeks in our care
Last edited: