Hello. Babies are now ready for their new homes.
I have 5 beautiful little girls that are unclaimed, ready for new homes. They were born in early December and are now 4 months old.
They are eating extra small silkworms, hydei fruit flies, baby mantids, and just started on the smallest dubia. They could eat small 2 week old crickets but I have never offered them. They get very small stick bugs on occassion - but I dont think they know what to do with them yet. As adults, I feed them small silkworms, "micro" superworms, xsmall dubia, newly hatched mantids, small stick nymphs, small meadow katydids & baby grasshoppers (small crickets will do), BSFL, and black soldier flies. Believe it or not, blue bottle flies are too large.
IMO, the most important factor with these species is COOL TEMPS. They visibly stress over 80. So I do not provide a basking light. Temps get close to 75ish under their dual T5 and that is plenty for them. They also need cool, humid nights, as close to 60 degrees as possible. If you can get into the 50s that is even better! I keep them in my basement which stays naturally cooler rear round.
I fog for a few hours each night, but not all night. A good long misting in the mornings, and a quick spritz at night for a humidity boost.
I supplement on the same schedule as all my other chams - I just try to go easy on it and dust half the feeders lightly. I also use pollen mixed with calcium at nearly every feeding.
This is a relatively small species. Adults are only around 3" in length, but with a very long tail (also about 3"). They will do fine in a 16x16x30 enclosure with good airflow (but keep humidity 60-70% during day). Cage should be densely planted. Wandering Dude makes a great, fast growing plant for them. It provides a drinking surface and the leaves are perfect for serving platters. I also like philodendrons such as horsehead philo, burle marx, haphiadophora tetrasperma (mini monstera), monstera adansonii (swiss cheese plant). All grow well, and have decent stems which double as vines/branches for their tiny feet.
These are a very active species with loads of personality, and a relatively docile temperment (but every animal is unique). These are
captive hatched,
meaning that both parents were wild chameleons, but they were hatched in captivity. For this reason, not much is known about their bloodline or genetics. They have been very healthy, active, and all growing quickly.
$100 each, plus shipping (I'd estimate at least $75 but will depending on location). All are females, which are a lovely bright green, with red heads, and occasionally show baby blue spots around the crown. It is very important to me that they go to good homes who are prepared and capable of meeting their temp needs. I keep mine in my basement in MD, where temps and humidity are near perfect year round.
Babies
Mama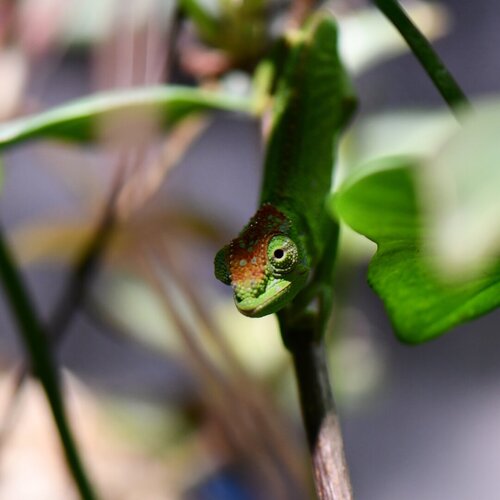 Last edited: