Hello! I'm new to the forum. I always came here to inform myself on chameleon matters as well as chameleon channels on youtube because I wanted to be ready and do everything as good as I can to keep a happy veiled chameleon. And I decided to join because I want to make sure he doesn't get ill or something and then die.
I got him on saturday, he was born the 27th of July. I named him Jack Conway.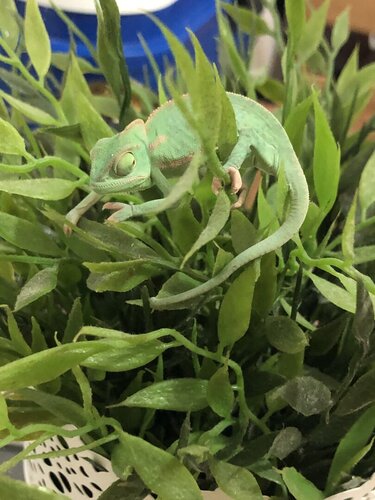 This is him the first day we brought him home. He of course was a bit stressed in the car, even more because the trip back home was long and he had to stay in a tiny box.
He's been doing well. I've heard from people whose chams didn't eat the first few days but mine did eat. Just not a lot because my stupid ass crickets would die fast inside the cup, even more after I ripped their back legs off to avoid them from jumping everywhere. On sunday I dusted with Calcium + d3, yesterday I dusted with calcium. Today I gave him mealworms because I ran out of crickets and he ate like.. 4-5 small mealworms, three of them being white ones that molted recently, making it easier for him to digest. Oh yeah, I gutloaded my crickets and my mealworms with apple, spinach, and potato. My crickets ate carrot as well.
His husbandry, his basking spot is at 32°C and his cool side/ the rest of his cage is at 22-24°C.
The bulb is 40W BUUUT it warms up just enough. When I was setting up the terrarium I burnt my finger with it :,)))
His UVB light is a linear T8 5.0 tropical tube, from Repti Glo. I wanted to find a Reptisun one but it's hard here in Spain to find Arcadia or Reptisun tubes. Although I'll invest a bit and try to find one when I change him to a new terrarium. Speaking about that, his terrarium is a glass one at the moment. It's 70 cm tall and 30 cm wide and deep. I know, it's not really big and glass cages aren't recommended but the thing is, it has mesh on the door, and the mesh holes if that's how you call it are big enough to let the cage ventilate if you understand what I mean. In fact I have to mist a lot during the day so the humidity stays at 50% to 70%, since the basking bulb kinda helps the cage to dry up.
Both the basking bulb and the UVB light are inside the cage but I made it to where he can't reach them and burn himself. I'll ask my dad to see if we can cut the top glass off and change it to mesh.
I haven't seen him poop yet but if he did it must be tiny as hell or it fell inside the plant pot I have in his cage.
About handling, I try not to handle him much because he's new. Only when he climbs on the mesh (When the humidity dried so I must it up again) and won't come back to the branches. He seems to have adjusted to his terrarium but not to me. Today he was climbing on my arm and he fell and I just fell so damn horrible. He's okay, though. Just a tiny spot on his cheek, another one on his forearm and his side which I assume was a bruise but it vanished in a matter of minutes. I was sitting down so he fell like 2 feet to the floor. When I picked him up he was on his feet so I assume he fell on his feet?
This is his cage
The picture was from when I was still preparing it, that's why the hygrometer/thermometer marks these numbers, the door/mesh is off and the basking bulb I have for him now is smaller than the one in the picture, as well as we fixed the wires toprevent him from climbing them and burning himself.
I don't wanna take a picture right now because he's asleep inside the fake plant bed (which I made for him and has small branch like thingies so he holds onto them and sleeps there under the leafs) and I don't want to disturb him.
About his routine, he wakes up, wanders around the real plant a bit, and then when I give him his food, he eats as much as he wants and then basks all day from 9-10 am after eating until like.. 7pm, when he climbs down to the cool side and roams around in the fresh plants.
Any suggestions? Tips? Am I doing everything okay? And most importantly, does he look healthy?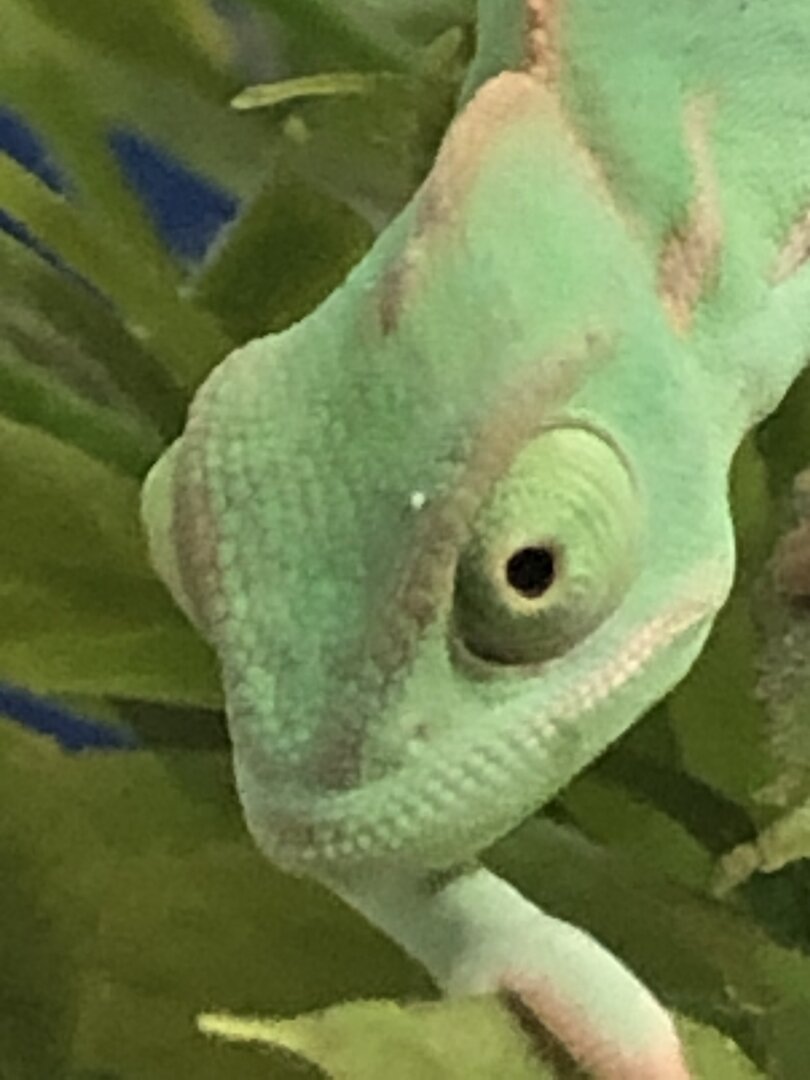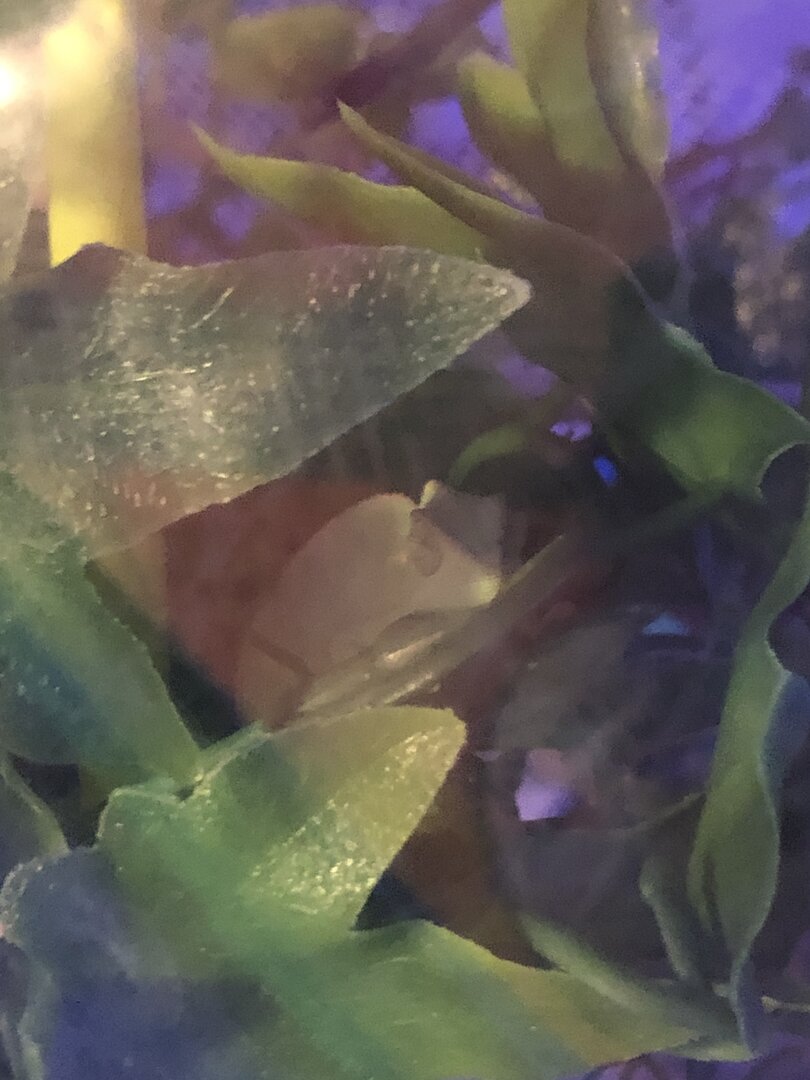 The picture of him on my hand was from today. This last picture is him sleeping right now. He doesn't seem to have broken any bone, and the bruising/black marks vanished hella quick. They were on that perspective and there's no black on him now.
I did notice, when I went to put him back in his cage today after I picked him up from the fall, he turned around and climbed up back to my forearm. I dunno if that means anything because we've been only since saturday together so I dount he trusts me already. Not even a minute after he tried to climb back on my arm I placed him gently back in and he stood on a branch/chopstick and headed to sleep. Oh yeah the calcium is phosphorus free.
Any suggestions? Tips? Am I doing everything okay? And most importantly, does he look healthy?