Hello fellow chameleon lovers! My name is Rick i just recently perchased a veiled chameleon 6 days ago. From reseach on here i figure its a female because there are no spurs on the back of her rear feet. Use to be into iguanas as a kid but only messed with my friend's lizzards. I have a turle I had for about 30 yrs now but never had a chameleon. I spent quite some time reseaching on chameleon prior to getting one I just want to get you guys input on anything i need to change or add within my husbandry. Just trying to stay on top of things rather chase problems after its too late. This site has been really helpful to me and I really appreciate everyones post that i've read and learned from.
So heres my specs...
Chameleon Info:
Your Chameleon - female veiled chameleon juvinal dont know exact age .
How long has it been in your care? 6 days now.
Handling - How often do you handle your chameleon? Haven't handled her yet because she's not ready to climb onto my fingers willingly.
Feeding. What are you feeding your cham? So far she only goes for the crickets (offered meal worms in a feeding bowl but she refuse to eat them, also I seen her nibble on the hibiscus plant once).
What amount? About 8 to 10 crickets a day.
What is the schedule? I throw them in there about a hr or 2 after lights on at 7am.
How are you gut-loading your feeders? Flunkers orange cubes for now but i plan to switch to a more organic approch.
Supplements - What brand and type of calcium and vitamin products are you dusting your feeders with and what is the schedule? Dust everyday with Repti Calcium without D3 and Zoo Meds Reptivite.
Watering - What kind of watering technique do you use? I have a dripper but she never use it so I just turn it on from time to time and let it drip for around 10 mins.
How often and how long to you mist? I hand mist cage (plant and vine) a few times a day and i mist her directly about twice aday.
Do you see your chameleon drinking? Yea not often but from time to time i see her drink while the water is dripping off her.
Fecal Description - Brown with white urate attached she also poop around the same time every morning.
Has this chameleon ever been tested for parasites? No
History - None so sorry guys bought her from petsmart so i didnt ask to many question because wasn't sure if they really knew.
Cage Info:
Cage Type - It's a Zoo Med screen cage.
What are the dimensions? 16 x 16 x 30
Lighting - What brand, model, and types of lighting are you using? Reptisun 5.0 uvb and Zoo Med daylight blue reptile bulb.
What is your daily lighting schedule? 7am lights on 7pm light off
Temperature - What temp range have you created (cage floor to basking spot)? Between 82 and 89 °F in basking spot. Lowest overnight temp? Between 68 and 74 °F in basking spot. How do you measure these temps? Thermometer is in her basking spot.
Humidity - What are your humidity levels? Im lacking a humidity reader at the moment, Im going to get on soon.
How are you creating and maintaining these levels? I read misting helps with humidity so thats why i do it plus for water to drink.
What do you use to measure humidity? Dont have anything yet but will soon.
Plants - Are you using live plants? Yes. If so, what kind? Hibiscus in the cage and a pathos plant i wanted to put at the top but havent figured out a way yet so its just sitting on top for now.
Placement - Where is your cage located? Cage is currently in my living room. Ive been thinking of putting her in my empty 2nd bedroom.
Is it near any fans, air vents, or high traffic areas? No fans at the moment we turn it on when we mop sometimes to help the floor dry.
At what height is the top of the cage relative to your room floor? Just below counter hight sitting on a table near the window.
Location - Where are you geographically located? High Desert California.
Current Problem
- My husbandry lol im just trying to stay on top of things and prevent future problems.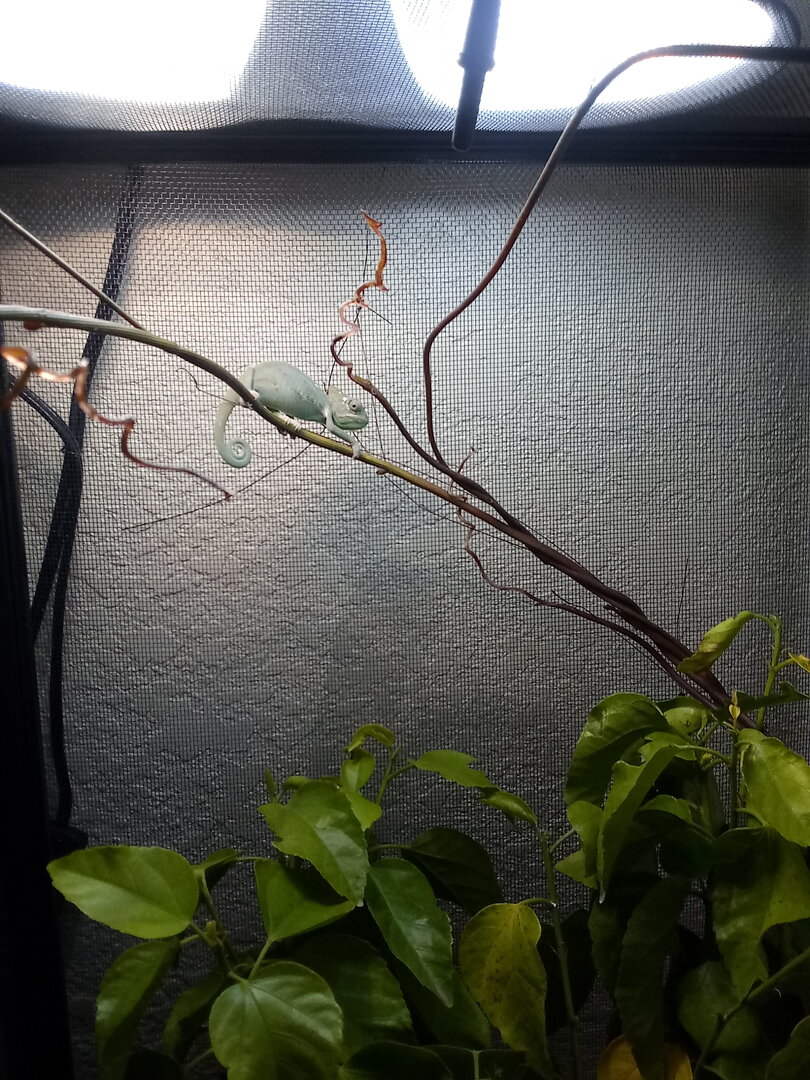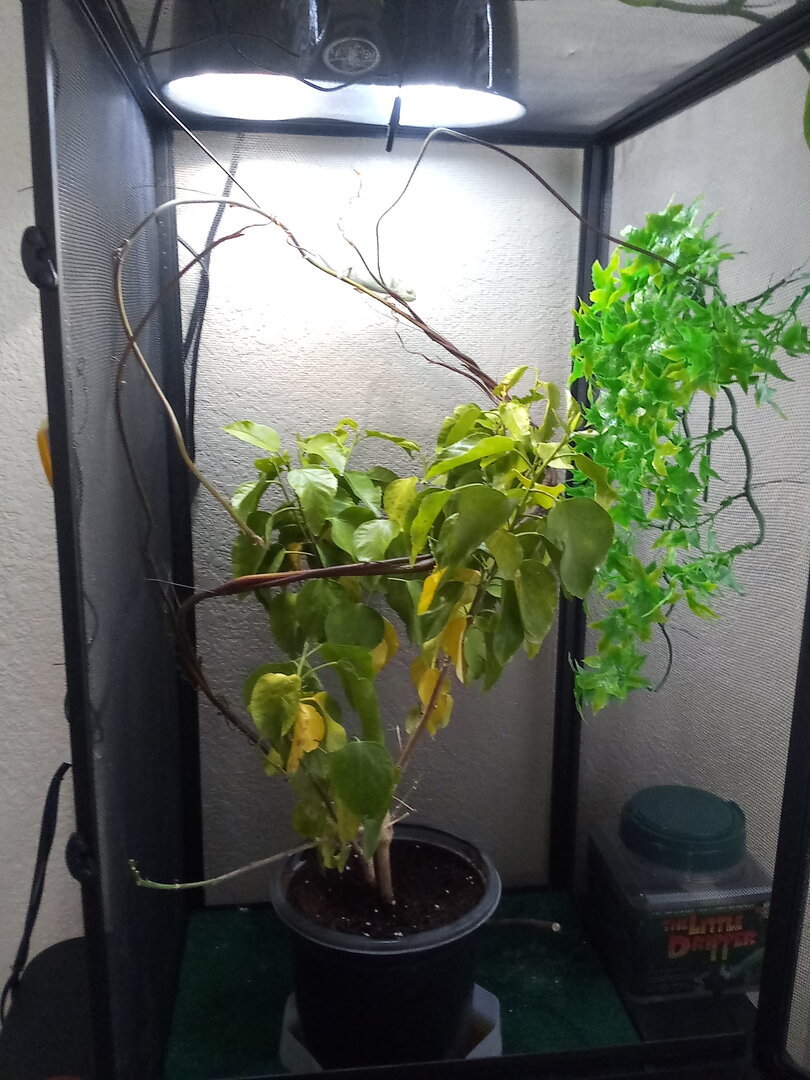 I dont leave that water sitting there i just watered the plant and have to drain the run off plus I think my plant needs more light.
One more picture of her