I thought people might be interested to see the differences between Green Banana and Giant Green Banana roaches (aka Cuban Cockroaches).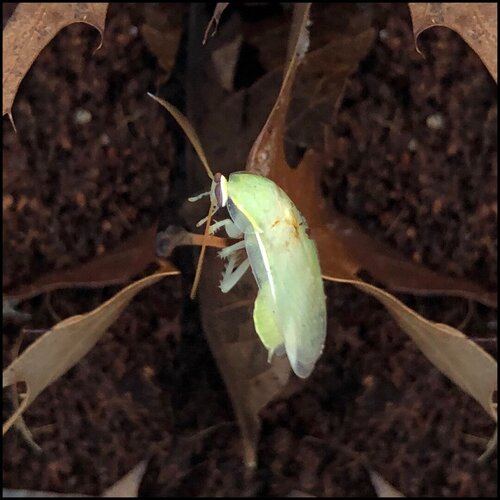 I'm not sure how my care is going as I only have a few adults, several dead adults, and some Nymphs. The dead ones could have aged out or died of neglect, IDK. I check on them once a week - but the die off occurred while I was out of town and we turned off the heat lamps. So possibly the temps affected them.
My setup is a gasket Sterlite with very small holes in the lid for air exchange. The adults can climb and fly so I also have a generous layer of roach barrier applied. There are a few inches of soil substrate, as well as some cork and leaf litter. I need to add more leaf litter though.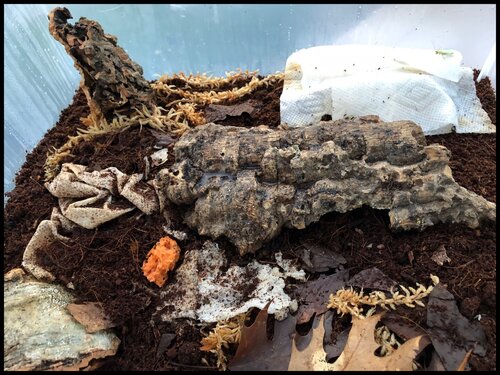 They are directly over my cricket and dubia bins and get radiant heat from their 2 heat (incandescent) lights below. (Old setup pic but you get the idea)
I mist them once a week and add small pieces of food. I put a whole carrot in while on vacay and the giants ate it up! The normals didnt seem to touch it. So I give them a small piece of food when I mist, but I try to avoid fruits that may mold.
I did add a few springtails, beetles and isos to help with the dead and waste... not sure if they help or hurt the cause. Sorta wishing I left them out.
The major difference I see between the two, other than the giants being noticably larger, is that the giants are SUPER active. They run and flutter all over the place! I am cautious opening the lid as they will flutter across the cage often. The normals tend to hide under leaves and bark. If you disturb them they will hide and burrow... you almost wouldn't know they are there. The GIANTS on the other hand have a constant state of the Zoomies and they are out in the open trying to climb the sides, running everywhere, and fluttering around.
Its been a few months since I got
them (got some from
@jamest0o0
). Im hoping that after 6-8 months of starting the colony that I'll have enough to start feeding. But I've thought Ive killed them at least 3 times now, so we'll see
Normal Green bananas (video)
Normal green banana vid
Giant Green banana (video)
Giant Green Bananas (vid)
Last edited: