Chameleon Info:
Your Chameleon - Ambilobe, Age approx 8- 9mths , in my care from about 3mth
Handling - Comes tofront of cageto come out, daily to every other day, just made a small freerange for him, In good weather he likes to sit on a small Treein Garden
Feeding - Coach roach, crickets, gutload with mango, carrot, kale
Supplements - Calcium every feed, calcium with D3 twice a month, nutri vitamins every Third
Watering - Misting technique about 2 min per time, am home every day so when I see Humidity has dropped,
Fecal Description - Brown , White Urates,
History - Purchased from a reptile shop, discussed my issue with owner who once confirmed I had recently upgraded the bulb ( he knew I wanted too) said it should be ok, looked at pics of him said Growth etc ok, could not see any sign of MBD,
Cage Info:
Cage Type - Glass with mesh ventilation 2ft by 3ft width
Lighting - Zoo med T5 light across top of cage 6% uv, Komodo basking dome with basking bulb
Temperature - Komodo digital, 26 - 30 c,
Humidity - Komodo digital min 50 c - 70 - 80 c, Misting daily
Plants - Combined Real and Fake
Placement - corner of room, higher level, no vents etc
Location - Wales UK
Plenty of vines, plants etc
Grip firm
Not shown in images, but to the bottom right I have added another walk way.
Claws all intact to each foot
Current Problem -Cham being clumsy ,seems to fall fairly often. I am going to take to vet for a once over but are there any obvious Husbandry issues.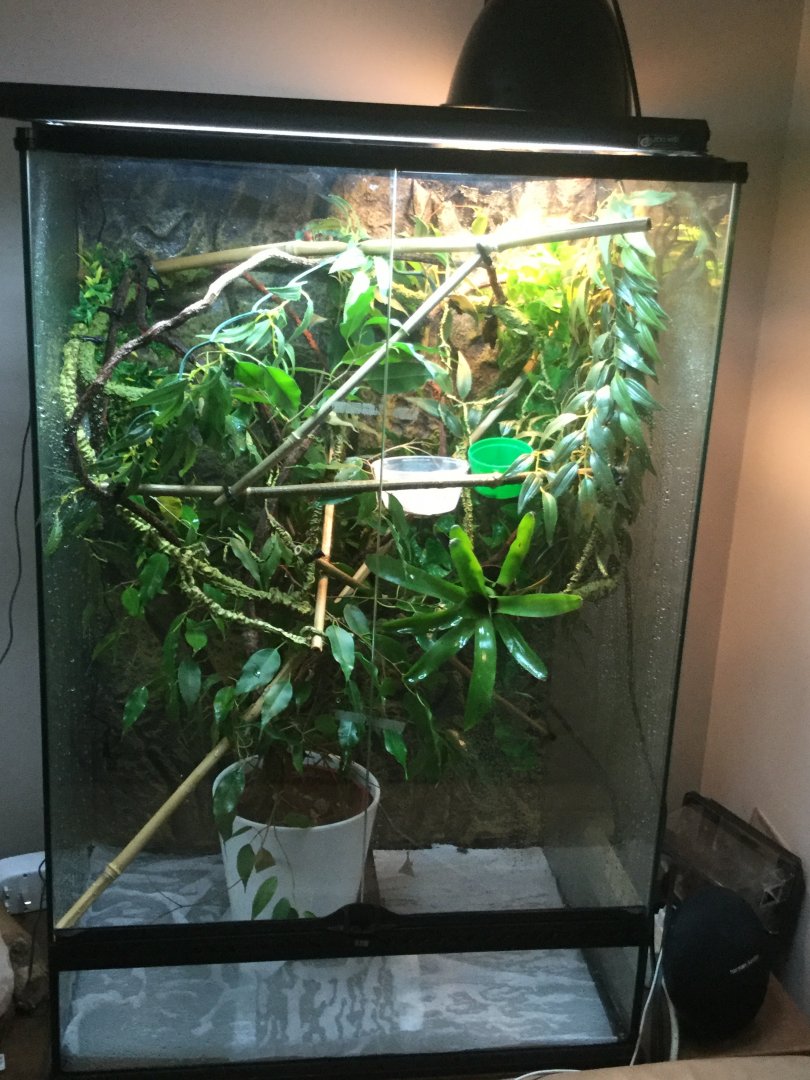 --------------
a