Of course, all animals require water to survive, and it isn't as simple as placing a bowl in the bottom and calling it a day. In fact, with most chameleons this will have little, if any benefit. Most chain pet stores display their chameleons with a water bowl, and this can be misleading to the new keeper. As with the display of any animals in stores, they are in temporary enclosures that do not reflect the optimal conditions for success. I warn against using waterfalls and fountains in enclosures for a few reasons. The main reason is that it is difficult to keep them clean and one word of advise I have for you is to make your enclosures easy to clean! These water sources can be good to help maintain humidity, but can also make it difficult to control. Feeders can drop into them and die, fecal matter can contaminate it and bacteria can thrive here. Misting is the way to go to provide for your chameleons hydration needs!
A common question is how much water is required and what type is best. The answer isn't always simple and the best method is going to vary depending on the type and size of chameleon. This blog entry should give some clarity to the debate, and likely cause some new ones
, so I hope it helps.
First thing's first... the link to the forums resource on hydration...
https://www.chameleonforums.com/care/water/
The first thing I am going to ask is what are the conditions in the wild where these animals are found? Many are in rain forest areas that may have abundant moisture most of the time, but even in these diverse ecosystems there isn't one simple answer. Some areas receive more rain than others and animals may need to depend more on dew forming in the morning than actual rain. Some chameleons actually thrive in almost arid conditions and will get their hydration mainly through their prey and vegetation. So as you can see there is no one-size-fits-all answer to explain the requirements.
Generally speaking if you provide water droplets on leaves this will be a great source of hydration. Many do this with hand held misting bottles (pressurized ones are best!), and while this is definitely a good start, many find that it is not as easy to keep your chameleons hydrated this way. It can be nearly impossible if you are working or in school to be around when your chameleon is active. That is one of the reasons many will recommend an automated misting system. You can easily find them available through some of the site sponsors here on the forums and if you do a keyword search you will find lots of info and debate on the best. I will suggest you research first so you do not make the same mistakes that countless others (including myself) have made. Just look how many complaints there are about one of the most readily available systems found at many pet stores
. Although there are other alternatives, I use a MistKing system
http://mistking.com/
. I am able to program multiple sessions of varied duration to provide water for my enclosures. Some chameleons need misting sessions of many minutes before they will even start drinking, and some suggest that there is also a visual stimulus to consider, so you may need to experiment with varied routines. You can even try a quick mist followed by a prolonged mist to see if this entices your chameleon to drink. This is not to say that chameleons need this stimulation to drink, but in captivity it can help. Many never actually see their chameleons drinking and have to keep a watchful eye on urate color, sunken eye turrets, folds of skin and other indicators to ensure proper requirements are being met.
Of course the placement of the misting nozzles is important and you may have to experiment to find what works best.
Think about rain in nature. I don't suggest spraying (either manually or automated) your chameleon directly as this can cause the animal to turn and seek shelter and not drink. I suggest misting from above and many even use rain domes to get the desired effect. Another sometimes helpful tactic is to use a dripper that constantly provides droplets for your chameleon by slowly dripping water onto a leaf. If you use these methods, be sure to consider placement, drainage and plant soil when doing so.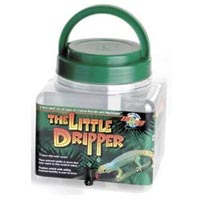 So let's talk water...
There is a healthy debate about this and no one answer is necessarily right. I use distilled water for my misting, but mainly to avoid the misting nozzles clogging. Reverse osmosis, purified, tap, hard, soft... what is the best? If not using RO or distilled water I would suggest getting whatever source you are using tested to see if there are any bad chemicals to be concerned with. From there, again, there are many great threads here on the forums about water types.
Now what about plants? Live? Plastic? Silk??? I find that live plants seem to hold onto water droplets better. It just seems that they were designed to do so in many cases
. Just be aware that prolonged misting sessions can saturate soil quickly. As for silk, I find they tend to get soiled more easily and are harder to keep clean. Also they often have small decorations on them that are easily ingested, so use caution.
One more part of this topic I want to address is the use of humidifiers. I am not a big fan of these due to the same issues of keeping them clean. I have not used them in my enclosures and I'm sure that many have used them with success, but just make sure that if they are used to keep them cleaned often. I don't personally believe that using any humidifier can replace misting as the main source of hydration rather just as a supplemental one, but may in the right situation be beneficial in maintaining the proper humidity levels and aid partially with hydration.
I will advise that even after you have everything going exactly how you want it you still may want to experiment a bit as your chameleon ages. Their needs will likely change throughout their life just like ours will. Even different times of year will effect the needs within enclosures (or even when free-ranging). Also, your local water authority may change how they are doing things so you may want to check their water reporting every few years to see if there is anything that you should be concerned with. And I always recommend using more than one hygrometer in an enclosurer just to be on the safe side
.
For those of you that keep your chameleons outside, there are so many other factors than are covered here, but hopefully I didn't forget anything major
.
Up Next: Foggers... Coming Soon...
As always, feel free to comment if you would like. If you have specific questions about the topic you may want to search the forums for answers and also post a new thread for quicker responses.
*** UPDATE *** Here's the link to the blog on Fogging...
https://www.chameleonforums.com/blo...s-through-the-fog-without-dispelling-it.2400/