So this is a common question for new keepers. Often they will be attacked when mentioning that their chameleon likes to be handled. Sometimes this is warranted, but sometimes not. All too often new keepers think what they are witnessing is cute or that the chameleon "wants" to be handled. Unfortunately, many times the chameleon is actually so scared and stressed that it may just be trying to escape one situation for what may be perceived as a less dangerous one. We need to see things from the point of view of the chameleon, without humanizing the situation.
For most new keepers my advice will be the same. "Take it slow!" Don't make a lot of changes to the enclosure, especially when first bringing your new critter into your home. If at all possible, make all the adjustments to plants and such before the home is occupied. Then, let the chameleon enter the enclosure (or free-range) at it's own pace. Once there, step back and observe. Is the cham exploring or hiding sideways behind anything it can get behind? Sit back and keep an eye on things from a distance. (This is one of the hardest things to do!) Often chameleons are considered a "look but don't touch" animal, but there are some differing views on this.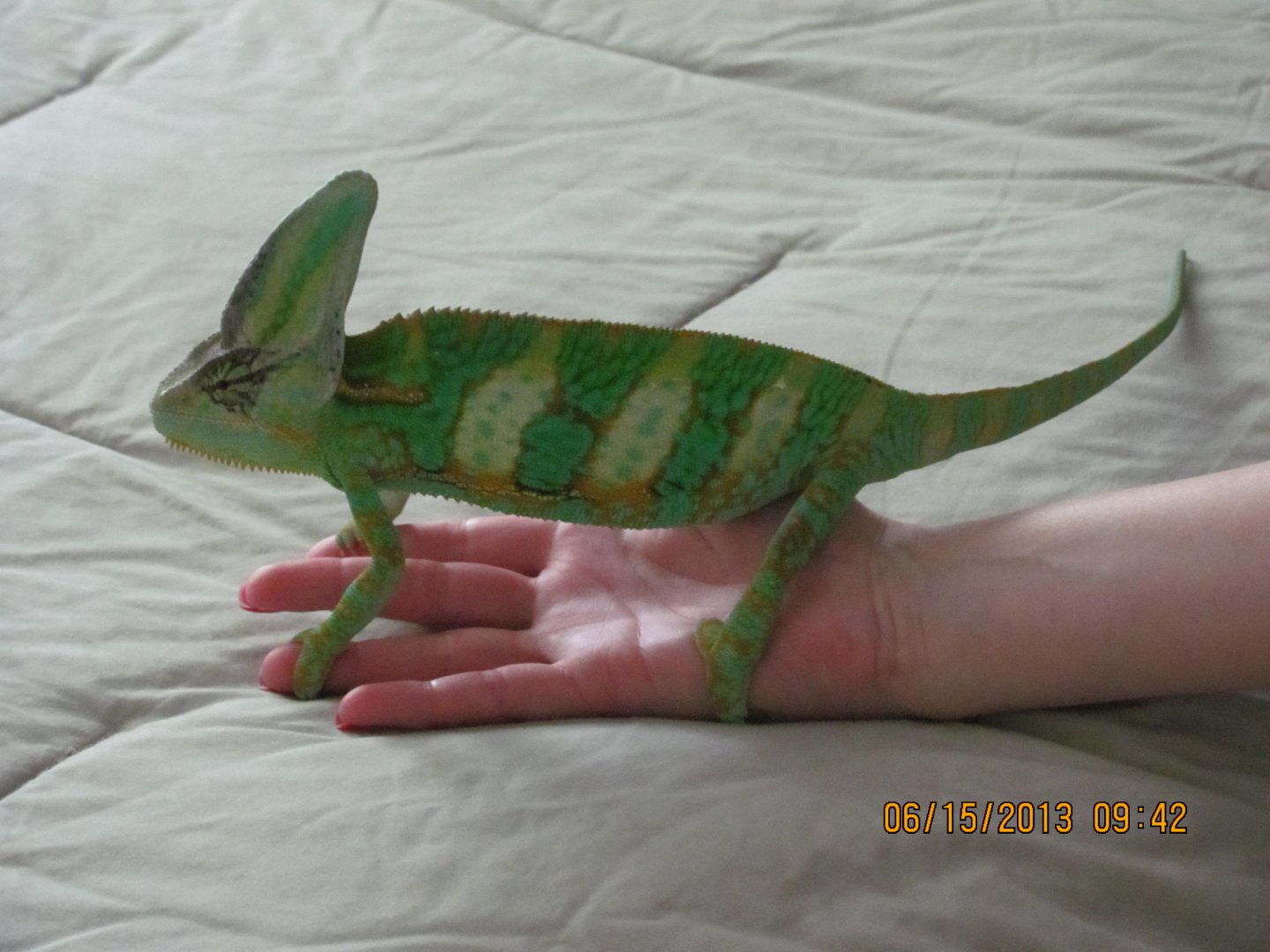 Now the fundamental argument is that handling stresses these guys out. Although for many this will add stress, I think that a little stress to a healthy chameleon is O.K. The key here is HEALTHY... I think of stress as stimuli rather than a negative. Too much stimuli that is causing the chameleon to show discomfort and display certain colors is not always that easy to detect, so you need to be careful. I do believe however that if an animal is exposed to a social environment it can learn to relate that experience as normal and not be constantly stressed.
Many debates have taken shape as to the ability of chameleons to actually bond with their keepers. It is a heated topic, indeed! I will say that I do not have all the answers, but I will offer this opinion...
I believe that many chameleons that are either free-ranged, or in larger enclosures that do not feel threatened in their surroundings will be less likely to feel "stressed" and therefore more likely to "enjoy" being handled. Often people will comment on the fact that when the animal is in the enclosure they are hissing and defensive, but once outside they immediately calm down and like to be held. Some will say they are shutting down as a defense, and in some situations this is likely true. I have seen videos of wild chameleons that are not running and hiding as humans walk by. So where is the answer? For me, I believe that they can bond with us. Not to say they view it like we do, but I think it is more than we are just a food source. Any proof of this you ask? NOPE
! Just, as I say, my opinion
.
Up Next: How to Tame my Chameleon... Coming Soon...