Hey all, so I'm gonna try to pack as much info into this post as I can, but the super sparknotes version of this is Cosmo my Nosy Be very rapidly appeared to get very ill and passed away by the time I'd rushed him to the emergency vet this morning. And when I mean sudden, I mean I wasn't seeing any of the subtle signs until yesterday late morning when his eyes just started to look a little sunken in and by this morning he was gasping for air and dying by the time I'd gotten him to the ER about a half hour after noticing how bad he was doing. Pretty much after I'd woken up and showered for the day, I was already at the ER with him and within an hour or so there they said it was too late. Anyways, I'm gonna add in two pictures, one right before he started showing what seemed to be any signs yesterday morning and him right before he passed, so obviously trigger warning for dead chameleon image.
I'm also gonna fill out the help form to show where my husbandry was at just so I can pick some brains, but as far as I can tell this is just a strange case, because behavior-wise, food-eating-wise, fecal-wise, etc. he SEEMED to be thriving.
Chameleon Info:
Your Chameleon - Nosy Be Panther Chameleon, roughly 1.5 yrs old, Male
Handling - Almost never handled. Probably has been handled 4-5 times total in a year, twice of those were to go to the vet to have him checked on and a fecal.
Feeding - Diet consisted primarily of dubia roaches and banded crickets, gutloaded primarily with a mix of bug berger and insect fuel with other things like greens/carrots etc. As he was an adult he was getting about 3-4 bugs every other day and up until recently had a very voracious appetite.
Supplements - I use Arcadia Earth Pro-A at every feed and Repashy's Calcium LoD twice per month.
Watering - I use the naturalistic hydration from Chameleon Academy. Mostly misting at night (with a fogger when humidity is naturally lower) but a longer shower (3-5 minutes) in the morning. I see him drinking the dew off the leaves in the morning sometimes. I will also use a dripper a few times a week and sometimes see him take an interest.
Fecal Description - Fecals have almost always been excellent, normal color/shape, almost perfectly white urate every time. Had not had a fecal test done in a while, and his last poop had a bit of a yellow/orange to the urate, so I offered him dripping water more, but he otherwise seemed fine.
History - He's been to the exotic vet twice in a non-emergency situation. First when he was young because he had a large eye booger that didn't want to come out and I wasn't comfortable trying to squeeze out as the breeder had mentioned I could. The plan for that was to just leave it, as the vet said they'd have to put him under to do so and if it wasn't impeding his moving/eating and he wasn't scratching at it a lot, just leave it which we did because it didn't seem to bother him.
The other time I went to the vet was because he'd seemed a little lethargic and wasn't favoring one of his front arms, preferring to let it dangle and it seemed swollen. Again, the vet gave him a clean bill of health upon checking his bones for signs of MBD etc. and he seemed back to normal very shortly after that without the issue reemerging.
Cage Info:
Cage Type - Older style dragon strand 48" tall by 24x24", all screen but a lot of the sides covered in plastic wrap to maintain humidity and reduce splash from misters. Front screen and top and top right sides have open screen.
Lighting - I have a quad structure raised off the top of the cage by about 6" and have 3 plant 5600k(?) bulbs in there along with one T5 12% arcadia bulb. The solar meter gets me at about a 2.5-3 near the basking areas and it's not at a dangerous level if he climbs directly on the ceiling.
Temperature - Cage floor is mid to high 70's at least now in the summer and the basking is 85-90F depending on the weather that day, though I have it on a dimmer and try to adjust when I can. I have a probe at the basking spot and use a laser temp gun to measure elsewhere. The lowest night temp can vary but sometimes it'll stick in the mid to high 70's if we're in a heatwave during the summer.
Humidity - Humidity is usually between 50-60% in the summer, dips down a bit during the winter. I have a probe outside the cage and one inside the cage that I can read on my phone. I'll use the mister as well as a fogger during the colder/dryer nights.
Plants - Live plants include a big pothos, spider plant, schleffera and one bromeliad.
Placement - Cage is located in the living room away from windows. It sits on a small table to keep the basking area of the cage at or above most people's eye levels.
Location - Boston, MA
Current problem: Well, he has since passed but very rapidly his eyes appeared sunken in after yesterday morning and by this morning he was gasping for air with his head tilted up and within the half hour it took me to get to the ER he'd deteriorated enough to warrant euthanasia. I'm pretty shocked by all of this because I had a panther before this that lasted longer with less meticulous husbandry and I really took so much of what I'd learned from my experience with him and applied it to Cosmo. I thought he had a URI but prior to gasping this morning he didn't seem to be showing any of the subtle signs (like tilting head up, closing eyes etc.). Just a few days ago he was patrolling his territory, eating lots of roaches, gaping at me whenever I put my hand in to clean or remove his food cup.
This was yesterday morning, was moving around and acting normal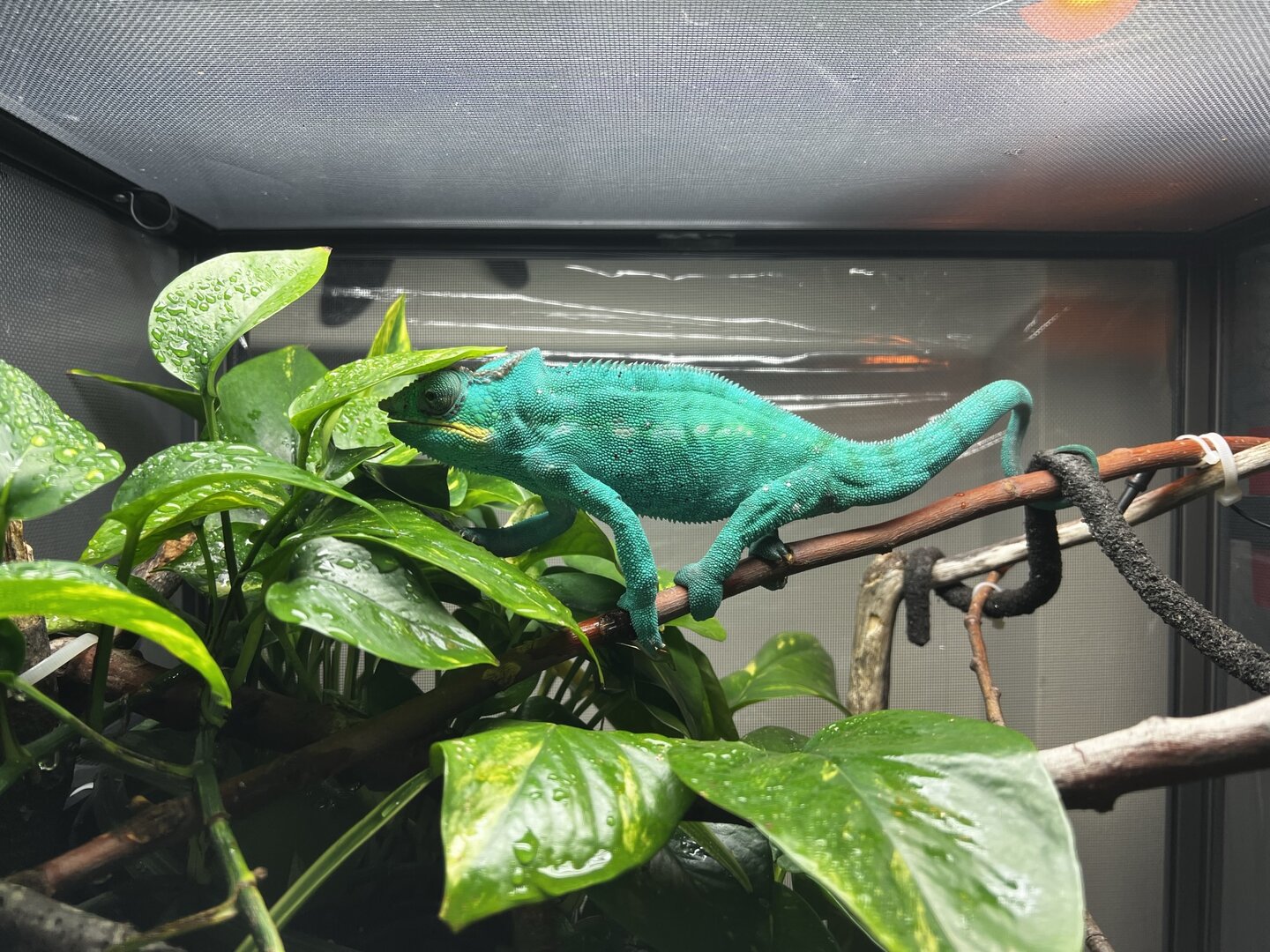 This morning around the same time, audibly gasping for air as I made arrangements to get to the ER with him
At the ER, maybe an hour or so after the image from this morning and right as we put him down.
This is his setup, nearly all live plants. He was always making good use of the branches, seemed to enjoy exploring and hunting crickets when I let them loose. Most of the time never seemed stressed unless I had to invade his space to clean or put food in.
Last edited: