We're parents again!
We (and by we I mean mostly me unless there is the need for touching bugs) are trying our luck with hornworms. I had a few that grew too large so I put them in a container with food and coco coir and let them pupate. They dug down almost right away when given the option.
After 2 weeks or so, moths started to emerge. I purchased a 24" butterfly screen cage on Amazon for ~$15 and I put the bin in that with a little papertowel for the moths to use to crawl out. It took a day or two for them to dry and stretch out their wings, at which point they crawl or fly up onto the screen.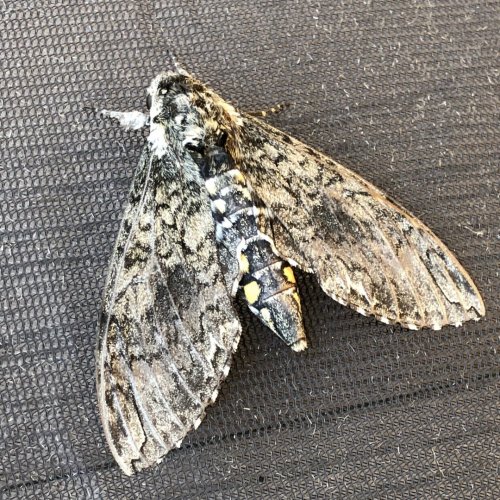 I added a pepper plant as they supposedly like to lay their eggs on nightshade plants. I found this to be partially true... we ended up with eggs on the plant and on the screen itself!
I also added a hummingbird feeder with a sugar water mix. Havent seen them drink but I do see their little straw mouth thingy out occassionally as they hover and fly around. I think a slightly larger screen cage would serve them better as they tend to hit their wings on other objects in the cage a lot.
The moths are very active at night / in the dark, and almost completely motionless in the daylight. I have them on my bug rack in my basement with 12 hrs of flourescent light, 73 degrees, and a small oscillating fan during the day. They do spray a little but I think the screen mesh is fine enough that it catches most of it. I suspect this is pheramones much like the silkmoths spray and are attracted to.
After a few days we started to see eggs throughout the cage. They are mostly a bright blue like hornworms, but can also be white or yellowish. The eggs hatch very quickly - in about 4 days. The babies are fragile and have long black "horns" on the back. Cute! I used a piece if paper towel to scoop up a few eggs that we missed and hatched on the screen.
We got about 50 eggs, and maybe 10 have hatched so far. 2 of the 4 moths died, 1 of which never straightened out its wings. I hope the other one that died wasnt my female! The silkworm life cycle seems much longer than the hornworm cycle so at least I'll have enough caterpilars to replace the moths. I think I'll let 10 pupate next time vs the 4 or 5 last time. Any more than that would be too cramped.