My veiled, Randy, is about 8 months old. I recently took him to the vet because he kept opening his mouth, even when out in freerange.. and also has always has shedding issues.
He came back positive for 1 parasite and was treated for that but every time he checked his breathing and throat he saw nothing. He and the other staff would even comment everytime on how great he looked.
I do everything that I know I need to be doing, I have spent the past almost year on here, obsessed with learning from the most experienced cham owners and going thru everything to make sure I do it right. The only thing I know is wrong is his cage size, but I'm currently waiting for the sealant on his new one to air out so I can move him in. But he gets out everyday(not for too long, because I know he needs his light)
The vet seems to have no answer for it, and I have looked up everything.
No hard signs of breathing, popping, nothing. As far as the shedding humidity is good, temps are good, he has plenty of water... the spikes that you will see under his chin in the image below have been there for like 2 months now.!!!!! I tired a cotton swap with warm water and extra warm mistings... nothing.
He used to be so excited about food and I used to ALWAYS see him drink water, and now he eats.. but he doesnt run to it like he used to. (I understand they can slow down at this age) but he hardly drinks water and his urates are orange. Have tried long misting sessions and multiple drippers and rarely see him drink anymore. I know they try to hide it,but he never did before and his urates are orange, so I know he's not. I just dont understand what could be wrong. His appointments and treatments have already cost me about 500$ just for parasite tests and treatment.... and he is the only vet in my town who will take chameleons.
My only other option is to get him swabbed and blood work.?? (Another 1,000$ probably )
If anybody can help or relate PLEASE let me know.!!!!!
Oh, also sometimes when I catch him gaping he will close his mouth and this happens with his gums..
I know he looks dark in this picture, he isnt always like that, but is often. I know it can be normal but I feel like he used to be colorful way more often!! I dont know...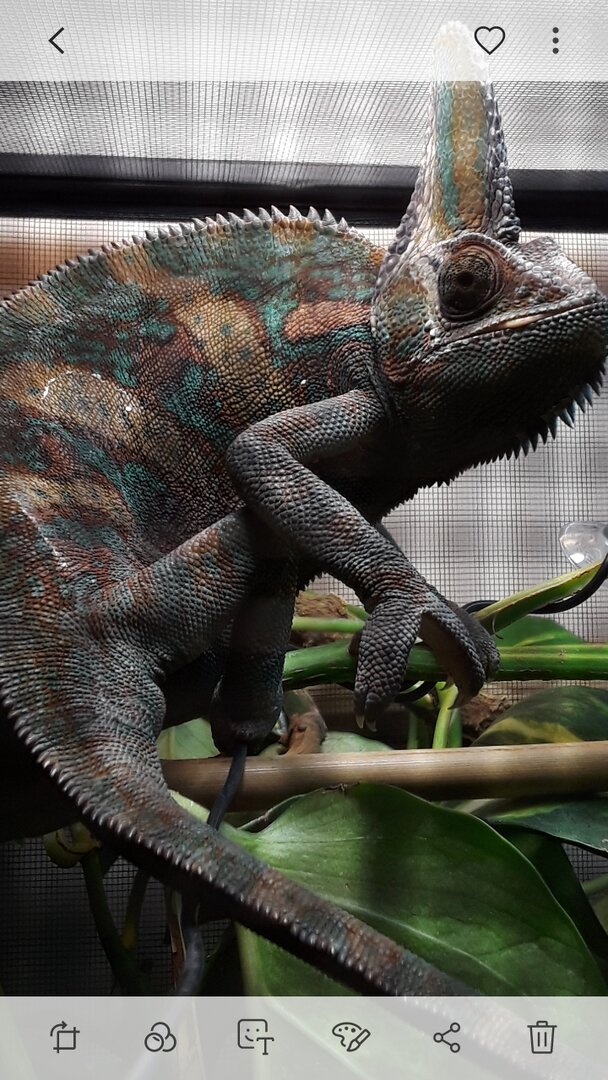 Thought I'd put a good pic, so that you know he doesnt always look so meeh... haha