I'm curious if this guy is the right size for a Cham born on 8 Sept 2010? He's eating like a little piggy but as this is my first baby Cham I thought I ask.
Pic take today 1/30/2011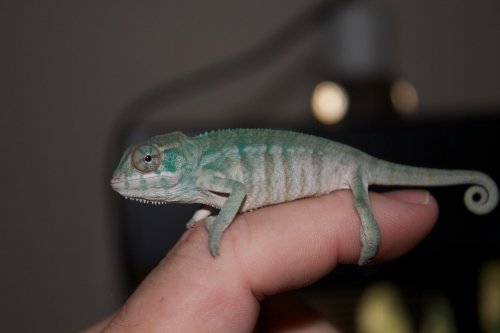 Chameleon Info:
Your Chameleon - Nosy Be Panther male born 9/8/2010 has been in my care since 16 Dec 2010 purchased from Screameleons
Handling - Ist time handled was for the pic you see above.
Feeding - Eating 1/4" crickets dusted with rep-cal with D every other feeding and Herptivite twice weekly. Eating 15 to 20 daily Crickets fed Cricket Crack, gut loaded day before with apples, bananas, collards, carrots, apples.
Supplements - Rep-cal with D every other feeding. Herptivite twice weekly
Watering - Automatic misting system (Mist King) delivers 1.5 min misting 1 hr after lights on and every 3 hrs at 45 seconds per interval. Last interval 30 seconds 45 min before lights out. Hand misting 2 to 3 times daily. Seen drinking almost daily.
Fecal Description - Normal color dark brown fecal with white urates. No visible insects in feces. Fecal tested negative week of purchase.
Cage Info: 20x18x12
Cage Type - screen cage
Lighting - Reptisun 5.0 uv 60wat basking lamp
Temperature - basking site 85 to 89 directly under lamp. Day time ambient temp 76 to 85. Night ambient 65 to 77
Humidity - cage minimum over 7 days 45% averaging 54% with peak at 88 after mistings.
Plants - No live plants yet. Setup is as directed on Screameleons web site with the addition of Mistking mister.
Placement - Cage is located in a dedicated reptile room with supplemental heating and cooling to maintain min temp of 65 and max of 85.
Current Problem - Concerned about growth rate. Every thing else seems fine.
Last edited: