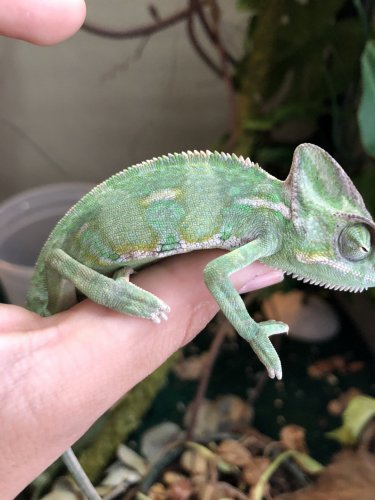 I have owned my one month-old Chamaeleon for about two months now. He is from Petsmart, and the name is Nathan. I way all my pets every week to make sure they are healthy and Ethan is only 9 g this week I'm like two weeks ago he weighed 13 g. I am worried for him.
She is not eating or anything he will not drink water. One other problem is that he doesn't open his eyes. All he does all day is sit and 3 spots and sleeps
He walks with his eyes closed and everything.
When I bought him he was lively and his eyes were open and everything but it's like he is full and not reponsive anymore.
He is a veiled chameleon (male)
Did weigh 13 grams and now only 9
Have had him for 2 months
From petsmart
Was eating about 10-15 crickets a day dusted in calcium with no vitamin D3
Every other week got calcium with vitamin D3
The weeks he didn't get the vitiating D3 he got his multivitamin
He has a 60watt/120volt heat light and a uvb ray bulb.
I think he isn't eating because his eyes are closed but I dont know.
PLEASE HELP MY POOR BOY!!!
Last edited: