(Like the title suggests, this will be a heavy post) I just can't shake the feeling I've failed my poor girl. She passed suddenly, and didn't appear sick, her color was fine, she'd been eating, drinking, her poop seemed normal, nothing really appeared wrong with her. She had good uvb and heat, and the humidity seemed okay too. She had a good sized enclosure and a good setup for her size, and my dad and I planned on upgrading it soon, as she's grown a bit since we first got her.
I'm thinking she could have caught a lung infection since it turns out the mister might have been left on too long or often, but I didn't catch any signs of one. She did have a bit of white stuff by her nose once, but it appeared to be skin as she's she'd just started to shed and it went away by the time she was done shedding and I didn't see it again. She'd occasionally open her mouth with her nose in the air but I haven't seen her do it for at least a week. I'm also thinking it could do with the gutload I fed her crickets, or the calcium they were dusted with. (It was bought from petsmart after all so I wouldn't be surprised) The only other things that really stand out is that sometimes I'd catch a little fly in her enclosure, or maybe she ended up overfed, since she'd always eat at least most of the crickets she was given but she'd leave some when she got full.
I didn't really handle her, because she'd get scared so I just decided to just let her be after a few attempts.
I'd like to end this off by saying please be nice, I did my best, a did a whole buttload of research and even still I guess I should have done more. Feel free to ask questions as well if it helps you give ideas on what could have happened. In case it could help I've attached a photo.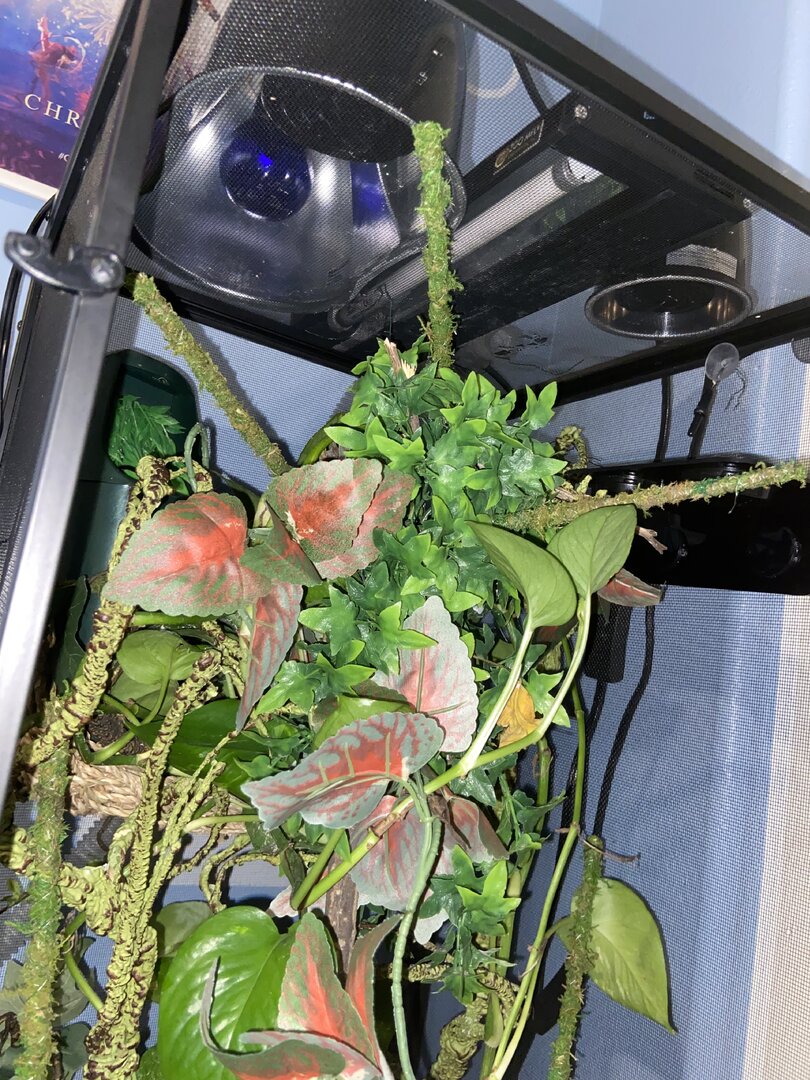 This is what her setup looked like. The little tube in the back is the mister, and while there are three heat sources, only the bulb was on during the day and if the night was cold I'd turn on the ceramic one next to it. It was also misted regularly with a spray bottle if the mister wasn't on.
Possibly helpful info
Species: veiled
Age: was around 7 months
feed: Crickets and the occasional worm
Almost all crickets were dusted in calcium, the worms weren't
Last edited: