Hello all. It has been a while since I last posted on here because things have been going well for my guy Chuck Norris. However, over the last few months he has lost virtually ALL of his color and is totally grey. He acts normal, eats like crazy, drinks regularly, everything seems good, except his color.
Chameleon Info:
Your Chameleon - Male Ambilobe x Ambanja, 1 year old, in my care since July 2020
Handling - Almost never, he tolerates me at feeding time, but rarely comes out. I will take him outside once a month or so, but let him do his thing most of the time.
Feeding - He eats almost exclusively crickets. I have tried other insects (Dubia, hornworms, BSFL, but he won't touch them). He usually gets 4-6 XL crickets every 2-3 days. Crickets are fed Bug Burger and Badass Bugs gutload as well as carrots, turnip greens and dandelion greens.
Supplements - I dust all feeders with Repti-cal w/no D3 every feeding and alternate Repti-cal w/D3 and Reptivite one feeding a week (gets each 2x.month).
Watering - I have a Mist King misting system with 3x nozzles. The enclosure gets misted for 3 min @ 11am and 4pm, then 30 seconds @10pm and 2am (to keep humidity up at night)
Fecal Description - Feces looks good, ~2/3 brown 1/3 white, maybe a tinge of yellow at the end. Solid, not runny. He has NOT been tested for parasites.
History - Any previous information about your cham that might be useful to others when trying to help you.
Cage Info:
Cage Type - Reptibreeze XL screen cage - 48" tall x 24" x 24". I have the sides and back wrapped in plastic to help with humidity front, top, and bottom are open.
Lighting - Reptisun 5.0 T5 UVB replaced a couple months ago. 50W reptile basking bulk in a dome, and 3 x 4000k T5 plant bulbs. All lights come on @ 9am and off @ 9pm.
Temperature - Basking ~ 90-95, otherwise 78 on bottom of cage (room temp). Lowest overnight temp ~68 during winter, ~75 in summer. Measured with digital thermometers placed throughout the enclosure, Temp probe on basking spot, and laser thermometer for spot checks.
Humidity - During day 35-45% maintained via misting and plastic wrapped around 3 sides of enclosure. Up to 100% during the night using 2x cool mist humidifiers with hoses at the top of the enclosure. There are several digital Hygrometers in the enclosure as well as a probe near the basking spot.
Plants - All plants are live - 3 x Pothos, 2 x Bromeliads, and a Schefflera.
Placement - The enclosure is in the dining nook (off the kitchen), there is a ceiling fan nearby, but it is rarely turned on. I live alone, so there isn't really a high traffic area in the home. Top of the cage is ~ 6.5' off the ground
Location - I am located near Phoenix, AZ
Until recently, the cage was in my bedroom with almost NO natural light. I moved the cage to its current location in the dining nook a couple weeks ago. It now sits in front of a window and gets lots of natural sun light (ZERO direct sunlight. The window faces north).
November 15, 2020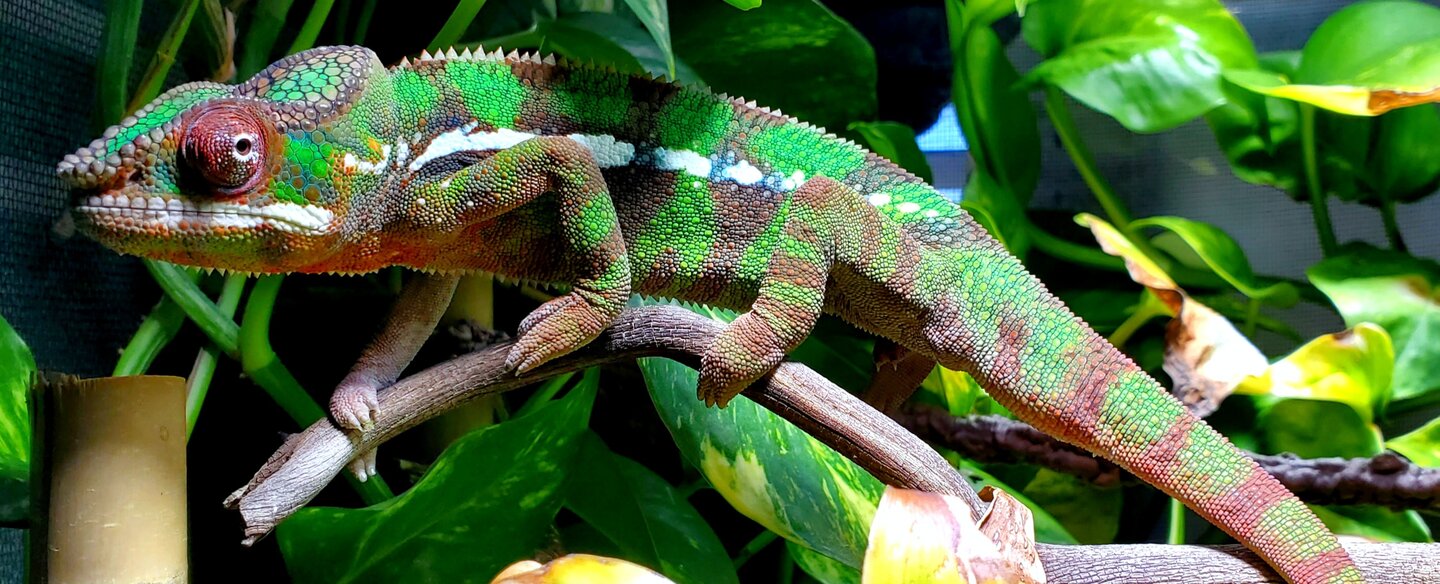 April 15, 2021