Administrator
Staff member
The Results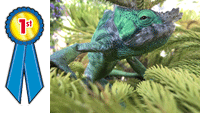 1st place: ponders
Species: Calumma parsonii crisifer
Common: Crested Parson's Chameleon
Sex: Male
Age: 3 years
2nd place: snitz427
Species: Chamaeleo calyptratus
Common: Veiled Chameleon
Sex: Female
Age: -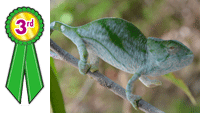 3rd place: radstusky
Species: Calumma parsonii parsonii
Common: Parson's Chameleon
Sex: - Male
Age: -
3rd place: bobcochran
Species: Furcifer pardalis
Common: Panther Chameleon
Sex: - Male
Age: -
If you are not familiar with how the contest works then please review the contest rules.
open member vote
The top ranked photos from the open member voting received the following points:
photo 07 => 5 pts (ponders)
photo 09 => 3 pts (snitz427)
photo 05 => 1 pts (radstusky)
photo 12 => 1 pts (bobcochran)
judge rankings
There were no judges for the July 2020 contest.
Note
Thank you to everyone that participated!
If anyone has a suggestion on how to improve the contest please create a new thread in the photo contest or feedback forum; if you prefer to remain anonymous you're welcome to send me an email or private message.
Medals have been awarded.
Congratulations to the winners