Established Member
Site Sponsor
We carry all the supplies you need to set up and furnish your chameleon's cage RIGHT!
Heating supplies
We have a range of supplies you can utilize to heat your chameleon!
Ceramic heat emitters are a long lasting and cost effective way to bolster the heat in your cage - their lack of inner filament means that they often last for years, instead of months like most light bulbs.
Heat emitters of several types
- 100 watt ZooMed Heat Emitter for
$27.95 each
ExoTerra 60 watt heat emitters
for
$19.99 each
Pearlco bulbs under 250 watts
are all
$21.49 each
There are a variety of styles of light bulbs to heat your chameleon as well!
Halogen bulbs often last the longest of visible light producing bulbs, and the 'color' of the light produced is often considered the best for displaying reptiles. They are also quite warm, so you get the most heat for the lowest wattage!
50 watt ZooMed Halogen
is
$11.99 each
75 watt ZooMed Halogen bulbs
are
$12.49 each
100 watt ZooMed Halogen Bulbs
are
$12.99 each
ZooMed 150 watt Halogen bulbs
are
$12.99 each
Worried about the bulb bursting if it gets wet? Consider the Turtle Tuff bulb - these are splash resistant!
They come in 50 watts, 75 watts, and 90 watts!
For our extensive range of heat bulbs, please click here to see ALL of the heat lights we have in stock!
We also have all the UVB bulbs you could need!
Prefer mercury vapor bulbs for your heat loving and basking chameleons?
100 watt ZooMed Powersun Bulbs
are just
$47.99 each!
We also carry traditional tube fluorescent bulbs!
All sizes of ZooMed 5.0 Reptisun Bulbs
are
$19.95 each!
All sizes of 10.0 ZooMed Reptisun Bulbs
are
$24.99 each!
We also carry ExoTerra 5.0 ReptiGlo bulbs
ranging from
$11.59 each to $19.99 each
depending on length
ExoTerra 10.0 ReptiGlo bulbs
range in price from
$12.99 each to $19.99 each!
Want to monitor your UVB bulbs more closely? We carry the ZooMed Ultraviolent Radiometer for $239 each!
Click here to see all of the UVB fluorescent lights and mercury vapor bulbs we carry!
Need light fixtures?
We have those too!
24" fluorescent hoods
for
$26.99 each!
ZooMed's Combo Deep Dome Lamp
is ideal for all sizes of your heat lights
at $39.99 each!
Just using a fixture for heat bulbs, and you want more control over the basking spot?
These Fluker's Clamp Lamps come with a dimmer!
AND -
they are only $12.79 each!
We carry a range of drippers, misters, and foggers to meet your needs for watering your chameleons!
Want something prettier than a plastic container to use as a dripper?
These magnetic drippers look like a piece of rock in your cage
and they're
$17.29 each!
We also carry 3 sizes of tradition plastic drippers,
mini
for
$4.85 each
,
medium
for
$6.99 each
, and
Large, 1 gallon drippers
for
$8.35 each!
Need to increase humidity?
Try a ZooMed ReptiFogger
for
$49.99 each
!
The
ZooMed ReptiRain
is a low cost option to try out an automatic misting system,
at only $65.99 each.
We also carry
the state of the art Mist King system,
and
the ExoTerra Monsoon system
, either of which work well for more advanced misting needs!
Check out all of our misting system and humidity boosting options by clicking here!
Give your large chameleon an easy to use basking spot!
Magnetic ledges are PERFECT chameleon perches!
The large mushroom ledge is only
$26.49 each.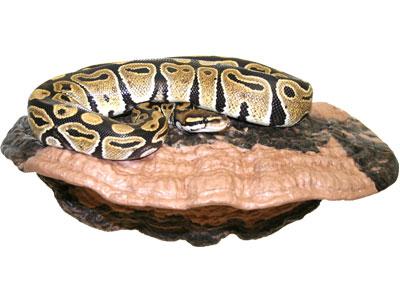 Have smaller chameleons?
These jungle vine bridges
make it easy to create a basking zone under your heat lights, and they're only
$26.49 each!
Worried your chameleon can't find their food? These
magnetic ledges
have disposable dishes that fit into them, making them perfect for offering mealworms, superworms, or non-glass-climbing species of roaches!
Want to see more of the THOUSANDS of products we carry to make caring for your chameleon easier? Visit our website at LLLReptile.com!
-Jen