I bought my female jackson's chameleon at the Sacramento Reptile Show and the last time I saw her eat was 5 days ago. She ate a single hornworm and I've offered her black soldier fly larvae, crickets, hornworms, waxworms, and mealworms, but she doesn't want to eat. I see her actively drink everyday but that's it. She habitually closes her eyes during the day and seems to start sleeping every day around 4:30pm even though the sun is still out. She will close her eyes in the cage but doesn't seem to have an issue when she is free roaming in my room. What can I do to help her eat?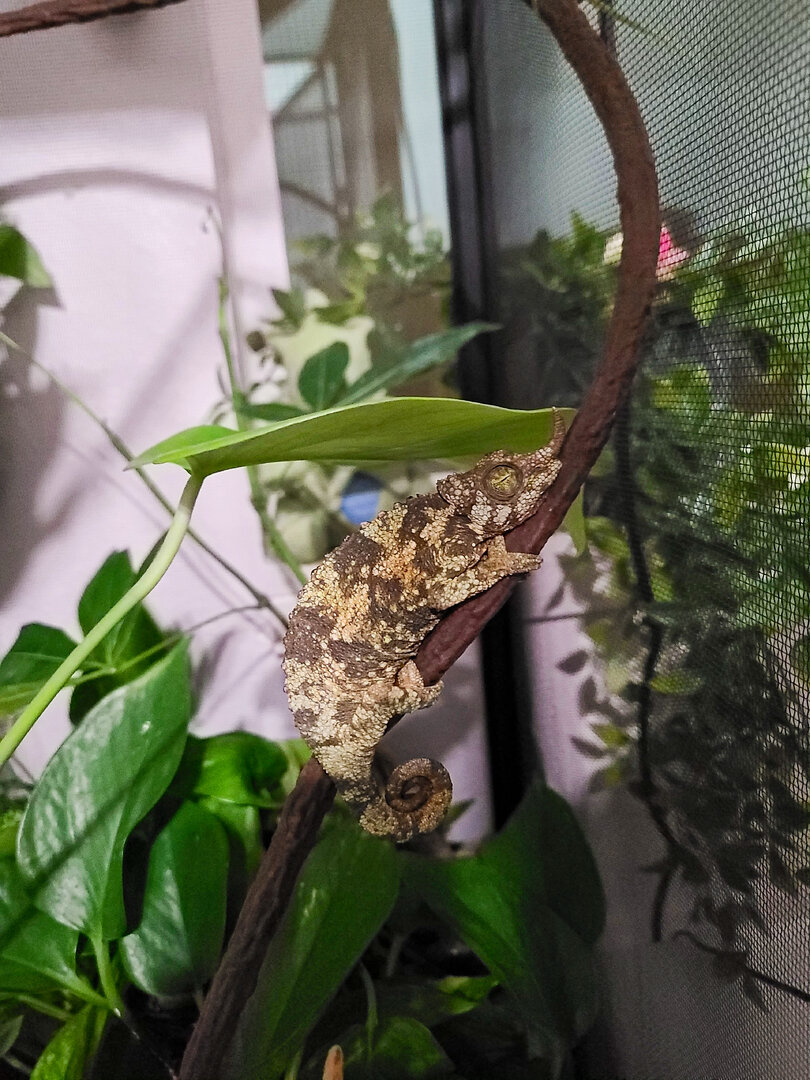 Her set up a few days ago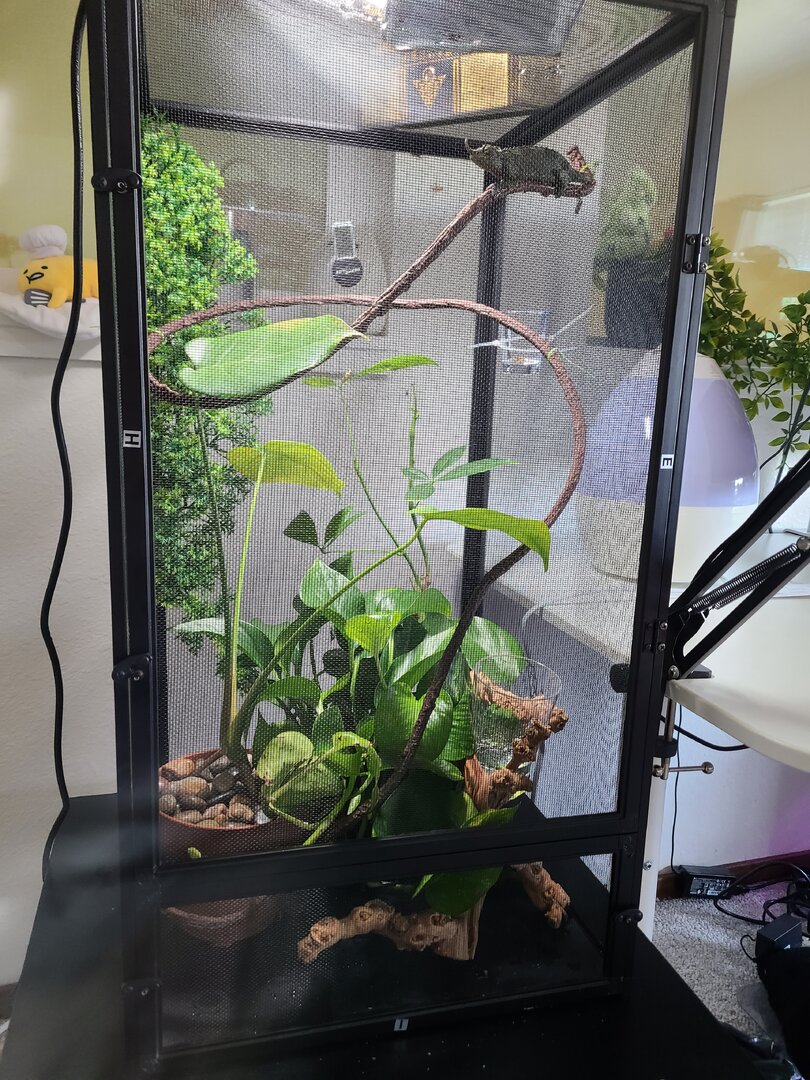 New set up with more places for her to hide.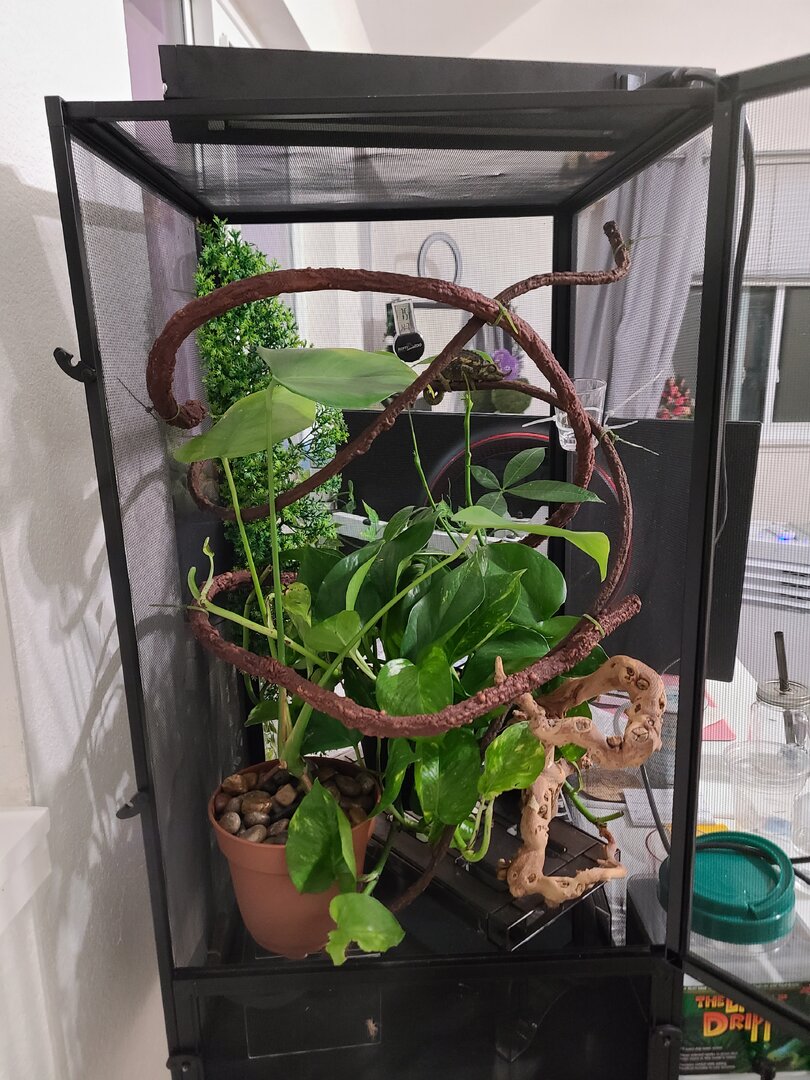 Chameleon Info:
Your Chameleon - The species, sex, and age of your chameleon. How long has it been in your care? - 3.5/4 months old female Jackson's Chameleon - in my care for 1.5 weeks
Handling - How often do you handle your chameleon? - I've been trying to leave her alone the last 3 days, but before I would take her out for 10 min and let her free roam the window sill that had a vine set up.
Feeding - What are you feeding your cham? What amount? What is the schedule? How are you gut-loading your feeders? I've offered her black soldier fly larvae, crickets, hornworms, waxworms, and mealworms. 6 worms in a small shot glass in her cage for a few hours and I put 3-5 small crickets in her cage with her since she wouldnt eat any of the crickets from the tongs.
Supplements - What brand and type of calcium and vitamin products are you dusting your feeders with and what is the schedule? I try to feed her every day and I lightly dust my crickets with Calcium w/out D3
Watering - What kind of watering technique do you use? How often and how long to you mist? Do you see your chameleon drinking? I use a drip system and leave it for 10-20 minutes, with the excess water dripping off a leaf and into a cup.
Fecal Description - Briefly note colors and consistency from recent droppings. Has this chameleon ever been tested for parasites? Her poop and urate are all within normal color and range. Solid black poops and white urates. Nevr tested for parasites
History - Any previous information about your cham that might be useful to others when trying to help you. She was slightly aggravated by a male jacksons chameleon 5 days ago.
Cage Info:
Cage Type - Describe your cage (Glass, Screen, Combo?) What are the dimensions? Screen L size cage
Lighting - What brand, model, and types of lighting are you using? What is your daily lighting schedule? UVB light 7am-4pm (when she sleeps lights)
Temperature - What temp range have you created (cage floor to basking spot)? Lowest overnight temp? How do you measure these temps? 70-80 and measured with a digital thermometer
Humidity - What are your humidity levels? How are you creating and maintaining these levels? What do you use to measure humidity? 30-50% during the day and 50-70% during the night - using a cool mist humidifier with the ceiling fan and a floor fan blowing from a far distance. Using a digital thermometer.
Plants - Are you using live plants? If so, what kind? Monstera deliciosa, money tree, and golden pothos
Placement - Where is your cage located? Is it near any fans, air vents, or high traffic areas? At what height is the top of the cage relative to your room floor? Her cage is in my room where it's mostly just me. Located on my desk behind a monitor. It is across from the ceiling fan which is always on to circulate air. The top of the cage is taller than me.
Location - Where are you geographically located? Bay Area