So as many of you know. I've been looking at getting a carpet cham with an eye problem. I finally got him and took him to the vet today.
Wasnt a very happy camper. We had another vet come in to check him out, same clinic, and she seemed even better than the last! It was great, she was gentle and quick and knew exactly what she was talking about. I'll definitely be asking for her. But now to the diagnosis.
As you can see there's clearly an eye problem. She took a look at it and concluded that it was most likely hereditary or from extensive injury. The cone of his eye is deformed and it's small. He's more than likely blind in his right eye. This means he sees his world in 2D and has a problem hunting, which is why she also said he was underweight. He is currently on a liquid food diet so he can gain some weight back. He will also be given liquid calcium so that he doesn't develop MDB. This is super easy since chameleons love opening their mouth when you bother them. So he got a bit of liquid food. I'll be giving him some more tomorrow morning.
It's a sad diagnosis. But I'm happy that I'll be able to give him the special care he needs and that he's in a safe place. Since he has 2D vision he can gauge how he walks. I placed a bunch of foliage in his enclosure so that he has a soft landing when he falls. He's a very sweet and docile boy. Hopefully he'll be most feisty as I start giving him liquid diet and calcium.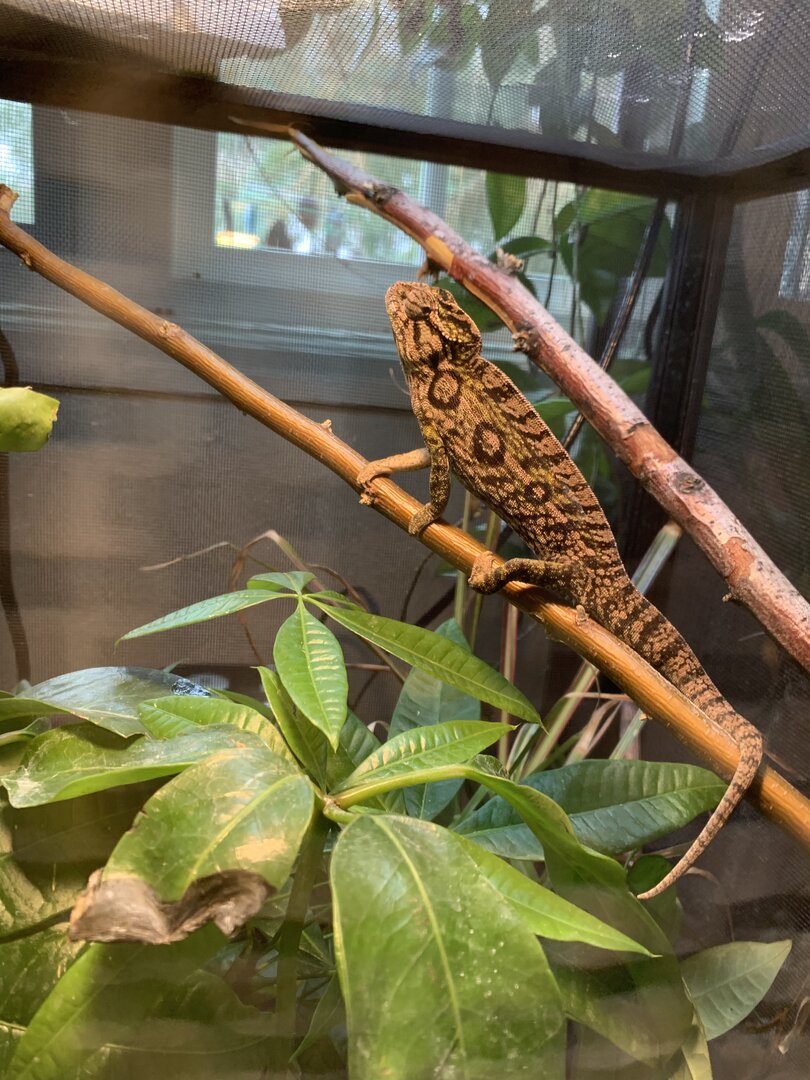 Here he is soaking up heat after the whole ordeal. He's a very special baby. I figured especially last night when I had to place him on foliage so he could go to sleep since he had given up and tried to sleep on his screen. I'm willing to do everything for this little guy as long as he helps me. Thank you guys for tagging along with us when I first spotted him. It'll be nothing but loads of care and recovery for him
.
His name is algae by the way, and is DEFINITELY a boy lol!