Chameleon Enthusiast
Site Sponsor
I wanted to share a special podcast interview I did and just released. I was able to speak with Walter Tapondjou who is a field researcher in his native Cameroon. He specializes in chameleons so his interests definitely click with this community. He is one of the few people to have taken pictures of the third subspecies of quadricornis that we rarely hear about.
T. quadricornis eisentrauti
lives in a small range on the Rumpi Hills. Here is the little guy: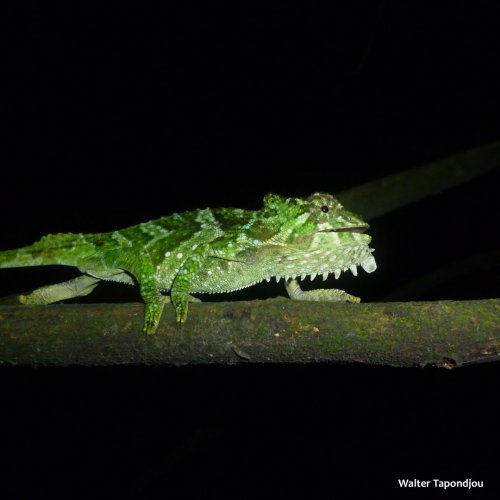 So eisentrauti has the sail fins but no horns and the gular crest is made of plates instead of spikes. I thought you all may enjoy seeing and hearing more about this rarely seen chameleon!
If you are interested in hearing more about the Cameroon Chameleons you can check out my World Chameleon Species Tour blog here on the forums and listen to his interview on the Chameleon Breeder Podcast. But before you do that take a look at this map and keep this in mind while you are listening. This is of Cameroon in Africa. Do you notice the mountain range that starts in the Gulf of Guinea as islands and then "cuts" through the border of Cameroon and Nigeria? This is the Cameroon volcanic line and it is in these highlands that many of the species that Cameroon is famous for live.
The green lowlands by the coast are where you are going to be finding the warmer environment species such as
Rhampholeon spectrum
,
Trioceros cristatus
, and
Trioceros oweni
. It is when you climb up in elevation into the mountains listed there that you start hitting
T. montium
,
T. quadricornis
,
T. serratus
,
T. pfefferi
, perreti, and wiedersheimi.
So if you haven't already, check out episode 104 of the Chameleon Breeder Podcast and we can talk about the Cameroon Chameleons. Although many of the species are closed to trade, there are many quadricornis in the community and we have some pockets of montium. Europe just got some
R. spectrum
and
T. cristatus
and There may be some
T. cristatus
and
T. serratus
coming to the US soon. So there are, and will be, a number of people working with these species!
You can listen to the episode on your podcast app or click the picture to listen online.
I'd love to hear what you think!
Bill