Chameleon Info:
Your Chameleon - Female panther chameleon approx 1.5 (not from a breeder, I was told she was 5 months old when I got her in March of 2018)
Handling - Rarely. For vet visits or deep cage cleans. She does not like it so I don't.
Feeding - Banded crickets, bsfl, bsf, silks -- butterworms as a rare treat. 7-9 depending on size adult crickets every 3-4 days. Some BSFL and BSF, or Blue Bottles (Really rare, they hatch too fast for me) in between -- silks maybe 4 or 5 times a month when I can get them. We were doing hornworms but we had a bit of a violent encounter with one of those bastards so we don't anymore. She refused the hawkmoth (probably too big for her,) and she wouldn't eat the roaches when I first offered them, but it has been a while since we tried...? How are you gut-loading your feeders? Bandeds are gut loaded with a variety of fruits / veg and hemp hearts and bee pollen. veg -- carrots, brocolli, various greens but no spinach, , squash, spurlina, strawberries, dandelion leafs, oranges, apples, some berries occassionally -- sometimes I blend this together with water as a paste. Silks eat the mulberry leaf.
Supplements - At the moment she is only getting Repasy Calcium Plus dusted on her banded crickets -- this is my concern, I am worried it is too much D / A - I am not as keyed in on this part of my husbandry and I would like to get very detailed about it for her.
Watering - Naturalistic Hydration. Mister goes on at 6:50 right before before her light and goes for 10 minutes. dry period until 2 pm @ 4 minutes. 430 - 10 minutes, 8pm 10 minutes. I see her drink and I also raise the humidity at night via fogger.
Fecal Description - She has good poops -- pretty solid with white urates. She doesn't poop very often , ever since i've had her. She poops maybe once a week -- if she goes longer her urates are more yellow, but I believe I real that can be normal, as her body will reabsorb moisture from the urate? Could be mistaken.
History - I have had her since March of 2018, I got her from Petco. We have seen an exotic veterinarian once about 4 months into me having her to just make sure she was okay. I use the term "exotic vet" carefully because this was not an exotic specific clinic -- but the Owner had good experience with Reptiles and other exotics. He has been good about helping me via phone and has owned many reptiles -- but never a cham.
Cage Info:
Cage Type - Dragon Strand Large Keeper --- 23.75x23x48
Lighting - Carolina Customs light fixture 32 inches with a Reptisun 10.0 T5 - on from 7am - 7pm.
Temperature - Basking is about 86-89, mid range is about 74-45 and the floor it can get to 68-69
Humidity - This is hard in Colorado and I've had to make a lot of tweaks. She has two humidity gauges in her enclosure near the top and near the bottom -- I usually read from the top one. Her driest period in the middle of the day gets to 30% but I get it up to 85-90% at night with the heavy misting and fogger. Fogger runs about 7 hours. I found that adding a 10 minute mist at 4pm kept the humidity boosted (50-60%) until night.
Plants - Yup. Pathos, Draceana, more pathos, bromeliad, orchid, prayer plant, ficus, triostar stromanthe. She has a lay bin too, but preferred the pathos when she layed.
Placement - Where is your cage located? Is it near any fans, air vents, or high traffic areas? At what height is the top of the cage relative to your room floor? The cage is in my home office, where I spend a good amount of time. It is in the corner of the room away from any direct sunlight, the vents are closed off in this room -- and it is not in front of them either way. The cage is on top of 1 tier of garage shelving, so the top of the cage is above my head when I stand in front of it.
Location - Colorado.
Current Problem
- She has missed her food -- twice now, in a week. She shoots and misses, Her mouth and tongue appear fine. Tongue shoots normally -- but I was reading on here that missing is a sign of a problem, likely with supplementation. When she was young, she got calc no d3 at every feeding, Minerall indoor every two weeks and calc w/d3 every two weeks. When she appeared to be gravid her first time, vet suggested I switch off everything and just do Repashy Calc Plus at every staple feeding (dusted on crickets and silks, not bsfl or treat worms). At the time I was worried it would be too much d3, but he suggested it would help her with her egg production. I have been doing that for 9 months. She laid her first clutch with no problems in January.
About a year ago -- I was dusting her feeders with Calc Plus and bee pollen -- I noticed she developed a small swelling on her neck, which I am pretty sure was an edema due to too much of something, so I stopped using bee pollen as dusting and started using it as gut load. Her edema went away within two weeks. I see a little tiny bit coming back -- so I'm wondering if she is getting too much d3 and A in the calc plus. Is there something off in my husbandry for this to be only coming up now, after almost a year of this supplementation?
My girl is very very sweet and so chill and nice. I put the down payment on another cham from Chromatic, (just spent hours trimming pond foam on his to be enclosure today) but I need to make sure I get her 100% before bringing another one. Wanted to get another one cause I love her so much and felt like since i've had her for a year and she seems to be doing great it felt right, then she started missing her food, and thanks to this forum -- I see that's not ok.
Thank you!
*Photos*
Photo of her was taken Yesterday. Photos of her enclosure were taken a few moments ago. Her lay bin is out because I was picking out bits of shed.I start the fogger right before I go to sleep.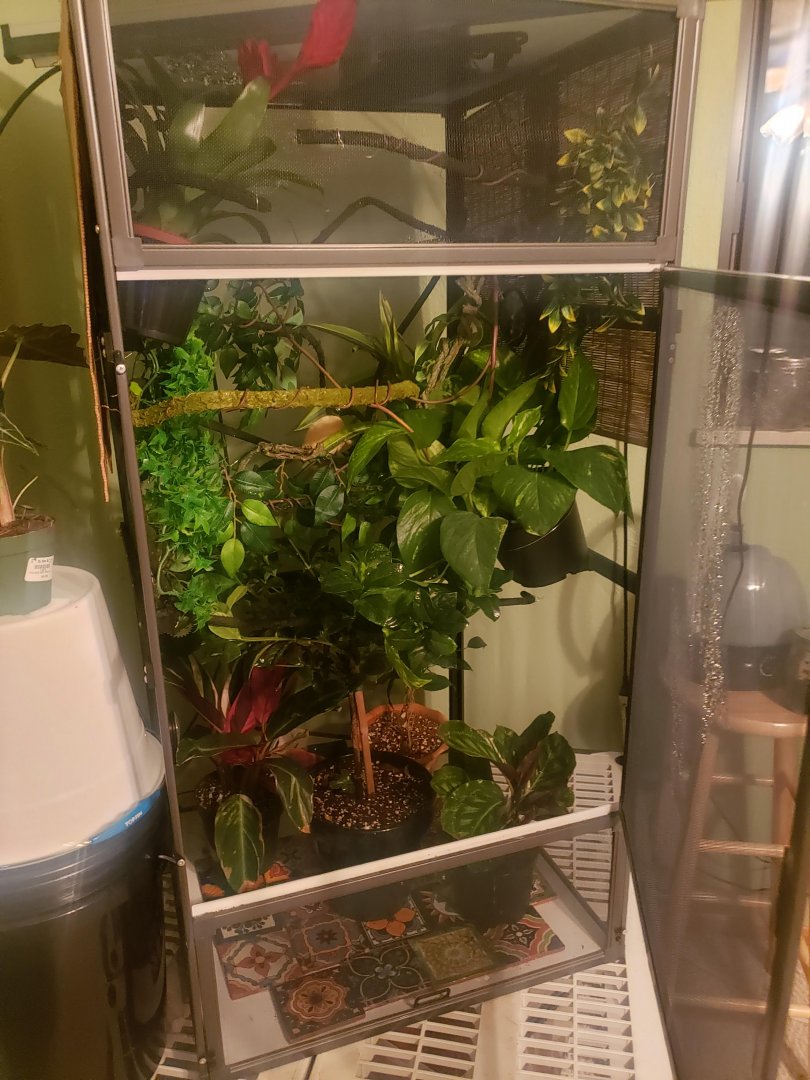 Last edited: