Hello everyone!
We are in the midst of a silkworm egg production test and wanted to share our results with the community in the hopes it might help someone else out. Please feel free to share your thoughts and experiences.
We currently have set aside 60 pairs of moths. We're focusing on egg laying rates of female moths grown from worms raised on fresh mulberry leaves. Commercial chow may have different results, but is not part of our current focus. We will update the table below every few days with more data. We have developed a small program that processes images of egg batches and performs a basic image recognition analysis to count the eggs. The efficiency detailed below makes it much easier for us to pull appropriate quantities of eggs twice weekly to ensure we have adequate worm supply without an immense oversupply.
Results:
Expected Potential Fecundity - 250. This is the quantity of eggs we expect each female to lay, on average. Actual counts will be different, but we hope for this to be an overall average.
| Female # | Eggs Laid (manual count) | Eggs Laid (automatic count) | Deviation from Expected Potential Fecundity |
| --- | --- | --- | --- |
| 001​ | 218​ | 216​ | |
| 002​ | 244​ | 243​ | |
| 003​ | 380​ | 377​ | |
| 004​ | 413​ | 414​ | |
| 005​ | 264​ | 264​ | |
| 006​ | 208​ | 204​ | |
| 007​ | 225​ | 225​ | |
| 008​ | 300​ | 300​ | |
| 009​ | 402​ | 393​ | |
| | | | |
| TOTALS​ | 2,654​ | 2,636​ | +392​ |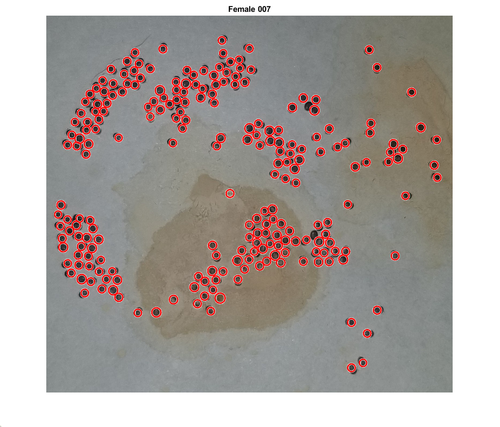 Last edited: