Administrator
Staff member
The Results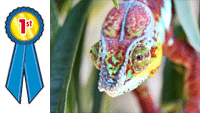 1st place: snitz427
Species: Furcifer pardalis
Common: Panther Chameleon
Sex: Male
Age: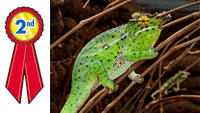 2nd place: JoXie411
Species: Furcifer willsii
Common: Wills' Chameleon
Sex: Male
Age: -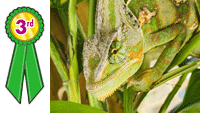 3rd place: Haley Hendrix
Species: Chamaeleo calyptratus calyptratus
Common: Veiled Chameleon
Sex: Male
Age: -
If you are not familiar with how the contest works then please review the
contest rules
.
open member vote
The top ranked photos from the open member voting received the following points:
photo 10 => 5 pts (snitz427)
photo 03 => 3 pts (JoXie411)
photo 01 => 1 pts (Haley Hendrix)
judge rankings
There were no judges for the September 2020 contest.
Note
Thank you to everyone that participated!
A tie breaker was required for this contest. A link for that poll
can be found here
. If anyone has a suggestion on how to improve the contest please create a new thread in the photo contest or feedback forum; if you prefer to remain anonymous you're welcome to send me an email or private message.
Medals have been awarded.
Congratulations to the winners