Hi,
My daughter and I are the proud owners of our first chameleon, Kevin! We got him from the Berkeley Vivarium in Berkeley, California. They said he was between 2 and 3 months old. We've had him for almost 4 weeks now and after reading a lot on this sight, I don't think we're doing the supplements, food or housing correctly. That's why we joined the forum to get some help from experienced owners! My concern is that he's almost always brown. I see these beautiful greens on the posts of happy babies but ours is brown 95% of the time.
The vivarium suggested a glass enclosure with a mesh top for 3 to 4 months while he's small. He's in 20"x10"x18" in tank with a Reptisun 14" UBV light and a 75-watt purple basking bulb. The basking temperature is 90 degrees. We mist him 3 to 4 times a day, but I've never seen him actually drink.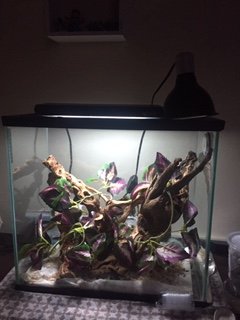 t
We've started him on Dubia roaches and he likes them! We were told to give him 2 small Dubias a day. We sometimes give him 3. Our roaches are the small size from Delicious Dubias. The vivarium said to feed the roaches Nature Zone Total Bites all-in-one supplemen for gutloading. We feed them per the instructions on the Total Bites container. We were told to dust them with 50% Rep-Cal Herptivite with beta carotene and 50% Rep-Cal Calcium with Vit. D3. So, what I did was measure out a half teaspoon of each and put the combined powder is a small glass container with a lid. We dust the bugs with this combination powder. We feed him by putting the bugs in a soup spoon and then put the spoon near Kevin. He's a good eater and its super fun to watch.
Kevin on December 26th
We've had him since December 26th and they said not to handle him for the first month because he was so small and fragile. We've been very good about not doing that except for the 2 times we found him hanging upside down from the mesh ceiling. We just flipped the cover over and he crawled right onto our finger and we put him right back onto his log. We haven't cleaned the tank yet but we will be doing that this weekend since it's been almost 4 weeks.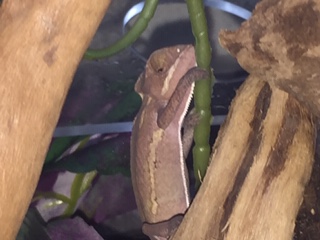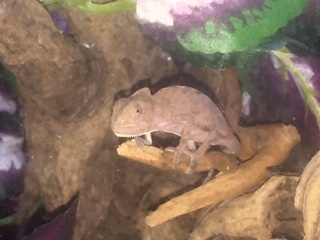 Kevin today 1/18/19
So why is he always brown? Is he unhappy or unhealthy? I'm willing to move him to a large or extra-large repti-breeze cage now if that would help. Are our supplements right? I don't think they are after reading resources on the forum. Should we feed him more?
Thank you in advance for your help!
Kimberly and Lily - Kevin's Mom