A few years ago I built a DIY wooden enclosure for my male panther (see build thread
here
) but the wood at the bottom has started to rot and the acrylic panels in the front have become slightly detached from their frames. Not wanting to go through the arduous process of buying materials and constructing a new enclosure only to risk the same problems recurring (or new problems), I decided to go the safe and comfortable (albeit expensive) route and purchase a large glass terrarium.
It's a 36 x 18 x 38 inch (90 x 45 90 cm) terrarium made by a Chinese (I think) company called WACOOL. The only other terrarium brand available here in Korea is Exo Terra. While Exo Terra is well known and I've had good experiences with them in the past, I decided to give WACOOL a try for 2 reasons: 1) they come with a drainage hole pre-drilled in the back right corner (along with plumbing) and 2) the covers are made from very strong and thick "mesh" that eliminate the need for framed partitions, even in the largest terrariums. One thing I don't like: the doors can only be opened by pressing and holding down a spring supported latch making it almost impossible to open the doors with a single hand. No need to hold the latch down or "lock" the latch when closing so that part is much simpler, but I prefer the ability to open with one hand as with Exo Terras. In most other respects the terrariums are very similar, and build quality seems quite good.
pre-drilled drainage hole and outlet pipe (a long piece of plastic tubing was also included)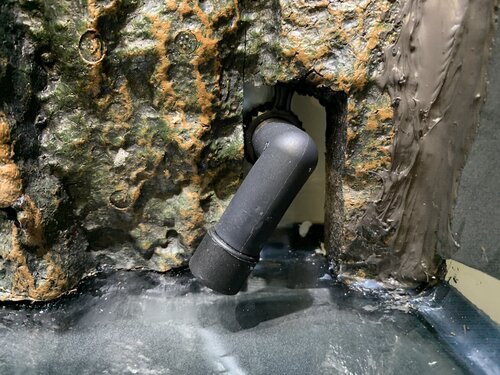 screen "mesh" (not sure it can be called that) used in the cover. mesh is one piece without any partitions and very sturdy. the sturdiness comes at a cost - it seems to filter out much more light and UVB than standard mesh. I use a 10.0 T5HO bulb over this enclosure so UVB levels are still more than sufficient.
Siliconed the background (included with terrarium) and black foam boards to the sides and positioned the branches using hot glue. The thicker branches were given to me by a friend in the Philippines.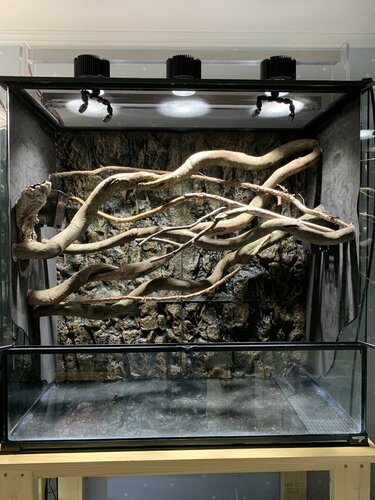 After attaching some plastic pots and PU Foam to a few areas and carving.
I'm thinking about adding a few pieces of cork bark and more foam to other areas to improve the "hardscape." My plant list so far includes scindapsus pictus, umbrella plants, ficus pumila, syngoniums, maybe some ferns and begonias.