Hello All,
We bought our first Chameleon at the weekend, he is a 4 month old male Yemen. We have done quite a lot of research, but just wanted to make sure we hadn't over looked anything or been told anything misleading.
Here is his enclosure, we have tried to ensure he has enough places to hide, as well as bask in the heat when he needs. His food stays in the cup (mostly), and he comes down to feed. The only thing that needs changing is the bark, we are removing that tonight. Any other thoughts?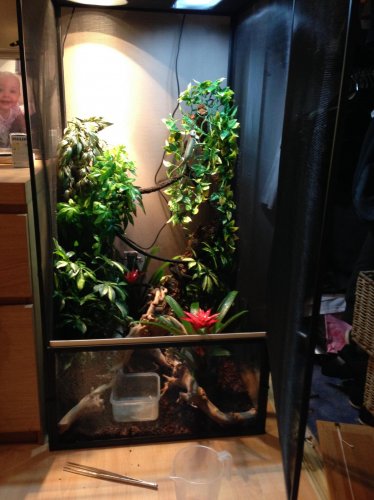 We generally feed him 5/6 medium size locust each morning, dusted in calcium. We aim to dust in d3 every 2 weeks?
The entire enclosure gets a thorough misting at 7am and 3pm/5pm.
Is there anything else we have missed?
Many Thanks