Chameleon Info:
Your Chameleon - his name is Dewford AKA Dewy, Male Jackson's, I was told he is 4-5 months old. Bought him at the pet show yesterday.
Handling - Only handled him at the show, and to introduce him to enclosure.
Feeding - I gave him 8 calcium dusted crickets as soon as we got home. He immediately ate most of them before bed time. Today I threw in 10 more, no dusting. I haven't really gut loaded them yet, gathering supplies to have that ready tomorrow.
Supplements - ZooMed Repti Calcium without d3(he had about 5 or 6 dusted crickets yesterday), and ZooMed reptivite(haven't used it yet)
Watering - Monsoon Solo Misting kit, Watering the plant. getting a humidifier on friday.
Fecal Description - No testing, Yesterday it was short and white, today it was larger mostly dark color with a lighter end.
History - Vendor had him in a box behind the table with several other chams, someone may have mentioned them being wild caught.
Cage Info:
Cage Type - Screen, 16"x16"x30"
Lighting - ZooMed Double hood, Reptisun UVB 5.0 bulb, 60w ZooMed Daylight blue. Turned them off at about 6:30 pm last night, on at about 6:30 am before work. I placed them to the right side of the cage, front to back.
Temperature - Cage floor stays roughly 70-73 during the day, saw 63 this morning. Basking spot is about 84, got in the higher 80's when i got home from work. I have the ZooMed digital thermometer with the probe in the basking area, and I have a digital Accurite thermometer with humidity display.
Humidity - Yesterday it was low at maybe 40%, today I brought it up to 60%. I setup an ExoTerra monsoon solo kit(using one nozzle) have it spraying for 30 seconds every hour towards the opposite side of the lights. Getting a humidifier by the end of the week. I've also been adding water to the plants soil.
Plants - I have a live Dracaena, and a fake bush in the basking spot. Fake vines and a grape vine.
Placement - Cage is on a glass table roughly a foot away from the wall and window behind it. Window gets afternoon/evening sun. Only my girlfriend and I, not much traffic.
Location - Northeast USA
Current Problem
- So this is our first chameleon, I have been interested and researching on and off for a little over 4 years and finally budged. Unfortunately I got him at an expo. We had everything setup once he got home, except for crickets, I havent gut loaded any yet. I have read other posts on gut loading recently and will have that well established by the end of the week as well as a humidifier as i feel the misting isnt enough. I'm also considering a temp/humidity controller to mainly control the heat better. also ill be adding more plants over the next few days.
So my concerns are mainly behavioral, I understand the first few days may be stressful especially being from an expo, the majority of the time at the expo and ride home he was mostly a darker brownish with yellow/green patterns. He goes to his lighter shades and mostly green with yellow hints across his abdomen
sometimes usually when hes at rest. I'm concerned with how he sits low while hanging out, I feel like I've read that they should stand somewhat tall unless they are going to sleep. Also he seems to be afraid of the misting, although once the cycle is finished he approaches the water and drinks.
So is there something I'm missing besides what ive mentioned? Anything I should know about the stance?
His darker colors i mentioned:
;
lighter green/yellow:
Medium: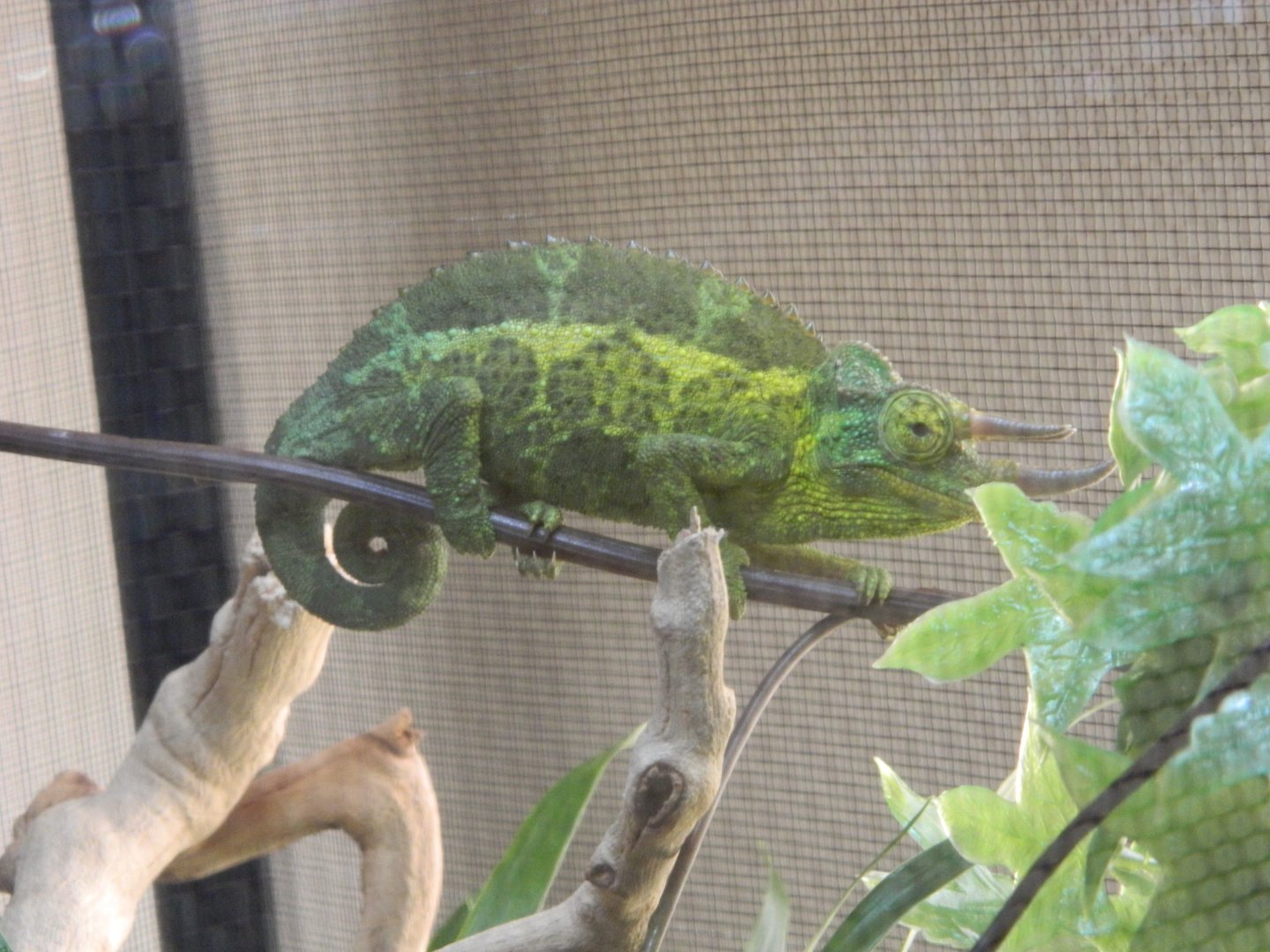 Thermometers(mist had just hit the yellow basking thermometer bringing the temp down, and about to be lights out):
cage:
darker feces(dark pic sorry, and got darker once it dried)
lighter feces i think: