Chameleon Enthusiast
Site Sponsor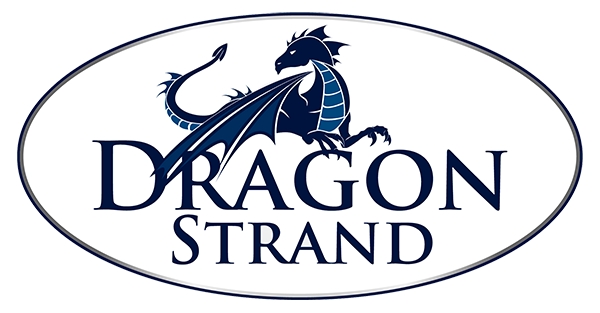 Dear Chameleon Forum Members,
I wanted to formally update you on what is going on and introduce you to the new Dragon Strand Screen cage concept. You all have been with me from the start back in 2013 so this feels more like a catch-up than a marketing spiel!
First, let me share what over changes have been made at Dragon Strand. Many of you know I shut the company down to a trickle to implement some major changes that would increase both productivity and quality. My biggest problem was the backlog and people could be waiting months for their cages. While I appreciate their patience and willingness to wait, getting back to having inventory on the shelf was my #1 priority in 2020. I have completed some significant internal changes to allow me to do this.
Framing:
The first thing I have implemented is the switch over to custom made framing and parts. While I am not going to be making my own latches (yet) I am getting away from parts made for other industries (screening industry, I am looking at you). The reason for this is that it is getting harder and harder to insist on the standards I require. And this makes sense. They are making their products for a different end application so shaving off a millimeter here and there is a cost savings for them. For me, it meant I had to refuse that material and insist on the higher grade which made it more and more difficult to get the material we required. Sure, the material was listed in catalogs, but in stock? Not always so easy! So I have designed my own custom framing that is specifically to make chameleon cages. Of course, with this opportunity, I increased the strength and overall quality of the framing even further. The benefit of this is mostly on my side because now I have complete control over the quality and I do not have to babysit other manufacturers. This does not mean there is a problem with the previous cages at all! They are great cages and will last many years. One of mine got hit by a falling awning, took the blow, and is still serving me years later! Yes, this framing is better but don't feel like your previous cages are obsolete!
Stainless Steel Latches:
I have also replaced the spin tabs with stainless steel latches for the doors. They are very effective!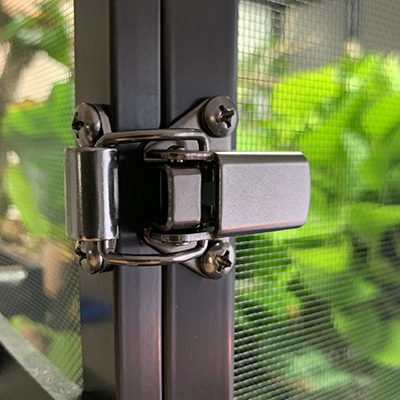 Hydration Mount.
You will also find that cages for adults now come standard with a Hydration Mount. I had to design my own misting head mount because the restriction of mounting them only in the corner was too limiting when we are talking about wide format cages. If we are going to be splitting the cage into zones we need the ability to mount our misting nozzle anywhere along the inside frame that supports our interior design. I have also included a grommeted entry point for ¼" tubing. This is to support my push for more live plants in our cages. Difficulties that chameleon keepers have in keeping plants alive in their cages are mostly either not enough light or not enough water (too much water is in the top five reasons, as well!). So I designed in an entry point for ¼" tubing drip system. Now, I will be honest that I haven't fully figured out the easiest way to implement a drip system in the cage. Our misting pumps don't always drive drippers very well. So I am still working on evaluating external automatic drip systems, etc…But I knew this was important so I designed this entry port into the mount. These are also available as loose parts if you would like to install them on any cage you currently have.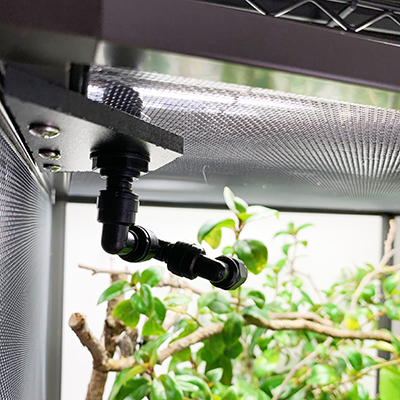 Solid Backs.
My screen cages are now going to come with solid back panels as a standard feature. Most cages are placed against a wall and this provides protection against wandering mist and reflects light back into the cage. The stability and structure it adds to the cage also simplifies the mounting of potted live plants. There are customers that do have a special need for all screen. And for them I will be able to work out periodic special builds. But please not worry about ventilation. Having a solid back will not affect it except to hold in very small pockets of humidity if you mount potted plants against the wall.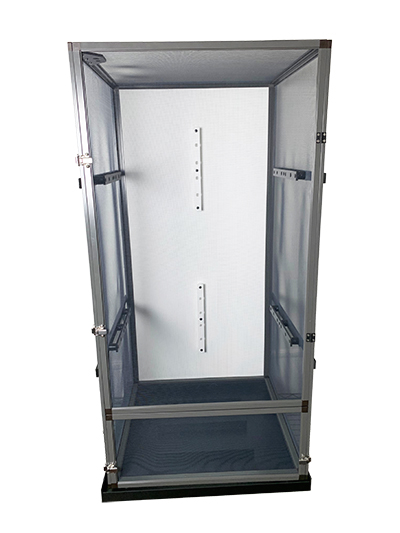 Drainage Trays.
Dragon Strand continues to be the only mass market supplier that makes drainage trays available for their cages. They are fitted and have strong middle supports so potted plants may be supported. The entire cage sits on top of this tray to make sure the used water is not able to make contact with the poop and escaped feeder insects.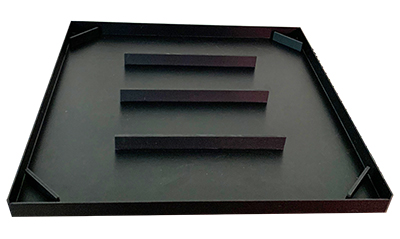 Production Schedule:
Every one of my cages is being redesigned and so I am launching them one by one as soon as we complete the upgrade and produce production quantities. You should see new cages being release every two weeks or so. I am changing my website to show what cages are in inventory and how many are available. The new framing was designed to make production faster and it looks like it is doing its job so far!
There is some final design work being done on the Clearside line and they will be released probably in the April/May timeframe. The screen versions and solid side "Breeder" hybrids and being released presently. The current, but fluid, schedule for the next four weeks is:
Tall Screen Cage – available now and in stock
Nursery Cage System – 1st half of February
Large Screen Atrium – 2nd half of February
Redesigned Medium Tall Atrium – 1st half March.
Shipping:
Shipping is still a huge thorn in my side. FedEX seems to like to raise their rates to us small business owners while Amazon still gets away with defying reality (fleets of cargo planes and distribution centers do not get paid by "free" shipping). It will be interesting to see what happens in the industry when Amazon goes to a completely independent shipping model. But, for now, shipping rates are still the best I can negotiate from FedEX. As I renegotiate, the savings will be reflected directly in the shopping cart.
So now I'd like to introduce you to the new Tall Screen Cage System which is our first released cage.
The
Tall Screen Cage
is offered as a system. This system contains the following:
23.75" x 23" x 48" screen cage with solid back wall
Six Dragon Ledges (one for each side and the back)
One Hydration Mount
One Fitted Drainage Tray with potted plant support
One solid floor and one screen floor. This allows you the choice of maximum support or maximum drainage and a temporary substitute when you take one out for deep cleaning.
The bundle price is $308 plus shipping
If you would like to learn more about the cage you can go to the product page here:
https://dragonstrand.com/product/tall-screen-chameleon-cage-system/
And a new thing I am doing with my cages is to give complete cage builds to help keepers be as successful as possible from the beginning. You can check out the Tall Screen Cage build below. This is a build for a 2' x 2' x 4' cage so even if you do not get a Tall Screen Cage System you will still be able to adapt this build to your 4' tall cage no matter where you got it. So it may be worth checking out even if you already have your cage and are looking for some help in putting it together.
https://dragonstrand.com/build-guide-tall-screen-cage/
2020 will be an exciting year for Dragon Strand. There is still much being worked on so I'll have frequent updates that I will post here!
I closing I will leave you with what I learned putting together the prototype of this new cage. Having friends help doesn't always make it go quicker, but it is sure more fun!
Bill Strand
Last edited: