Hi everyone! My husband and I are new Cham owners and we would love to hear your opinions on our set up, as well as her overall health and wellness. The more information we can soak up, the better for our little Kali girl! We are new at this, so please no rude comments, just constructive criticism
Chameleon Info:
1. We have a female Veiled chameleon who has been in our care for 4 days now. We do not know her age, so I am hoping with some pictures you all will be able to help me get a good estimate.
2. We have been handling her every day. I know this is not recommended, however handling was something I was going to ask for advice about as well. After reading through many forum posts, I am very torn between wanting to "tame" her, and wanting to respect that she does not enjoy being handled and only make contact with her when feeding, misting, and cleaning the cage. Currently, we are able to get her out by slowly nudging her to climb onto our hand. She does not enjoy this, however once she is out she is completely fine. She will perch herself on our hands and we will watch her slowly turn from a dark greenish color with black spots to a light green color. What are your opinions on this?
3. We are currently feeding her dusted crickets and superworms. We typically put 5-6 superworms and 10-12 dusted crickets in her cage before we leave for work in the morning around 7:00am. We also put a little salad of kale, collard greens, and raspberries in a dish at the bottom of the cage for her to nibble on. We also gutload the crickets with collard greens and kale.
4. We are using Repti Calcium and Reptivite to dust the crickets right before we put them into Kali's cage.
5. With watering, we are currently spraying down her cage 4-5 times a day. One of those times, we spray Kali for a good 5 minutes to help with hydration and help her clean her eyes (because we read thats a thing). We just ordered a reptile fogger on Amazon so hopefully that will make things a little easier. I think she is drinking because once we are finished spraying her she opens her mouth.
6. She has pooped once a day so far, and her poops are always dark brown. Her pee is mostly white with a little bit of pale to medium yellow. Some posts say just white is normal, some say a little bit of yellow is okay as long as its not orange, so what are your opinions?
7. We got her from a PetSmart so I'm sure she didn't have the best start in life. She was in a little plexiglass cage and she got too big for it so they moved her to the back into a bigger mesh cage. The guy there said she had been at PetSmart for about a month.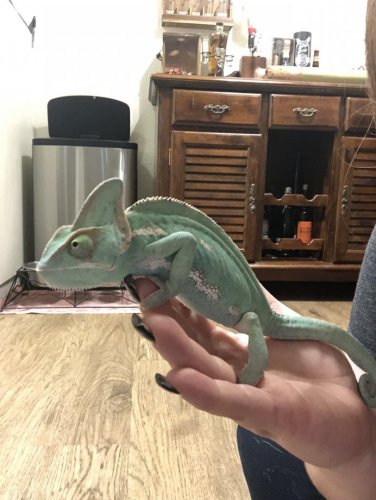 1. The cage we currently have her in is a mesh Zoo Med Repti Breeze size medium (16x16x30). As she gets bigger, my husband wants to build her a half plexiglass, half mesh enclosure so what are your opinions on that?
2. We are using the lighting that came with the "Zoo Med Repti Breeze Chameleon Kit." It is a Zoo Med Tropical UVB & Heat Lighting Kit (see the picture included). She gets light from 7:00am-8:30pm -ish and then dark all night.
3. We have a digital thermometer that is on the outside of the cage about 3/4 of the way up. The temperature ranges from 74-78 during the day (the temperature in the house never goes below 70) and 60-65 at night.
4. Humidity levels stay between 52 and 58. It is hard to keep the humidity in the screen cage, however once we get the fogger from Amazon I think it will help. We have the digital hygrometer that came with the kit on top of her cage on the outside. Should it be inside the cage, or does it not matter?
5. We just put a live ficus in her cage which has already helped increase the humidity. We also have fake bushes and branches for her to climb on/hide in.
6. Her cage is currently on top of a filing cabinet. The distance from the top of her cage to the floor in the room is about 5ft. We also closed the vent in the room she is in so that it doesn't blow directly on her when the AC is on. We were thinking of putting her cage next to the window since it gets a lot of direct sunlight. Would this be a good idea, or not? She would be getting direct sunlight all day.
7. Geographically we are located in Southern California, so it's mostly hot especially now that it's Summer. Summer temps can get up to 115 while winter temps can get down to 40, but like I mentioned above, the temperature in our house never goes below 70.
Current Problem:
My husband and I have done lots of research on owning a chameleon, however we are still very new at this so any and all information is greatly appreciated. We really just want to make sure that we are doing everything we are supposed to, to ensure our chameleon lives a long and healthy life! Like I mentioned above, we would like to get a good guesstimate of her age, we are torn between "taming" her and leaving her alone (the guy at PetSmart said right now she is used to being handled so even though she doesn't enjoy it, she will tolerate it, but if we don't take her out for a long time and then we go to try and take her out again she will be very mean and aggressive which we do not want), we want to make sure everything we are currently doing is right, and if there is anything we aren't doing or anything else we should be aware of please please please let us know so we can be the best parents to Kali! Thank you all so much