Hey Everyone.
About a month ago I purchased a female nosybe to eventually mate with my male. My male is 9months old, and my female will be 5 months next week. (yes I know I have months before this is even attempted) Right now I think my male would think she is a meal.
My thing is I cant get over 2 things, the first is how small she is. I got my male around the same age and he was just so much bigger then her. The other thing is she is SSOOOOOOO skittish. Is that ever going to go away? I didnt handle her for the first 2 weeks of getting her. I am trying to start to get her use to being handled, but she goes nuts whenever I try, flying around her cage like she is under attack. And pretty much any time I come into the room, she flys up the screen side and hangs upside down on the roof of the cage, like a bat. She does have plenty of cover to hide, so why does she insist on hanging on the roof of the cage upside down most of the time? Will this stop?
The only way I do ever get to handle her is to genitally make a cup with my fingers when she is hanging upside down and she kinda lets go and rests in my palm. Then I can get her to relax for a second for a pic, and even though I can get her to rest on my finger, she always leans so far away from me. So I know she is just scared. She never tries to hiss, or bite me. But just very skittish.
She will be 5 months old on the 12th, and Ive been reading that, at 5 months they could possibly lay eggs. So I am assuming I should set up a laying bin. I just cant see how something so small could have eggs already.
Currently her cage is next to my males, But I have paper between them so nobody sees anyone. Here is a pic of my little girl. Does anyone think she is too small? When will I see a big size increase?
She is fed 10-15 small crickets daily, and I also put around 3-5 small superworms in her feeding cup that she eats.
Everything else seems fine, I guess I am just wondering why she is so small and scared at this point.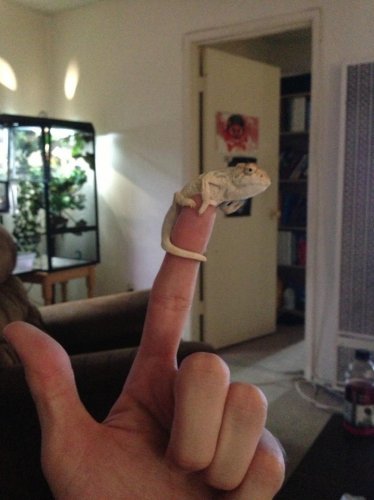 I will say my hands are pretty big for size reference. I am 6'2.
I also have not come up with a name yet, (Other then "big chicken") Any ideas???????