Not planning on feeding the nymphs to my chameleons, I've been saving the adults to produce my own colony and have been waiting a few months for this. I find it to be very exciting! I created an environment sustainable enough for dubia roaches to reproduce (not that they are too picky)
I've found them to be very hearty in that they can withstand cold by grouping together for heat, and enjoy the high temperatures of my heat lamp, I usually just feed them scrap fruits like pears and oranges, various types of apples (but they don't seem to like banannas very much?! WEIRD). I also lucked out and got some small beetles that seem to be coinhabiting the cage with the dubia colony.
*edit
I've heard of some people getting warehouse beetle infestations but by the looks of it I lucked out and ended up with some dermestid beetles!
https://dubiaroachdepot.com/product/dermestid-beetle-cleaner-crews
I believe the beetles are acting like a 'clean up crew' and help to clean the enclosure. I have yet to lose many/if any dubia roaches to 'random' death, they seem to be very healthy overall.
*edit 2
Turns out my first inclination was correct!!!!
I repurposed a cricket container, put in some substrate and some cardboard to give some surface area, once my colony grows I'll likely remove much of the substrate I have now and replace it with new substrate, lining the bottom of the container with about an inch of it (they don't seem to need much) and to a slightly larger container and stack egg crates together. I haven't been able to count but I'd guess I have around 20-25 nymphs, so within another 6 months I should have 3 or 4 times the amount of nymphs and so on and so forth.
Additionally I'm looking forward to starting some wingless fruit fly cultures for my babies which are in the works.
I just wanted to share my experience and what has worked for me. After housing the dubia roaches for long enough at some point.
Does anyone else have a dubia roach colony coexisting with a colony of beetles? Is this a common thing? What foods do you give your dubia roaches?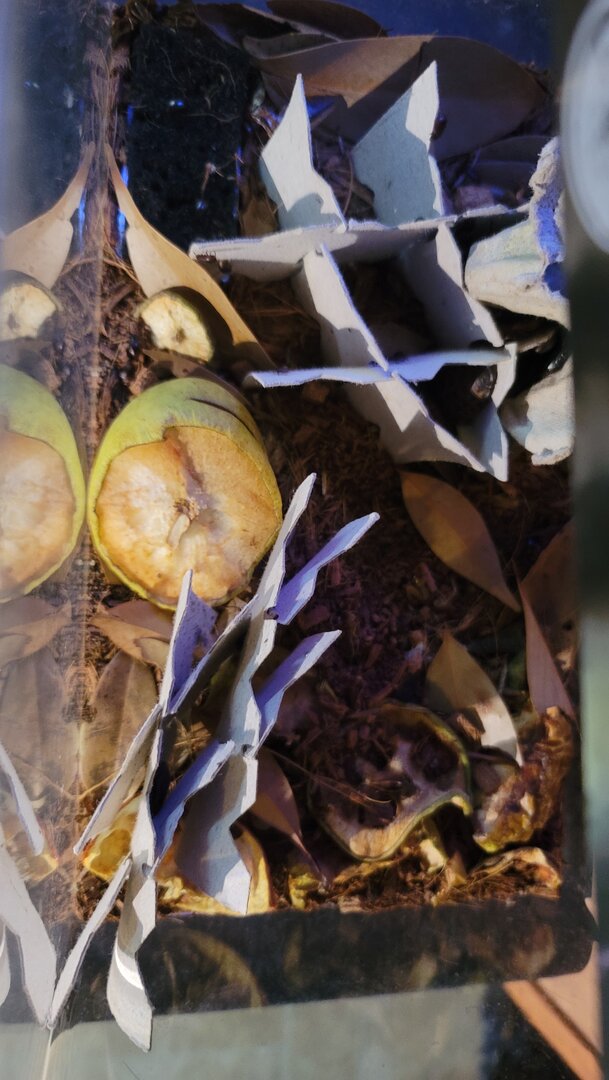 Last edited: