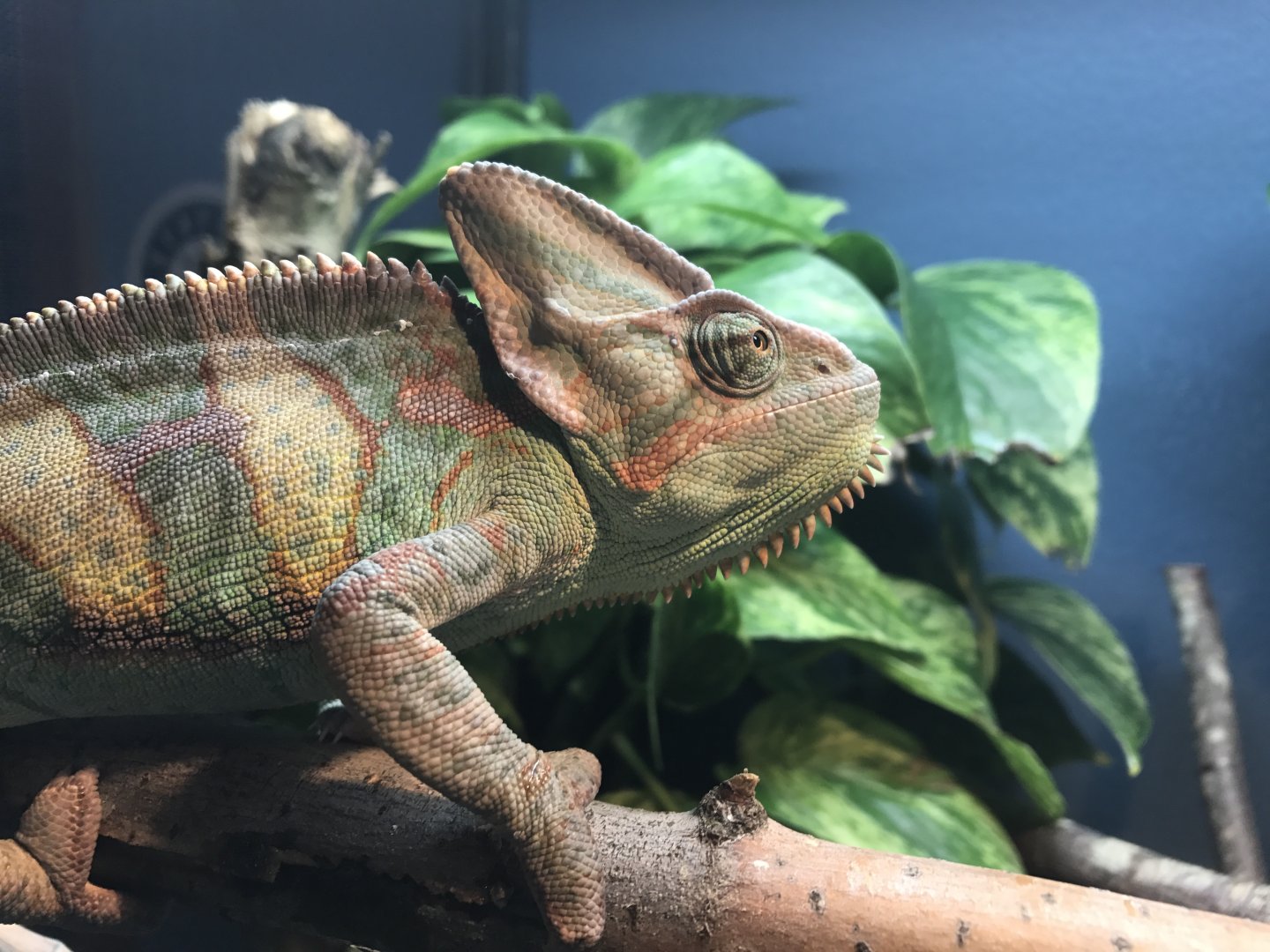 Hello All,
First off I would like to say thank you to everyone that pours their knowledge and patience into this site, it has been very helpful!
I started considering a chameleon as a gift for my 12 year old son, back in November. He is an old soul very generous and responsible. I did a ton of research and thought that I wanted to get a Panther. We visited several pet stores and reptile shops and found chameleons in very different conditions. None of which I really believed were good. I also scoured the internet and found several reputable breeders.
In my research I found Dragon Strand cages and decided that was the way I wanted to go. I contacted Bill Strand and he was very helpful, however he advised that the specific cage that I wanted would not be able to ship in time for Christmas arrival.
The logistics to have the cage here and ready for a Christmas Chameleon was going to be very difficult, especially since I wanted the gift to be a surprise.
I had decided that I was just going to order the Dragon Strand cage and put a small Reptibreeze under the tree without a lizard. And then keep my fingers crossed that my son would not be too disappointed with a gift that was still in the process of being collected.
I was just about to push the button to order the cage when my wife told me that she had found a complete set-up on Craigslist, including a Veiled Chameleon. I checked the add and found that not only was the set up complete it included a Dragon Strand cage...WOW!! It was meant to be.
We met with the seller who told us that her teenage son had purchased Carl back in October from PetCo. He had bought the complete set including a small Exoterra glass sided cage. When they realized that the cage was way too small they went all in and bought a Dragon Strand. They set the cage up with the best intentions and recommendations from PetCo. But they soon found that the bamboo branches were too slippery for Carl to hang onto. They wrapped the branches in cloth so he could hang on. They placed a small plastic plant in the bottom of the cage and hot glued plastic plants to the side of the screen. They had placed a dripper on top of the cage and zip tied the tube to one of the bamboo branches. They told us that they had quit misting him because he didn't seem to like it. They fed him crickets and meal worms dusted with calcium. They ran a heat lamp 24/7 and had a Reptisun compact for UVB. They also had a red bulb to run at night.
(This is what the cage looked like when we got it)
The teenage son had become very busy and seemed to have lost some interest in the chameleon so his mother had taken over most of the daily care. They had named the Chameleon Carl after the character in the Walking Dead, of which I am a big fan...another sign!
When we arrived to visit we found that the cage and surroundings were very clean but Carl was a lot bigger than I had expected (they estimated him to be 5 months old). We asked if he was handled much and they told us that he was pretty cranky so...no. He seemed thin but not desperate. When we asked why they were selling Carl she told us, "Carl can do better." We offered them $200 for everything and they accepted. We had our Christmas Carl (pun intended)!
My wife and I kept the cage in our bedroom for the next two weeks. I put a sign up on the door that read "DO NOT ENTER!! IF YOU COME IN, CHRISTMAS WILL BE CANCELLED!!" It worked, no kids in the bedroom!!
Christmas finally came and my son was very excited to get his Chameleon. We reconstructed his cage with branches from local trees and some plants from the nursery. We gave him three Pothos, a Shefflera, and a Ficus. We ordered and installed a Mistking. I contacted Todd at Light Your Reptiles and he recommended the 24" double T5 fixture which we purchased. I then ordered the Drip Easy Drainage System from Dragon Strand.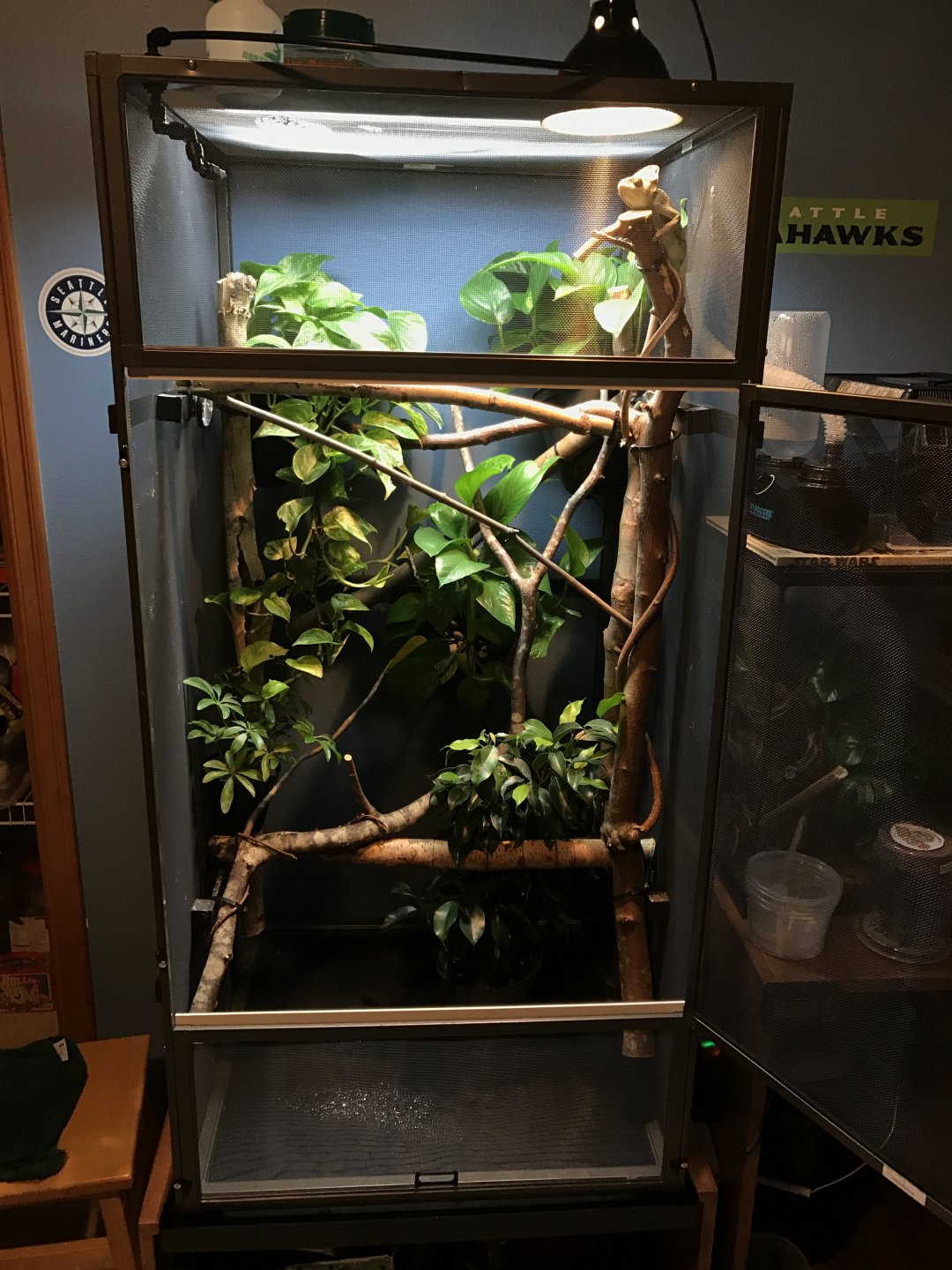 (This is what it looks like now)
Carl is doing great at least it appears so to my untrained eye. We have not had reptiles before and a Chameleon is really our only interest in that realm. Today we are feeding Carl crickets, Dubias, Superworms and Hornworms. We are supplementing with calcium w/o D3 daily, multivitamin and calcium with D3 on alternating Sundays. He is misted 5 times a day with most sessions being 4 minutes. We still run the dripper as well but we rarely see him drink. He munches on the Pothos occasionally and sometimes tries to eat some dirt from between the rocks in the pots (which worries me). Poo looks good...firm with white urates. His basking bulb is close to his perch but it is only a 50 watt bulb and temp is about 85 up there. Other temps in the cage are around 75 dropping down to about 65 at night. It's hard to keep the humidity above 40 especially with dry, cold weather.
I would like to give special thanks to Bill Strand (Dragon Strand), Todd Goode (LightYourReptiles.com) and Olimpia (MuchAdoAboutChameleons). This jump into the Chameleon world has been a great father/son experience and is something that we talk about together every day!
Any suggestions and/or input would be greatly appreciated.